Every town has its old roads and its new roads. The new roads, theyre fast. They get you where you're going. They probably have a Wendys. And sure, that's great. Open late. Can't beat a Frosty. But you're not going to discover something old on the new roads. If you're in Wilmington and heading west toward something out Newark way, your GPS will tell you to hop on I-95. That's the new road. The old road is Union Street, a one-way ticket out of the city and toward the burbs, lined with many restaurants and bars where the working person would stop for some food or a drink at the end of a long day. Unions what the locals take when I-95 is backed up; its what you should take no matter what, if you're hungry. Today, were going to hit three spots on the old roads, on the way out of town. Two are on Union, and ones just off after a quick right turn onto Lancaster Avenue. Two have stood the test of time, with decades of history between them. One is a relative newcomer, just moving into nicer digs. Apparently, you can teach an old road new tricks.


Capriottis Sub Shop You can find a Capriottis sub in Los Angeles and in Texas, in Florida and in Wisconsin, in D.C. (just ask the V.P. for directions) and in Las Vegas, all over the strip. But if you want to find the original home of the Bobbie, you've got to go to Union Street. Back in 1976, Lois Margolet quiet her full-time job and opened a sub shop with plans to make really, really good turkey sandwiches, with fresh roasted turkeys, every day. A few years later, an idea: Why not take that turkey sandwich and add stuffing and cranberry sauce? It would be Thanksgiving on a bun, and thus, the Bobbie was born. This is true: It is almost impossible to get a bad turkey sandwich in Delaware. Capriottis has raised the bar so high, any sub shop worth its salt roasts its turkeys fresh on a regular basis. Without the Bobbie, the United States could not have won the 2014 World Cup of Sandwiches. (In fairness, home court advantage probably helped. But that German doner kebab wannabe gyro thing? No shot. Thanksgiving on a bun. We got this. USA! USA! USA!)
If you go: If you're unfamiliar with Capriottis, know this: Smalls work if you have a normal appetite. Mediums are good if you're hungry or sharing. Larges should be reserved for marathon runners and families of four. If you're passing through and can only get one sandwich, obviously, you're going to get a Bobbie. But locals who get to go back repeatedly (namely, me) have their own favorites, including the SlawBeJoe (Homemade roast beef, provolone cheese, Russian dressing, and Cole Slaw) and the Cole Turkey (same as the above, mostly, with turkey).

Fuscos Italian Ice Old school water ice, flavored with lemons and sugar. That's it. That's the menu. What else do you want in summer? Italian ice from Fuscos has been a Delaware tradition since 1957, with the small stand proudly red, white and green on Union Street. Still a family operation, still using the same equipment as they started with in 1957, its pretty much the most refreshing thing in the world on a hot summer day. More a slushie than that hard, scrapable thing supermarket sell and call Italian ice, its served in a cup and can be eaten with a spoon, but just as easily sipped slowly. Lemons are squeezed fresh daily, but its more sweet than tart, with just enough bits of lemon to remind you its all natural, but not enough to scare off the kids. If you go: A $2 small will satisfy you, but something slightly bigger is what you need. Sizes go all the way up to five gallons, if you want to dive right in. You might.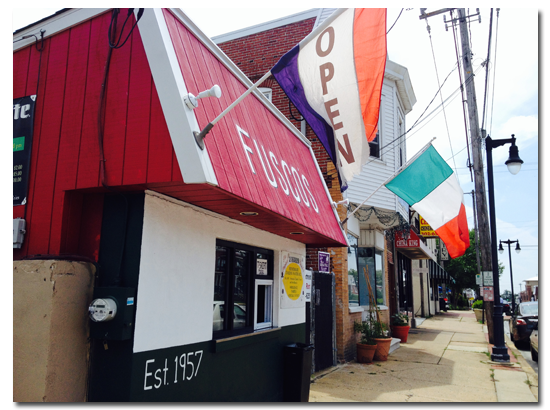 Maiale Deli & Salumeria This small neighborhood sausage shop just got a little less small when it moved into new digs last week. (That's good. I liked the lets-call-it-rustic charms of the old location, but the new space is roomy and attractive, with plenty of tables and a parking lot that won't make you want to take out extra insurance before leaving.) Maiale makes many things well, but at lunch, the focus is on the sausage sandwiches, and owner Billy Rawstrom is a mad genius of sausage. A graduate of Johnson and Wales University, he cooked professionally for a year before turning his attention to creating regular menu items like the Thai Curry Sandwich (Thai curry chicken sausage, Asian slaw, and a Siracha-lime sauce) and the Mexicano (fire-roasted corn and poblano sausage, cheddar cheese, and chipotle mayo). All lunches come with homemade pesto macaroni salad and a house pickle.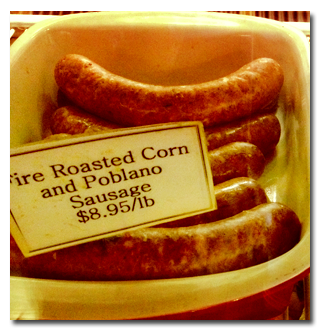 If you go: Check to see whats on special. I caught a mango margarita sausage sandwich, with Tequila-spiked mangos, Siracha sauce and queso fresca. Billy rotates through a host of sandwiches throughout the year. Watch for sausages made of wild boar, or porkette with provolone and broccoli rabe right in the sausage. Headed home? Headed back to your hotel? Headed anywhere they have a knife? Take a salami. Everyone will thank you.