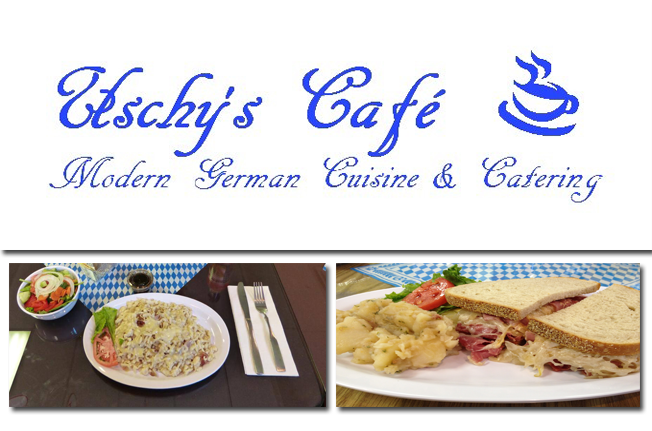 Forget sweater weather. In Delaware, it's schnitzel weather. Ahh, it feel like Oktoberfest, the annual rite of seasonal passage that people enjoy so much, they start celebrating in September. ("Keep Oktober in Oktoberfest" said no one, ever.) It couldn't have arrived at a better time in Brandywine Valley, where the winds just shifted, the nights are cooler, and brighter colors threaten to begin their march over the verdant hills any moment now. I'm not a huge fan of beer in the summer - perhaps because the beers I specifically gravitate toward tend to be bigger, bolder, and slightly more Germanic. If autumn puts you in a similar mood, here are a few spots that will satisfy your cravings:


Uschy's Cafe in Downtown Wilmington Have you been to Uschy's? I ask this question a lot, because Uschy's Cafe the most unfortunately kept secret in downtown Wilmington. (It doesn't help that the storefront is on the lightly trafficked Shipley Street. There's also an entrance on Market Street, but you'll have to watch for the sandwich board and walk through the corporate building lobby to get there. Its worth it.) The menu is everything you'd expect from a little German cafe with freshly prepared foods. There are schnitzel sandwiches and Schnitzel Weiner Art, both available in chicken or pork, both perfectly juicy on the inside and crisp on the outs. But if its your first time, try a sausage sampler usually some bratwurst, some knockwurst, some otherwurst. It sounds heavy for lunch, but without all the carbs you'd get from eating these on a hot dog roll (America style!), its not as much as you'd think. I was talking up Uschy's to a colleague who works in the office here with me last week. Say hello, colleague: [Hi! I'm Gaby!] She asked if they had real German potato salad. I said it came with every lunch. But I've lived in Germany, she said. I still think you'll like it, I said. She has since been to Uschy's. I am leaving the following space blank to allow the German potato salad expert to say what she thought:
"You know that mayonnaise-y stuff you get at the store that has celery seeds and hard boiled eggs in it? That's ok, and it has its place next to your baked beans. But its not German Potato Salad. The stuff you get at the Saengerbund? Its good. Its real good. Its German, too. But its not warm German Potato Salad. The warm? That's the key. That's what separates the hot dog from the wurst. Here are your 3 steps to the best German potato salad I've had outside of Deutschland itself: 1) Go to Uschy's. 2) Order the potato salad. 3) Take a moment of reflection and mourn the loss of all other potato salads."
Specials rotate. One to watch for: The homemade spaetzle is exactly what you want on a cold winters day light yet hearty, its a big bowl of comforting. I got a picture here of the Rueben, which was perfectly nice but ultimately made me wish Id ordered a sausage platter, because, sausage platter. Half the fun of going to Uschy's is being served by owner Ursula Roehm, who is exactly as authentically German as her name sounds. They don't serve alcohol, but more than once, shes suggested I grab a non-alcoholic beer to have with lunch, Because its always better with a little taste of beer. When I politely decline, she believes its because I can't go back to work with beer on my breath. And then she gives me a look of pity that has America, still the land of Puritans written all over it. I love Ursula. Ursula is a great host. Tell her I sent you.

Iron Hill Brewery on the Wilmington Riverfront I called Iron Hill, the regions biggest chain of local breweries, at about 4pm on Sept. 25 to ask about their upcoming Oktoberfest specials. Were tapping the Oktoberfest beer in about an hour. Want to come over? Indeed I did! Alas, there wasn't a firkin or a lederhosen or a dirndl in sight. On a Thursday night at the brewery, tapping the keg means going downstairs and hooking up some lines. Not much ceremony there. But the beer still flowed, and after they poured one for me, they ended up pouring one for three other people at the bar.
Iron Hill always has a few Bavarian bar favorites on the menu, but it really amps up this time of year, with dishes like potato croquettes, black forest meatballs, Schlachtplatte (a grilled butchers plate of bratwurst, knockwurst, smoked pork loin, roasted fingerling potatoes, sauerkraut and stone-ground mustard sauce), Hackbraten (German-style meatloaf with smashed Yukon gold potatoes, beer-braised red cabbage and hunter sauce) and a long-time Iron Hill favorite Huhner Schnitzel (pan-fried chicken cutlets with haricots verts and almonds, buttered egg noodles and lemon-herb sauce). There are Iron Hill locations in Wilmington and Newark, both of which will have the Oktoberfest on the menu for the month but are worth a stop for beer lovers, year round. A couple quick notes:

I know Pennsylvania Dutch isn't really German (but, perhaps,more German than Dutch ). Still, there's never a bad time of year to visit Dutch Country Donuts in the New Castle Farmers Market.

Many local breweries brew their own Oktoberfest ales. Two to watch for: Twin Lakes and Dominion