Two of the city's most-anticipated festivals are headed back to Wilmington next month and, though they are two distinctly different celebrations, they do have one thing in common—food, and lots of it.
More than the warming of the weather or the end of the school year, June signals the return of carnival and festival season in the First State. For over 40 years, two local churches, Holy Trinity Greek Orthodox Church and St. Anthony of Padua, have hosted Wilmington's most popular festivals. Colloquially referred to as the Greek and Italian Festivals, each festival celebrates culture, tradition, and—to the delight of palates everywhere—food. There are few better ways to experience a culture than through its cuisine and both events offer ample opportunity to do so. Though there is a distinct difference between the two festivals—the Italian Festival has a carnival-like atmosphere with a family-friendly midway of rides and games, whereas the Greek Festival is unabashedly centered around food—both collectively draw tens of thousands of serious food lovers to the area.
A TASTY TALE OF TWO FESTIVALS
At the Greek Festival, you'll find plenty of kefi, best described as a presence of joy or high spirits not only in the celebratory atmosphere of ethnic music and dancing, but also in the traditional comfort food pouring out of the kitchen. Throughout the years, the menu has become so popular, organizers of this year's event have arranged online ordering, curbside pick-up, and a free lunch shuttle to transport those looking to step outside the lunchtime comfort zone to the church's community center to enjoy delicious Greek fare. Here's a rundown of some of the best dishes you'll find at the Greek festival: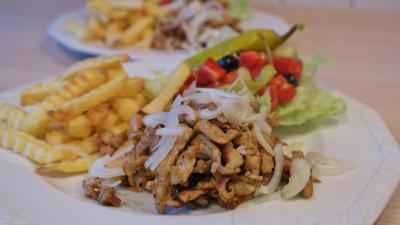 Gyro – Like Indian shawarma and Mexican al pastor, this traditional dish is derived from the lamb-based doner kebab. In Greece, you will find that is it mostly made of pork or chicken. However, in the US, it is commonly made with beef and lamb.
Souvlaki – Small pieces of meat—typically chicken, beef, or lamb—grilled on a skewer.
Calamari – Not to be confused with octopus, this dish's name is synonymous with squid. In Greek cuisine, it is typically grilled or fried and topped with a squeeze of lemon.
Moussaka – An eggplant, potato, and seasoned ground meat casserole-like dish topped with a nutmeg-tinged bechamel sauce (a milk, butter, and flour sauce).
Dolmades – Marinated grape leaves stuffed with spiced rice or meat.
Spanakopita – A spinach- and feta cheese-stuffed phyllo pastry, it is one of the most popular Greek dishes.
Here, the rotisserie and grilled classics like gyro, souvlaki, and calamari will be prepared al fresco on church grounds while favorites like moussaka, dolmades, and spanakopita will be served in Holy Trinity's Hellenic Community Center.
Just a few blocks away from the Greek Festival grounds is the Italian Festival where revelers celebrate the many facets of Italian culture, music, and food. Authenticity reigns supreme here and hungry visitors are in for a treat this year. The Scott Street vendor area will be converted into an expanded food court area with catering done by locally-renowned purveyors Luigi & Giovanni Caterers & Specialty Foods of Newtown Square, PA. In addition to Italian classics, gourmet hot and cold sandwiches and an array of aged artisanal meats will be offered. As if that wasn't enough, full carving stations and a salumeria will be available.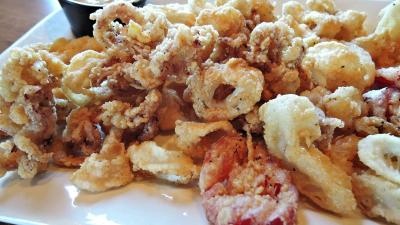 The culinary magic doesn't end with Luigi & Giovanni. Several cafés and pop-up eateries will be on-site serving porkette sandwiches, veal, meatballs, broccoli rabe, smelts, and more classic, gut-busting delights, so you'll want to bring a hearty appetite (and maybe wear elastic-waist pants).
Want to bring a taste of the Greek and Italian festivals home? Get your food to go and pick up a bottle (or two) of wine or spirits—ouzo or Barolo would do nicely—from a place like Peco's Liquors, a local store that's been serving the community for over 75 years.
Kali orexi and buon appetito!
More Wilmington Festivals Coming Up!