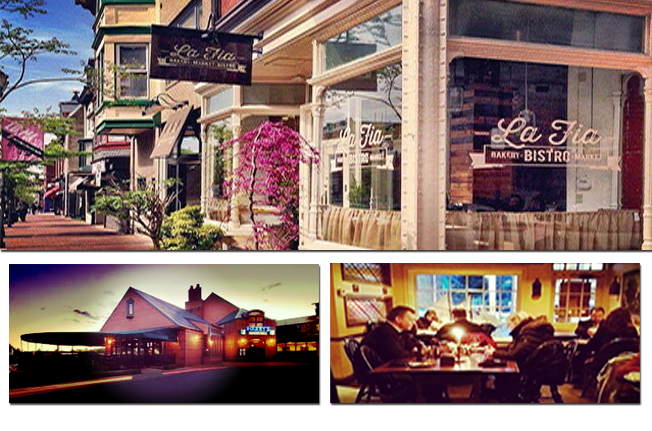 "An old high school friend of mine is going to be in town for business tomorrow. I'm taking him out to dinner. So if you had one night to show off what the local dining scene is all about, where would you go?"
That's the question. One night. One dinner. One chance to show off the area and introduce someone to the flavor of our town.
Where would you go?

I couldn't decide. My friend told me to take him someplace I was "enthusiastic" about, but let's face it, I'm generally an enthusiastic eater. (See how excited I get about a sausage sandwich.) So many options, so many possibilities … and so I posed this question to my little Facebook community, and people responded.
The top vote getters: Domaine Hudson, La Fia and The House of William and Merry. The Big Three among the latest wave of restaurant openings in Delaware, with three superstar chefs in the kitchen, these are the places you take your big city visitor when you want to prove that Wilmington can complete at a very high level.
The classics: Piccolina Toscana, Eclipse Bistro, The Green Room, Pochi Chilean Cuisine and Harry's Seafood all got multiple mentions, and all five are places that I would recommend to a visitor wholeheartedly because they're great, they're excellent and they're consistent – with excellent food, every time. "I had a friend come in this weekend, and he is still talking about the dinner we had there almost a year ago (at Toscana)," said one person. That's the kind of reaction I like to hear after I take someone out.
All excellent choices. And let me add a few more places that really speak to a local sense of place:

  Buckley's Tavern. If you want to get a true feel for the community of northern Delaware, if you want to find the exact place where town meets country, it's at the bar at Buckley's. Order a Buckley's burger and strike up a conversation with anyone sitting nearby.

  The new Stone Balloon Ale House. The original Stone Balloon has a legitimate place in music history. Bruce Springsteen, Metallica and the Dave Matthews Band once played in Newark's classic music hall, which now serves upscale comfort food and great beer.

 Jessop's Tavern. Few restaurants speak to Delaware's place in history more than this tavern in Historic New Castle, where you can just imagine the same tavern fires warning the conspiring colonists in a pre-Revolutionary winter.
So – what's your pick? Where's do you bring travelers when they're in town for one day? Is the list above about right, or are we missing something?
Send me your suggestions – on Facebook, on Twitter @mattsullivan101, or to my email at goodtaste@visitwilmingtonde.com. I'll give it a couple days, and then share responses below.
UPDATE: 
The people have spoken! I got a lot of feedback on Facebook, by email and from people who come up to me in person and tell me I'm an idiot. (That last might not have been related to this project, specifically.)
Here are a few other picks form locals for one night in Wilmington:
When my family visits from Texas, no trip is complete without Claymont Steaks … and of all places, Rita's. It's something about our bread/crust, and well, who doesn't love Rita's Italian ice? Not quite the same caliber of places the last installment was on, but places they absolutely wouldn't miss. – Jen
I can't argue against a stop at Claymont Steak Shop, one of the best cheesesteaks in town. (I've been meaning to do an all-cheesesteak edition of this blog, as soon as my doctor allows it.) And when you're in Rita's territory, you go to a Rita's.
One other place in that same vein that I might take out-of-towners? A Wawa. Especially if they come from Sheetz territory, because, really, they need to know.
How did Moro not get a mention? How about the NOT fine dining? India Palace for Lamb Korma, Capriotti's Bobbie, Casapulla's Italian Sub, I second the Claymont Steak shop for a cheesesteak and megafries. –Darren
Moro should get a mention as one of Wilmington's top dining spots (and now that most people have GPS in their phones, visitors should be able to find it more easily).
And the Capriotti's Bobbie is, perhaps, Delaware's most iconic nap inducer.
Two others that got lots of love from readers: Brandywine Prime up in Chadds Ford and Harry's Seafood Grill on the Riverfront. And this:
Here's a new one I haven't seen mentioned … especially in good weather, gotta show off the roof top deck and goooood eats at Satsuma. – Julie
Places with great views? That's a whole 'nother bag of oranges. I'll work on that one soon too.