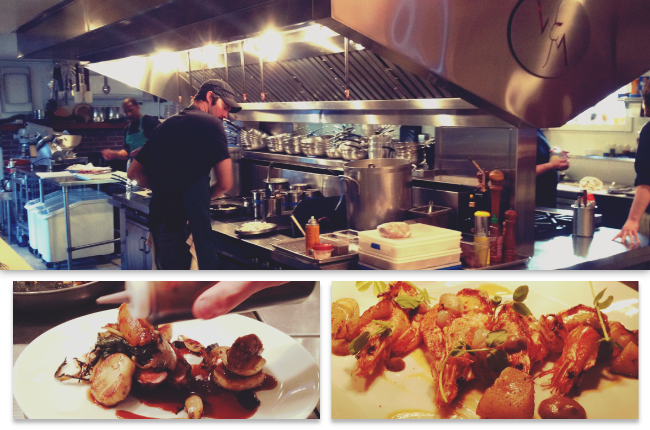 The best table in The House of William & Merry seats eight, in the shape of an L, all on the same side. They make drinks on the other side. I guess in some places you'd call this a bar, but I've never seen anyone come to this table just to drink, and no one sits alone for very long. You can't reserve seats theyre available first-come, first-served and from one of the three seats on the short side, you have a clear view into the open kitchen where the chef is on the line, cooking dinner at his house. Whats the best restaurant in Delaware? I get asked that a lot. Of course, there's no answer. It all depends on your tastes, your mood a hundred things. But any serious chat about the best restaurant in Delaware must include The House of William & Merry, the three-year-old eatery owned by the husband and wife team of Merry Catanuto and Bill Hoffman. In 2011, Bill and Merry renovated this 1922 farmhouse in Hockessin (a suburban enclave about 15 minutes north of Wilmington proper), turning it into both their business and their home. They live upstairs from the restaurant with their two children, Nick and Elise. Merry runs the front of the house, and Bill runs the kitchen, producing farm-fresh modern American cuisine with strong European influences. The House might be off the beaten path, but its not gone unnoticed. Serious foodies must make the pilgrimage up Route 41, like the night Top Chefs Lee Ann Wong popped in, sat at the bar, and tried dish after dish after dish.

I wanted to go in and hang out for a night with Bill and his team. Weekends are often packed, so to get the story without getting in the way, I popped in on a Wednesday night less busy, but still popping. Heres what happened: 6:15: Guests are arriving. I grab a chair at the bar and order a basil-bourbon smash. (This gig is not without its perks.) The phone rings. Its Olivias dad. Shes a server, hes a local forager, and hes found a few pounds of fresh spring ramps. Olivia scolds him for calling during service. Bill yells from the kitchen: I can't turn down spring ramps! Olivias dad will be in later. 6:45: The special of the day: Foie gras, in the moment. In other words, Foie Gras: Trust Bill. The man loves his foie, and the first order is already searing on the stove. He places it over toasted house-made brioche, topped with a Honeycrisp apple/30-year-old balsamic compote, along with blueberries with fennel pollen. The plate is finished with truffle oil, chicken skin cracklings, micro mustard greens from Cool Breeze Gourmet Greens and leek ash. People who trust Bill are amply rewarded. You should trust Bill. 7:00: A beautiful app of butter-poached prawns, with heads on, is ready to go. Head fat is the best fat, Bill says. How do you translate that advice to diners? I ask server Dan Barr. Its really hard to use the word suck in a fine-dining establishment, he says, with a smile. But 7:30: Tasting menu. First course. The table has already received an amuse bouche of capicola, tomato jam and a warm mozzarella crostini. Now, things get serious: Yellowfin tuna, slow-poached tomatoes, Manchego cheese, crispy pancetta, aged vinegar, and a cilantro coulis.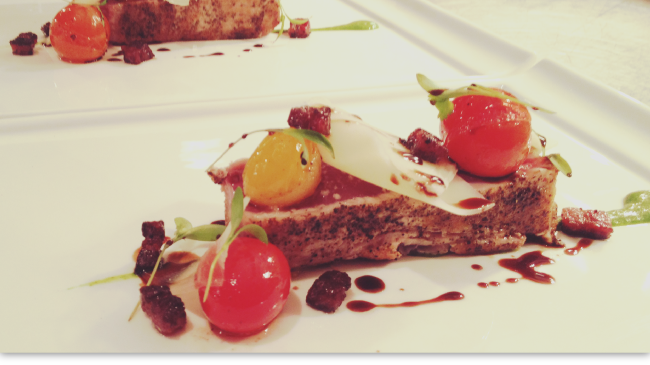 7:45: Its a Rolling Stones kinda night in the kitchen strong beats, nostalgic melodies. On nights when they get real busy, Bill bumps up the music a notch to match the pace. On nights when theyre slammed well, those nights, Bill might turn on something a bit more soothing. Just to keep things even. 7:55: Tasting menu. Second course. Stacked, from the bottom up: Beef tenderloin, fiddlehead ferns, spring onions, goat cheese dumplings, seared foie gras and grilled oysters, served with a red-wine demiglace and truffle powder.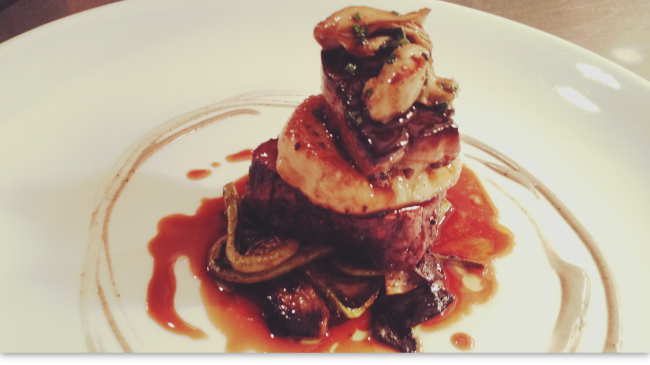 No matter whats playing on the radio, Bill loves jazz. Dishes rarely repeat from night to night. Sometime hell borrow a riff off one of the regular menu items and work it into something new; other nights, hes playing a whole different tune, based on whats come in fresh. And speaking of fresh: 8:05: Ramps arrive! They were only picked an hour and a half ago, says Chris, the forager. Bill runs his hands along the roots. Theyre still alive, he marvels. Bill weighs them out at 6.5 lbs. Chris doesn't want money. He wants dinner. The deal is struck, and Chris and his wife Lisa grab a seat at the bar. 8:15: Tasting menu: Cheese course. Pawlet cheese, apple-red wine compote, micro greens, leek ash. The plate is a work of art. The garde manger, Roki, is taking pictures next to me. Its for my blog, he says. Of course.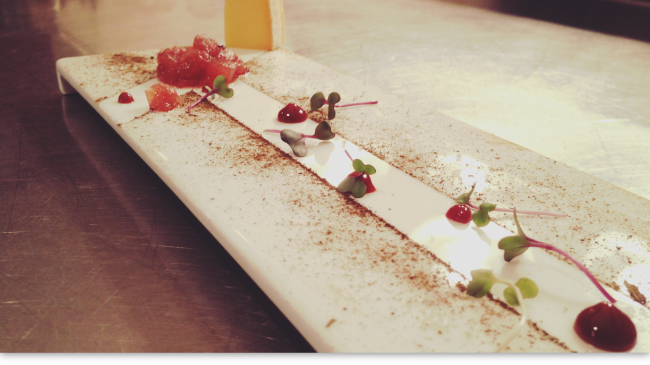 8:30: It took two hours for those ramps to go from the earth to the plate, on first dish that goes out to Chris and his wife, Lisa. They got to know Bill after she started working at the restaurant, and at the bar, theyre treated like rock stars. That might be the best thing I've ever eaten, Chris says. He spends all of his time thinking about dishes and food, Olivia whispers to them, quietly. 8:40: Tasting menu. Dessert. Marble pound cake, black raspberry puree, mango panna cotta, Marcona almond powder, mint gel, black raspberry ice cream and raspberries.
9:05: Wild Horses plays overhead. Veal stock simmers on the back stove. Dinner rush is over. Bill takes a bite of a six-hour braised rabbit ragu, made simply with peas and butter over homemade farfalle. It takes you back to when you were a kid, he says. This is what I feed my daughter. There's a hundred things you can do to any dish, Bill says. And there's a time and a place for all that. But hes working on restraint these days, letting the beauty of the ingredients shine through. I'm trying to take away. Inspiration comes from everywhere. From his friends. From other rising stars on the local food scene. From local farms. From the guys who bring in fresh ramps. From his family upstairs. I just love to cook. I really do. And I get to cook where I love. That adds to the passion. I'm happy, Bill says. When you're this blessed, its hard not to be. And I still think were truly just at the beginning of this journey. 9:45: The bar is starting to empty out. Bill cooks for me, a version of that foie gras plate earlier in the night. The blueberries burst with their sweetness, the cracklings provide salty texture, and the truffled sauce below the brioche brings the ethereal foie back to earth. I'm happy, too. After I eat, I pop in to see Bill and find him in the kitchen, wiping down the stove. Works almost done. Its his kitchen. His house. His home. He keeps it clean. Thank you, says a couple at the door. It was really delicious. Exceptional. Bill waves, and the last guests of the night leave the House.