The fall season traditionally brings soups, chilis, and other seasonal goodies out from hiding on restaurant menus, but there's one underrated menu item that has a special fall feel, foodie or not... NACHOS! These chip and topping combos make for the perfect snack while watching the big game, catching up with friends or even a full meal to yourself – we won't judge!  
To get your nacho crawl rolling, we've rounded up five Wilmington & the Brandywine Valley restaurants that know how to make the kind of nachos you dream about.
Metro Pub and Grill – Middletown, Delaware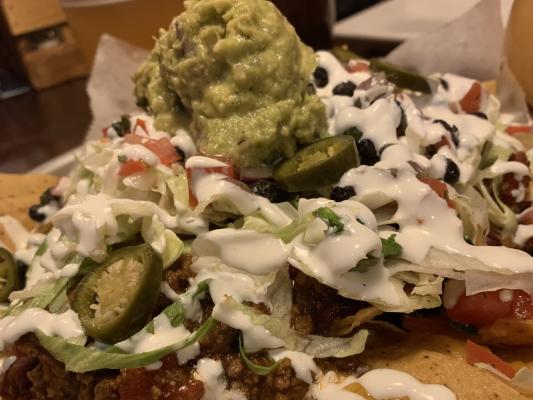 Metro Pub and Grill is located at Peachtree Station in Middletown, Delaware! With a chef driven menu and a creative take on American cuisine, this southern New Castle County favorite makes for an amazing night out. Did we mention they are pup friendly!?   
Metro Nachos V: Queso Blanco Cheese Sauce, Black Bean Salsa, Lime Sour Cream, Lettuce, Pickled Jalapeño, Cilantro, Pico de Gallo, Guacamole (Add Chicken or Chili)  
The highlight of the "Metro Nachos V" is the Queso Blanco Cheese Sauce! 
Grain Craft Bar & Kitchen – Newark, Delaware  
Perfectly located at the top of Newark's Main Street, just minutes from the University of Delaware's main campus, Grain Craft Bar & Kitchen is a bustling, yet casual space where well-crafted food and drink happily go hand-in-hand. 
Nachos: Choice of grilled chicken or short rib with our OMG cheese sauce, pico de gallo, jalapenos, shredded lettuce and drizzled with avocado crema and sour cream 
The highlight of these nachos is the way they are served. Stretched out on a longer platter rather than piled too high, leaves most of the chips perfectly filled with toppings. Oh and of course, the OMG cheese sauce is amazing! 
Taco Grande – Riverfront Wilmington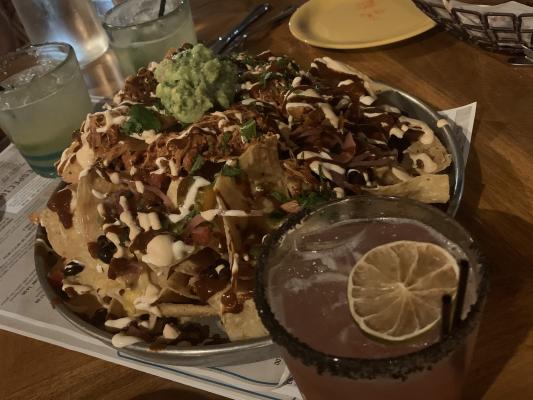 Taco Grande, new to the Riverfront neighborhood, brings a more traditional Mexican approach to the area. When you #VisitWilm, be sure to impress your palette with the nachos but more importantly... don't forget to add a margarita alongside.  
Nachos Grande: Crispy tortilla chips, melted Monterey Jack and cheddar cheese, queso blanco, black beans, red chili sauce, crema, cilantro, pico de gallo, guacamole, pickled onions & jalapeños - your choice of chicken or short rib.  
The highlight of the "Nachos Grande" is the red chili sauce mixed with the different cheeses!  
Washington Street Ale House – Downtown, Wilmington 
Moving further into downtown Wilmington, is Washington Street Ale House. This downtown classic is a traditional stop on game day, or whenever you're in the mood for a craft beer. With more than 24 on tap it's only fitting that you pair a cold brew with their simply delicious nachos.  
Ale House Nachos: Chili, lettuce, cheddar-jack, pico de gallo, jalapeños and sour cream.  
The highlight of the "Ale House Nachos" is their simple deliciousness in delivering   the perfect ratio of chip to toppings! (You almost have to ask for more chips!)  
BBC Tavern and Grill - Greenville, Delaware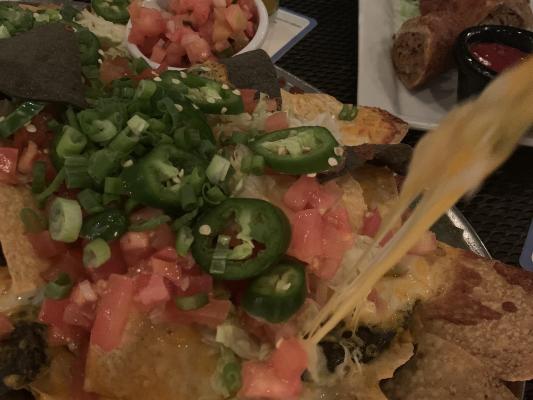 Heading out of town and into the Brandywine Valley you'll find BBC Tavern and Grill. The relaxed and friendly atmosphere is an excellent way to start or end your nacho crawl, whether it's on the heated outdoor patio, at the bar, or in the comfy, casual dining room. This classic Greenville restaurant is the place to go to have a great meal with great friends.  
JamJoe's Nachos: Yellow and Blue Corn Tortilla Chips, Cheddar Jack Cheese, Black Beans, Lettuce, Chopped Tomatoes, Scallions, and Jalapenos. Add buffalo chicken, bacon or guacamole. 
The highlight of the "JamJoe Nachos" is that you get the choice of a half or full-size order and all the cheesy goodness that goes with it!  
This #VisitWilm food crawl is a cheesy good time, but we highly recommend using this as a starting point and creating your own nacho crawl, burger crawl or whatever it is you're craving when you venture through the restaurants of Wilmington, Delaware and the Brandywine Valley.  And remember.... nachos like these require every bite to be savored!