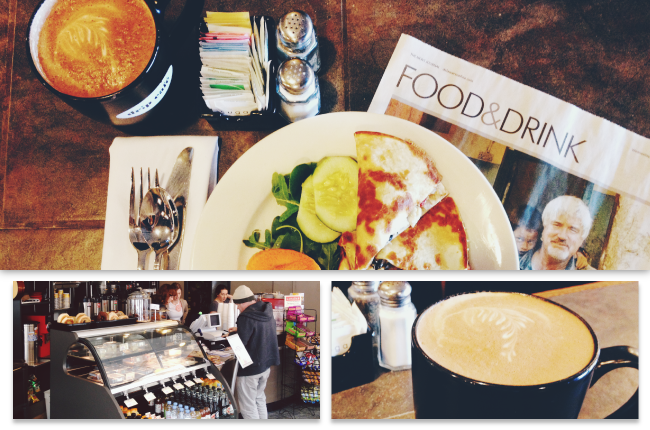 There are no Starbucks in downtown Wilmington. Let that sink in. There are no Starbucks in downtown Wilmington. I know this might be confusing to some of you, especially if you're just off a redeye and desperately searching for a venti quad nonfat one-pump no-whip mocha before the first meeting of the morning. Fear not. This is not an un-caffeinated town. (Nor are we complete savages. If you're a creature of habit with access to your own wheels, there are Starbucks within driving distance. And of course, there's an app for that.) But before you stumble bleakly into that bright morning, here's the straight drip on a few just a few of the uniquely local spots where you can wake up with a bit of local flavor. (Note: This list is carefully curated but by no means comprehensive. There's lots of good coffee all over the place, including a few places -- Whereabouts Cafe in Bear, The Perfect Cup in Hockessin, Centreville Cafe in Centreville -- that I couldn't get to this time without getting the shakes.)

The Downtown Spots
LOMA Coffee Known for: Carefully chosen beans and a hip vibe. The downtown digital natives and creative class can often be found working and surfing at one of the many tables and couches in this spacious spot. Ask about what beans they're using that week, and they'll happily chat about where they source. It's your spot if: You're headed to a meeting on the west side of downtown, between the Riverfront and 6th Ave.

You'll be having:
Straight-up espresso (or an espresso drink) with a hummus-and-veggie platter. BrewHaHa! Known for: Being the grandpappy of the Delaware caffeinated arts scene. This local chain has won Best of Delaware awards for 19 years running and has nine local locations, including two in downtown Wilmington. (If you're waiting to meet someone at BrewHaHa and they're late, they're at the other BrewHaHa. Ask for directions. And yes, it happens to all of us.) It's your spot if: You need a private space for a coffee meeting. (Book time at the enclosed meeting room at the Delaware Avenue BrewHaHa, for free.)

You'll be having:
A latte and a scone. (Or whisper that you'd like a double-shot shakerato, shaken with half-and-half and a bit of sweetener, and get that blood pumpin'.) Presto! Known for: Sweets, treats and a robust menu that comes from sharing a kitchen with the Washington Street Ale House, allowing it to serve filling lunch sandwiches like the grilled bistro steak and the five-spice turkey. It's your spot if: You're coming or going from the hotels near Pennsylvania Avenue.

You'll be having:
House blend coffee and a bagel with lox and then probably a cupcake too, which you'll eat in secret before the meeting.

Morning in Newark
Central Perk Known for: Caffeinated beverages with an Asian flair (as well as, yes, having the same name as that place Rachel worked on Friends). Of course, there's coffee on the menu, and they make a damn fine cup of mocha latte, but check out the freshly blended fruit juices or the soothing aromas of their Special Wellbeing Tea, a blend of citron, ginger, jujube, plum, aloe and ginseng teas. It's your spot if: You need to gather with friends (or conference buddies) around some long tables.

You'll be having:
An iced chai and a cup of miso. Brewed Awakenings Known for: Being Main Streets cozy, family-run shop where the hospitality is always warm, the bagels are always fresh and the owners have a long-standing commitment to fairly traded gourmet coffee. Its a home-away-from-home for many grad students, and a refuge from the hustle-and-bustle outside. It's your spot if: You're looking for a quiet, cozy place to work on the laptop or (better yet) read a book.

You'll be having:
Cafe au lait and a hot crab-n-cheese sandwich.

Outside of Town, Worth The Drive
Drip Cafe Known for: Serious coffee and exceptionally good food, with a rotating menu of beans and pour-over coffee service upon request. (The current coffee list offers beans from Ethiopia, El Salvador, Guatemala and Papua New Guinea.) A chalkboard lists the local sources of many ingredients (from eggs to bacon to fresh veggies), and dishes like the kale-bacon-potato hash with sunny-side-up egg and maple syrup are as delicious as they are unexpected. It's your spot if: You the kind of person who requests pour-over coffee service (and you know who you are).

You'll be having:
The quesadilla with roasted portabella mushrooms, red peppers, onions, scrambled egg whites and garlic-herb cream cheese, with a cup of Yellow Reserve Guatemalan coffee. Traders Cove Coffee Shop at Penn's Place Known for: Creatively flavored coffees, roasted by the Pike Creek Coffee Roasterie, that come in flavors like Chocolate Raspberry, Blueberry Cinnamon, Sweet Potato and Jamaican Me Crazy. Note: The storefront isn't on the main street, but you'll find them by walking down the cobblestone alleyway next to Penn's Place. Sit outside in the garden if weather permits.) It's your spot if: You're strolling through historic Old New Castle on a bright spring morning.

You'll be having:
The flavored coffee of the day, with a homemade quiche.