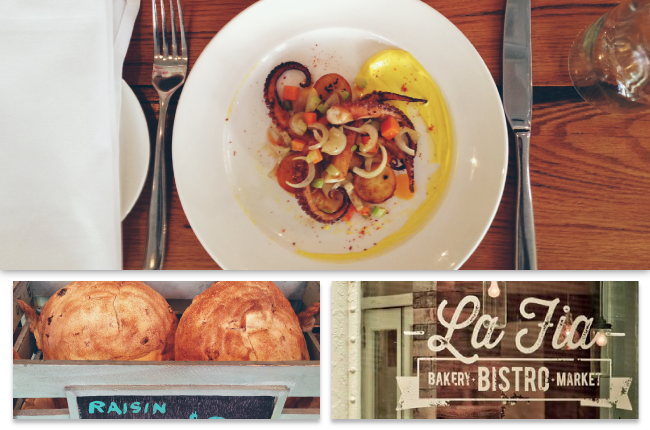 Friday night, a couple weeks ago. It was a busy night in downtown Wilmington, Delaware, but I had a little time between the vampire ballet at the Grand and the Rick James tribute show at the Queen, and I was in need of a bite. Walking between the two theaters on Market Street, I saw the lights of La Fia. Surely, it would be packed. Three days earlier, chef Bryan Sikora had scored his first James Beard nomination the Academy Awards of Foodiedom for best chef in the Mid-Atlantic region. But that probably didnt affect the room that much. La Fias been packed every Friday night since it opened a year ago. But when I glanced through the windows, I spotted an empty space at the bar. Score! Bar seats at La Fia can't be reserved. Theyre available first-come, first-served. So between the dance of the living dead and the dancing of the reanimated Rick, I stopped in for an old fashioned cocktail, some rock octopus and, oh yes, a gougre. (More on that later.)

Bryan Sikora: Career highlights reel Bryans star started to rise at Django, his BYOB in Philly, when he scored four bells from Philadelphia Inquirer critic Craig Laban (becoming the first Philly BYOB to do so). A few years later, he opened Talulas Table in Kennett Square (just north of Delaware), a gourmet food shop with one 12-seat table that booked out one year in advance. The foodie blog Grub Street once named it one of the Five Toughest Reservations in America, behind Raos and Momofuku Ko but ahead of The French Laundry. After Talulas, he worked a bit at the beach and a bit back in Philly before eying Wilmington's Market Street as his new home. And despite the accolades hes gathered in past locations, it was in Wilmington where he earned his first Beard nomination and maybe (it remains to be seen) his first win.

La Fia: The Insider Tips If you plan to dine at La Fia, you best not walk up at 7pm on a Friday and expect a table. Heres a few tips:
The official advice from La Fia staff is that if you want a rez in prime time on a Friday or Saturday night, you need to make it a week in advance. Once we escape the deathly cold grip of eternal winter, Id suggest you double that.


The other night to watch out for? Tuesday. Bottles of wine are half price. Its a hot night locally.


The bar is always open and a fine place to sit, with an engaging bar staff and classic cocktail list. (All drink ingredients, from the syrups to the bitters, are made in house.) The night I was there, the bar staff was kind enough to help locate a charger for my iPhone, thus preventing a panic attack and I got the chance to sit next to a server, popping in on her off night to try a couple of things from Bryans new menu. (Whats happening at the Queen tonight, she asked. Rick James tribute show. That explains SO much.)


The menu is divided into small tapas plates, first courses (traditional apps), and second courses (entrees). The first two usually run between $8-$12 a plate, and entrees check in at $25-$35. Most people get two plates, but its certainly not unusual to see foodies putting together multi-course meals, wandering all over the menu, and the staff is happy to oblige.


The menu changes all the time, so lets not make this blog outdated in its first week, OK? The pics you see here are the Spanish Rock Octopus with toasted garlic potatoes, saffron aioli and lemon dressing, and the Smoked Haddock with shaved relish, cabbage, chopped egg and capers, and yes, envy me.


The bread. The bread is a thing. I've heard a guy growl at waitresses who nearly took away a bread basket before it was empty, and that guy was me. Each table usually gets some baguette, some golden raisin walnut bread, some olive rosemary bread, and a gougre that was made by Satan and sent to Earth to tempt mankind. Get into that basket as it arrives and claim the gougre as your own, before someone else at your table does.


If you can't get in for dinner. La Fia is also open for lunch during the week and brunch on Saturdays. (Bryans breakfast sandwiches are the best I've ever eaten, served on homemade English muffins.) And the market selling breads, bagels, cheeses and (yes) gougres is open during the day, starting around 10:30am. They have a second round of fresh bread available daily at 5pm.

Also in the Beard Universe Just in case you're a James Beard groupie, here are a few other places in town you should know:
Former rising star nominee Chef John Morton now runs the kitchen at Eclipse Bistro.


Thrice-nominated Chef Michael DiBianca has two restaurants in Wilmington: His acclaimed (and tough-to-find-without-GPS) Moro, and the recently opened fusion-Asian-tapas hotspot, Satsuma, in Trolley Square.


Among the local rock-star chefs who have cooked at the James Beard House: Robert Lhulier (executive chef at the private University and Whist Club), Chef Michele Mitchell (executive pastry chef at the Hotel du Pont), and Thomas Hannum (formerly of the Hotel du Pont, now chef/owner at Buckleys Tavern in Centreville).