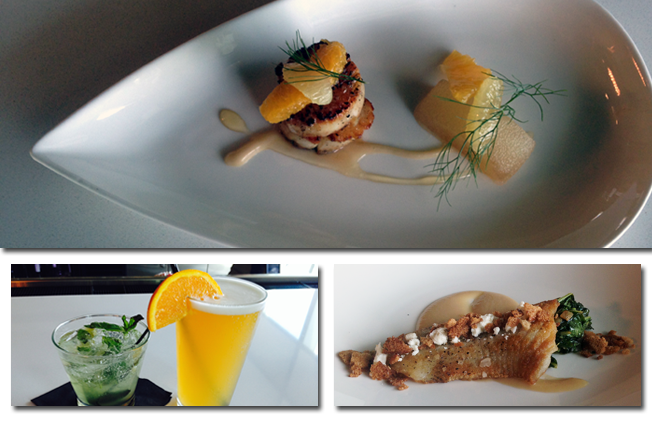 His resume includes stints at The Columbus Inn, Harrys Savoy Grill, Union City Grille and the late, lamented LOsteria Cucina Italiana (former home of the best gnocchi anywhere). Former co-workers and mentors are a who's who of the local culinary talent: Anthony Stella. Patrick DAmico. Sean McNeice. David Banks. Donny Merrill. He rose through the ranks until he was running The Green Room at the prestigious Hotel du Pont. And then, David Lattomus wandered off into the wilderness. Well, maybe not the wilderness. But definitely the fields at Highland Orchards, where he spent a year as the farm manager, watching over crops as they grew from seeds to harvest, baking pies, coming up with recipes, incorporating locally-sourced meats, making cider donuts. And he loved it. (Well, most of it. If I never see another cider doughnut again, he says, leaving that sad thought unfinished.) But when management at the new Westin Wilmington called, the lure of the kitchen was hard to ignore, the offer impossible to refuse: Start a new kitchen, create a new concept, have some fun. River Rock Kitchen opened the same day as the new Westin on the Riverfront. Inside, heavy high-top tables dominate a room meant more for group outings than intimate get-togethers, and the bar at the end of the restaurant extends to become a countertop that runs the length of the window space on one side of the restaurant. The design is functional if a bit austere, though whimsical touches, like the chandeliers made from hundreds of hanging mason jars, give the room a modern/indie feel. At night during the week, long tables are filled with travelling parties who buy into Davids concept small plates, adventurous ingredients, local sourcing and everything designed for sharing. River Rock recommends three plates per person, which should easily provide enough food to fill a generously-sized person (like me). Sharing not only promotes community, David says, but also sampling. You may never have had skate wing before, but its far safer to satisfy your curiosity with a $10 plate than to stake your meal (and your evening) on a $30 entre.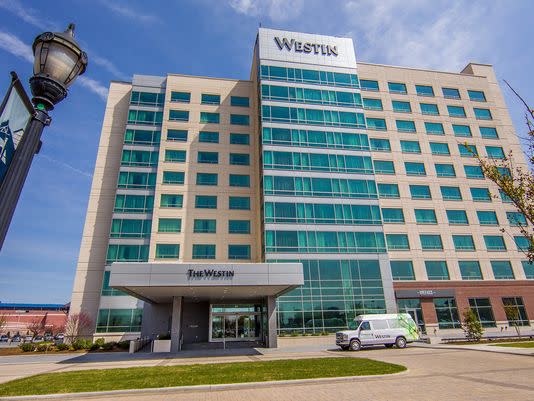 In creating the restaurant, David paid honor and homage to Westins philosophy of holistic, healthy living, but the concept is entirely local. His year at the farm have left him with strong feelings about sustainable agriculture and eating. (Its not a trend. Its not a fad.) I tested him after ordering a plate of that skate wing, a beautifully seared and seasoned piece of fish that came with an Asian pear puree (for sweetness), wilted dandelion greens (a bit of bitter), feta cheese (some salt) and topped with a crumble of toasted everything bagel (for crunch, and because everything is better with bagel). So where did the skate come from? I asked. Turns out, it was fished from the Indian River in southern Delaware. Fresh. Local. Sustainable. Other dishes showed a deft combination of technique and unexpected ingredients (not surprising from a chef who gave his sous chef a copy of Modernist Cuisine to read for homework on his first day of work). Seared scallops were paired with compressed pears, yuzu and a pear puree. A warm asparagus app at lunch was topped with a perfectly cooked 40-hour egg, the soft yolk blending with the bacon butter to create a sauce for the asparagus, with pickled caper berries providing an acidic bite to the plate. More traditional plates are served at breakfast and lunch, and in the lounge area at dinner, where you can still get a steak frites and Caesar salad, but inside the restaurant at dinnertime, David and his staff are committed to their concept. So sit down. Pick a meat. Pick a fish. Pick the Brussels sprouts with pancetta and brown butter. (Yes, definitely do that.) And don't get too attached to what you ordered, because your dining companion might have something that looks better. Cocktails, breakfasts, and hot days
The bar menu is still coming together, but I enjoyed a Beertail (Blue Moon, Domaine De Canton ginger liquor and OJ) far more than I should have and yes Ill have another. Also a contender: the ginger mojito.


I didnt get out there for breakfast, but the menu offers a great mix of healthy, pre-work power breakfasts (blueberry banana smoothie made with soy milk, apple and lemon juice, garnished with all-natural granola brittle) and the indulgent, its-a-Wednesday-but-what-the-hell breakfast entrees (the Wilmington Waffle with white chocolate chips, fresh blackberries, dark chocolate drizzle and vanilla Crème Anglaise).


By all reports, the Westin has been a hotbed of activity on the business-travel night of the week (Mon-Wed), and the restaurant has been packed. Locals might want to pop in on weekends, if you catch then between wedding crowds.


Food & Beverage Photography by Brendan Cooke. Westin Photo by Robert Craig, The News Journal.
All rights reserved.