In recent years, the interest in sustainable, farm-to-table dining has surged as people are seeking out healthier eating options and ways to support local agriculture.
Overall, Delaware's community-run farmers' markets are growing and thriving. Buying local not only ensures the freshness of the food but also helps keep small farms productive and in business. Shopping at farmers' markets is a great way to make a connection between what's on your plate and the people who are committed to growing it.
Often, farmers' markets are associated with the sprawling farmland of lower and rural Delaware but there are community-supported agriculture (CSA) programs and markets dotted throughout northern Delaware that offer everything from fresh produce to artisanal breads and cheeses. As summer's bounty winds down and we ease into autumn, let's take a look at some of greater Wilmington's best farmers' markets.
Bellefonte Farmers' Market; 510 Duncan Rd. Wilmington, DE 19809 (Bellevue Community Center) Fridays, 5 PM – 8 PM, June 7 – September 27, 2019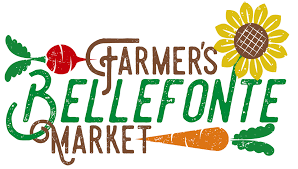 This Wilmington market highlights the best of the community from local businesses, breweries, food, and music. The outdoor garden serves as a gathering space where purveyors, local shop owners and growers sell their wares and mingle with patrons. Bring your tote and fill it with goodies from the Bellevue Community Center farmstand or grab a brew from area favorite Wilmington Brew Works. A station of food trucks provides sustenance for hungry shoppers and live music from Sycamore Alley keep the jams coming while you shop for jam. You can even bring your bike for a quick tune-up from Urban Bike Project!
Carousel Park Farmers' Market; 3700 Limestone Rd. Wilmington, DE 19808 (Carousel Park & Equestrian Center) Fridays, 2 PM – 6 PM, May 3 – October 25, 2019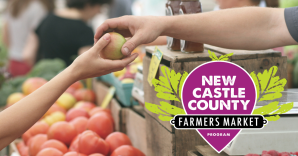 Local residents like to say that if you can't find the item you're looking for at this Wilmington market, it doesn't exist and there may be some truth to that statement. With an impressive roster of vendors, everything from handcrafted jewelry and home décor to specialty food items like homemade pickles and fresh-baked bread, culinary and home good choices are plentiful. Don't forget doggie—Greenville-based Deer Valley Danes sells raw and baked pet treats and bespoke accessories so your fur baby can stroll in style.
Route 9 Farmers' Market; 3022 New Castle Ave. New Castle, DE 19720 (Rte. 9 Library & Innovation Center) Wednesdays, 3 PM – 7 PM, June 5 – October 2, 2019
Since its opening in 2017, this New Castle library has proven to be a real boon to the community. Its Innovation Center often sees a flurry of activity thanks to a loaded events schedule. Locally-sourced produce and meat are the biggest draw and the prepared foods vendors offer a variety of tasty dishes.
Westside Farmers' Market at Cool Spring Park; Cool Spring Park Wilmington, DE 19806 (West 10th & N. Jackson Streets) Thursdays, 4 PM – 7 PM, June 6 – October 3, 2019
It is no secret—there are pockets of Wilmington that are in dire need of access to fresh produce but this farmers' market provides a wonderful solution. A veritable smorgasbord of fruits and vegetables, shoppers can expect to find blueberries, peaches (several varieties), sweet corn, raspberries, tomatoes, apples (many varieties), nectarines, plums, squash, peppers, honey, fruit pies, apple cider and everyone's favorite apple cider donuts, cabbage, green beans, onions, cantaloupes, watermelons, potatoes, and pears among the weekly abundance. The fact that the market is a result of a collaboration with West Side Grows Together and managed by the youth of Bright Spot Ventures (BSV) is even more of a reason to support the local enterprise.
Wilmington Farmers' Market; Rodney Square Wilmington, DE 19801 (10th and Market Streets) Wednesdays, 10 AM – 2 PM, May 1 – October 30, 2019
Rodney Square, the green space and bus depot across the street from Wilmington Public Library, is one of the city's most recognizable and busiest hubs. For years, it has hosted a number of events from summer music festivals to open-air markets; recently, it has become a home base for a number of food trucks. On Wednesdays, the square is converted into a farmers' market with a bevy of vendors selling produce, beauty products, artwork, and handmade jewelry. A few on-site food trucks set up shop every week much to the delight of the downtown suit-and-tie set and marketgoers alike.
Shopping at your local farmers' market is an ideal way to support area farmers and opt for healthier dining options. By purchasing from one of these markets, bonds among neighbors and the relationship with the purveyors and food growers are strengthened as are ties to the community. The next time you visit a farmers' market, remember these 3 benefits:
1. Locally grown food simply tastes better because it has had less time in transit and/or less time to sit around. This state of freshness also ensures that the food stays packed with its intended and initial nutrients.
2. Locally grown food helps build communities because when you buy directly from the farmer, you are building a relationship while also helping to support local farmers who are providing for you as much as they are providing for their own families.
3. Locally grown food is good for the environment and for sustainability because knowledgeable farmers ensure that the land is well kept with minimal, if any, usage of chemicals and fertilizers.
 Have you visited any of the farmers' markets on the list? If so, what are your favorites items to purchase?
*Every effort was made to ensure the accuracy of this information. However, you should always call ahead to confirm dates, times, location, and other information.