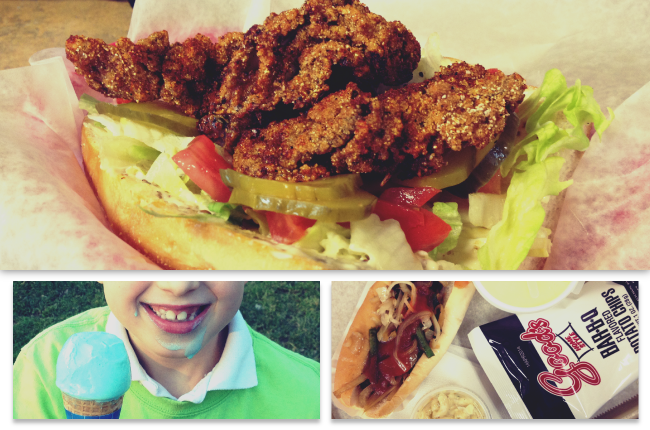 Calvin Trillin is an American foodie hero. A pioneer in gastro-tourism and an evangelist for local cuisine, his food writing of the 1970s is a time capsule, a portrait of America caught in a moment in time when sushi was just fish that wasn't cooked yet, good coffee meant not burnt coffee, and the best restaurant in town was a place that imported canned food from France and was inevitably called La Maison de la Casa House. That's not where Trillin wanted to eat. And when he traveled, he had a foolproof method for getting the real story on the best eats in town: I might be forced to sidle over to the clerk at the motel as if I were going to make some innocent inquiry about checkout time, grab him by the necktie, pull him over the counter, and say, in a voice that signified I meant business, Not the place you took your parents on their twenty-fifth anniversary. The place where you went the night you came home after thirteen months in Korea. That's great advice. I mean, sure, the Internet has cut down a bit on the need to manhandle hotel staff for recommendations (sadly), but it's still great advice. So this week, I've got three places the causal traveler would almost certainly never find on their own. Three places that will never be mistaken for La Maison de la Casa House. But if you grab me by the necktie (good luck finding me in a necktie) and ask where we should go grab a quick bite, here's where we're going.
Stop 1: Stoltzfus Sausage Sandwiches
Heres whatcha gonna do:
Drive out the DuPont Highway to the
New Castle Farmers Market
, a giant building adorned with pictures of horse-drawn buggies and maybe a flea market going on outside. Drive around the back to Door #3. Take the right fork inside the door, walk past some fine purveyors of down-home Amish cuisine, and you'll see two things: The Mill Outlet with an impressive variety of discounted socks and a line for sausage sandwiches. Do not be distracted by the socks. Get in line.
Why you are doing this:
Its called
Stoltzfus Sausage Sandwiches
. This is a clue as to what you should order. If you get there early, they put an egg on it and call it breakfast, and everyone wins. But if its lunchtime or after, don't gild the lily with melted cheeses or mushrooms or such. You want a sausage sandwich, fried onions, and peppers, light on the sauce. If you can handle some heat, get the spicy sausage. If not, the sweet will do you fine. Order the combo, with a bag of great BBQ chips, a lemonade and macaroni salad. (A word on the macaroni salad. You might be tempted to go instead with the fresh-cut fries or the deep-fried veggies, but if you like macaroni salad, this is THE macaroni salad that other macaroni salads want to be when they grow up. Nothing fancy, but perfectly balanced and delicious.)

Bonus:
After you're done with lunch, walk about five steps down to Dutch Country Donuts, and buy donuts. Do not buy a donut, because that will not be enough donuts. The cinnamon roll-ups are often warm, gooey on the inside with nice crunch on the outside. Get one. They're even better than the maple-bacon donuts.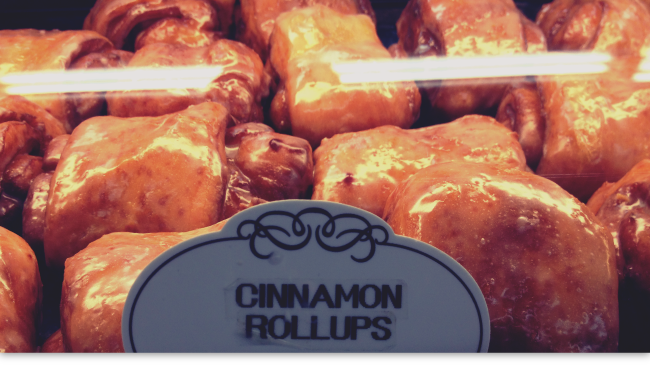 Hours:
The New Castle Farmers Market is open 9 am-9 pm Fridays and Saturday, 10 am-6 pm Sundays, with some extra days around the holidays. Some Pennsylvania Dutch markets are closed on Sundays. Check before you go.

Stop 2: Cajun Kates New Orleans Market
Heres whatcha gonna do:
Take Foulk Road north through Wilmington, right over the line into Pennsylvania, and then make a left onto Naamans Creek Road, looking for the Booths Corner Farmers Market on your right. Drive around back and find door #35. Walk past the first aisle and hang a left at the second, and walk until you see the sign for Cajun Kates.
Why you are doing this:
Ideally, you did not eat breakfast and you've arrived early for lunch. This might be your only shot at scoring one of the six stools at the counter, which is where you want to sit, as long as you don't mind latecomers shouting orders over you while you eat. (True confession: When there have been no stools available, I've eaten in my car. Sloppy, but worth it.) You're starting with the gumbo of the day sometimes seafood, sometimes pork always served over rice. Thick, hearty, authentic, delicious. Get a small, or you'll eat it all and you won't have room for an oyster po'boy. (If it's on special. If not, go with catfish.) They'll ask you if you want it all the way. You want it all the way. It comes on a local Serpes roll, with aggressively seasoned fried oysters, lettuce, tomato, and pickles, with sauce. Get a half. If you get a whole, you will not have room to order a small batch of piping hot beignets, three to an order, covered in powdered sugar. Better yet, go with a friend, and make him order the crispy fried mac n cheese, gator on a stick and the pain perdu (deep-fried French toast with pecan maple syrup), and then demand that he share.
Cajun Kates
is named after Kate Applebaum, former sous chef at New Orleans
Bayona Restaurant
(now running the kitchen at Harry's Seafood Grill in Wilmington), and run by her husband Don. If you eat there, you will not need this information to realize
they know what they're doing
.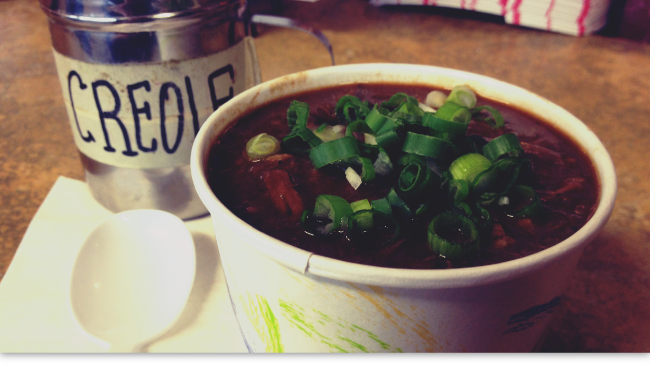 Hours:
The Booths Corner Farmers Market is only open Fridays and Saturdays, from 9am-9pm Friday and from 9am-8pm Saturday. The staff will ask whether you plan to eat your food right away or not. If not, theyll package it up with reheating instructions.

Stop 3: Woodside Farm Creamery
Heres whatcha gonna do:
Find Limestone Road (between Newark and Wilmington), and drive straight up into the heart of suburbia. Take a left onto Little Baltimore Road, and right when you start to think maybe we went the wrong way, you'll see the sign for
Woodside
. Take a left onto Valley Road and you're there.
Why you are doing this:
Incredible small-batch ice cream, made from the milk of the Jersey cows you'll see walking around the fields next to the creamery. How good is this ice cream?
Ryan Reynolds and Blake Lively stopped in Delaware to get a cone on their honeymoon.
Order inside the little ice-cream shop, unless there's a line out the door, and then the side window might be faster. You'll have a couple of dozen choices, some fairly descriptive (chocolate almond), some a little sketchy (booger.) Samples are freely given before you make your choice. There are no bad decisions here unless you don't get the chocolate thunder because if you don't, whats wrong with you? Cups, cones, and sundaes are priced by the ounce, so go big or go small. Your call. Milkshakes? Banana splits? Ice cream sandwiches? Yes. Yes. Yes. Truth be told, if you dine out in Delaware, there's an excellent chance you'll get the chance to have Woodside ice cream. Many restaurants carry it on their dessert menus.
But there's nothing like eating a cone on the farm on a warm summer night, watching the sun go down and the cows go home.
And then getting a pint to go.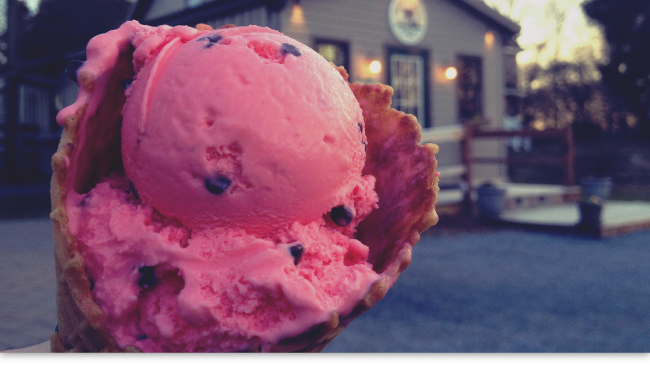 Hours:
Woodside is open every day but Easter Sunday, from April through October, noon-8pm in the spring and fall, noon-9pm Memorial Day weekend to Labor Day weekend. If you're there on a day when theyre giving tours, take one.
**Main image: Cajun Kates, Bottom-left: Woodside Farm Creamery, Bottom-Right: Stolzfus, Bonus Image (Lower Image 1): Dutch Country Donuts, Lower Image 2: Cajun Kates, Lower Image 3: Woodside Farm Creamery