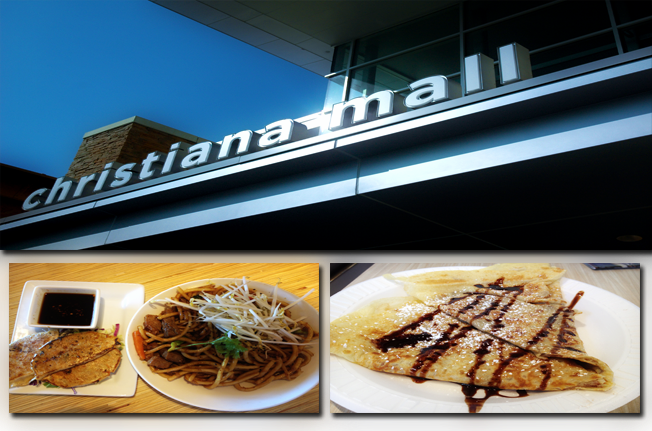 Holiday prediction: There will come a time during this season when you will need a martini. I'm a big fan of the midday mall martini break during the holiday shopping season, as an alternative to punching an elf. (Not that the elf has done anything wrong, but lets face it, if you lose it, you're probably going to take it out on an elf.) But if you're pulling an all-dayer at the Christiana Mall this season, you're going to need sustenance straight through the day. There's the food court, sure, but a little knowledge goes a long way toward keep your taste buds happy, your blood sugar levels in check and elves out of danger. My top tips for eating at Christiana Mall this season:


Start the day right: Get there early, and get a smoothie. At Fruit Sensations in the food court, theyll blend a combination of fresh fruits and yogurt into something that will give you the energy you need to start the day. Yes, you will be tempted to get some breakfast sandwich instead. But be smart. Start healthy. Maybe add the shot of protein. Do not have a Nutella crepe for breakfast. As pictured here.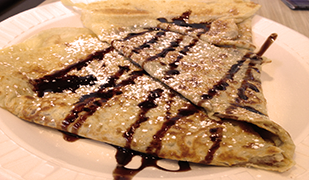 Lunch: My favorite food court lunch spot is not in the food court. (Yes, that's a cheat.) But go right outside the mall at the food court entrance, hang a left, and scurry along in the wind its not a long walk to Noodles & Company, where we can do some carb loading for the afternoon. There's enough variety to please just about anyone who doesn't hate noodles, from Thai Hot Pots to Wisconsin Mac & Cheese. Last week, I ordered some Japanese Pan Noodle with the marinated steak, along with some dumplings. The veggies in the noodles were fresh and well cooked (if anything, my carrots were crunchy and slightly under), and everything was aggressively seasoned, the way I like it. The $1.25 upcharge for a Thai Curry soup is one of the best deals in fast food. Bonus points: They serve wine and beer (including a local brew from 16 Mile).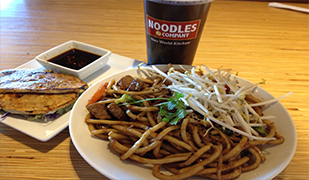 Hidden Lunch: The best spot in the mall that most people will miss is Sixth and Pine, the restaurant at Nordstrom. Far removed from the hustle and bustle on the second floor of the department store, Sixth and Pine specializes in salads, sandwiches and comfort all vital to getting through your day. Typical menu item: California Grill with natural roast turkey, tomato, bacon, swiss cheese, avocado, garlic aoli, grilled sourdough bread. And for those of you who like to walk into the mall with a plan, they take reservations on OpenTable.

Know where the freebies are for afternoon snack: Walk slowly past the Hickory Farms kiosk (near Target) when theyre cutting into some summer sausage, and you can score some meat on a stick (a toothpick, but still a stick). At Teavana, the upscale tea shop owned by Starbucks, they often have two flavors of piping hot tea available right at the door for sampling. There's always something that smells delicious inside Williams Sonoma, a very well run branch of the cookware chain. And it goes without saying that if you roam the food court looking hungry, someone will offer you a taste of chicken something.

Know where the chocolate is for afternoon snacktime: Prefer hot or cold? For hot, head out to the Ebar right inside the mall entrance to Nordstrom and order a hot chocolate (or, if you're feeling spicy, a Mexican hot chocolate) from this upscale coffee bar that serves well as the malls Starbuckery substitute. They have tables (and free Nordstrom wifi) to sit and sip. Or on the other end of the mall, right outside Target, the Paciugo Gelato and Caffe will fill your cone with a couple varieties of chocolate (or any of the many flavors they offer, but you came here for the chocolate). Either place can also get you an espresso, depending on how fast you need to move this afternoon.

Happy Hour: Stake out a spot at the bar at Brio Tuscan Grill. Even weekday, from 3:30-6:30pm, the happy hour offers food specials like crispy eggplant fries ($3.95), tomato margherita flatbread ($3.95), and crispy cheese ravioli ($5.95), served alongside cocktails that range from $4-$6. And you'll need one before you go into The LEGO Store again.