An Olympian could put a serious dent into the profit margins of a Brazilian churrascaria, those all-you-can-eat style steakhouses that you've undoubtedly heard about, even if you've never been to one.
You've seen reports of the Michael Phelps diet? Back in 2008, The Wall Street Journal reported on his daily breakfast: "Three fried-egg sandwiches loaded with cheese, lettuce, tomatoes, fried onions and mayonnaise. Two cups of coffee. One five-egg omelet. One bowl of grits. Three slices of French toast topped with powdered sugar. Three chocolate-chip pancakes." (That's insane. I mean, who can drink that much coffee?)
Imagine running food services for more than 11,000 athletes? Even if they're not all of Phelpsian proportions, that would require a lot of gauchos wandering around with swords of meat to keep them fed. (Sadly, that's not what's happening. The busiest food vendor in Rio appears to be McDonalds, says the Washington Post: "You see weightlifters grasping multiple bags in each mitt and pixie gymnasts balancing armfuls of cardboard soda holders. Israelis line up with Iranians. Mongolians mix with Bahamians. … So many people have been coming to McDonald's that the restaurant decided this week to limit to 20 the number of items that one person could order.")
But unwilling to celebrate the start of the Games with the official Big Mac Combo of Champions, my wife and I took the kids to Newark's newest (and the area's first) Brazilian steakhouse on the first night of the games. Reluctant at first, they perked up when I told them that both sausages and rack of lamb were on the menu – two favorites that they feel are served not nearly often enough at home.


 Starting Gate:
The first shock when you walk into Churrascaria Saudades Brazilian Steakhouse is the size. What looks like a small storefront in the Newark Shopping Center (right off Main Street) actually is a long, narrow restaurant that goes much further back than you would expect, and expands to two levels in the rear of the restaurant. It's sleek and refined, with hosts and hostesses who are impeccably dressed, lighting and décor that's modern and sharp. While some churrascarias I've visited play with a more kitschy cowboy aesthetic, Saudades announces from the start that the food here will be taken very seriously. (Note: I saw diners wearing everything from slinky black date-night attire to shorts and polo shirts, and no one looked uncomfortable.)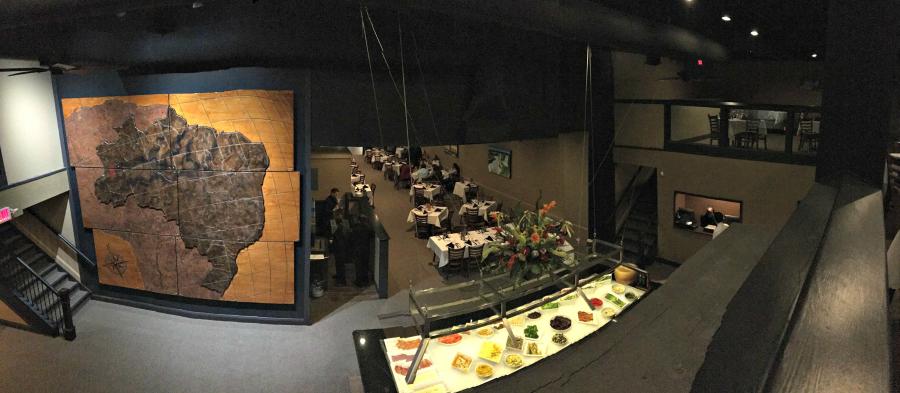 Preliminaries:
The marathon meal starts with light jog to the salad bar. I find that it's best not to skip the warm-up before the meats arrive, if you want to go the distance. Salad dressings are made in-house, so a small green salad with Vinaigrette Brasileiro and a little Manchego cheese and charcuterie on the side made a nice starter. There was smoked salmon, a variety of fresh vegetables and a creamy corn salad that my wife raved about on the other side of the bar – but one doesn't want to overdo it in the prelims. (Little chunks of candied bacon, presumably to put on top of the salad, might make you blow your training regimen.)


 Pace Car:
Keeping pace can be an issue. It's easy to finish the salad, plow through the warm pão de queijo cheesy bread they bring to the table, flip your personal "meat meter" from red to green and let the meat come. But I suggest restraint -- the kind of restraint that comes from ordering a cocktail, waiting for it to arrive, and then sipping slowly and enjoying a brief respite from the games.
Thankfully, Saudades makes a mean Caipirinha, the national drink of Brazil made with cachaça (sugarcane hard liquor ), sugar and lime, with a flavor profile that resembles a tart mojito. The Caipirinha at Saudades is heavier on the lime then the sugar, the way I like it.  For those who prefer wine, a well-chosen cellar has much to offer, but the wines on tap are excellent – and a half carafe is a great way for two people to sample one or two.

 Going for the Gold:
Thus come the meats. Waiters with swords of meat are on the prowl looking for green cards on the table, and each place setting gets a pair of tongs to help grab a piece of what they slice off. I've got a generally salty palate, so I'm a fan of the heavily seasoned style that Brazilian steaks are known for, especially the picanha (sirloin with a thin strip of fat on the top) and the pork ribs. (If you prefer less seasoning, ask for guidance – the very well trained staff is eager to please, whether it's a specific cut or a specific temperature you're looking for.) My kids did enjoy rack of lamb, but for sheer joy on their faces, there was no matching the chicken wrapped in bacon and the filet wrapped in bacon. ("Wrapped in bacon" is their new favorite food preparation.) We also tried the linguica sausages, the top sirloin, the ribeye … all accompanied by garlic mashed potatoes, fried bananas and friend polenta that were left on the table and replaced every time they came close to looking finished.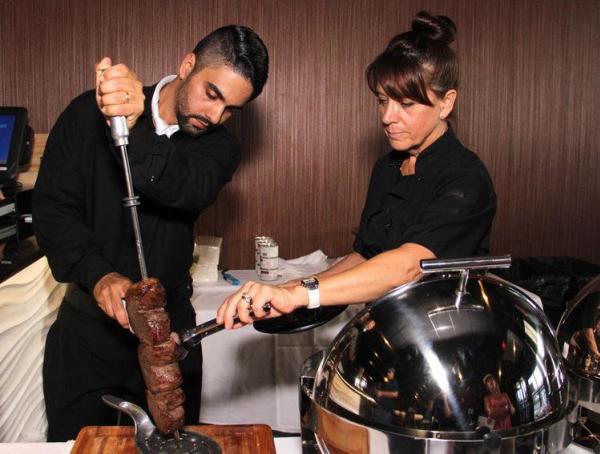 There are desserts, I'm told. We couldn't even look at a menu (though I did close out the meal with half a fried banana, so, there's that). And then we headed home for an Olympic-sized stretch on the couch to watch the Opening Ceremonies, and all those wonderfully fit McDonald's eaters. Go USA, indeed.
(Postscript: This bit of writing from Churrascaria Saudades is perhaps the most poetic thing I've ever read on a restaurant website, and demands to be shared:
The poet Goethe once said, "There is no past that we can bring back by longing for it, only the present that builds and creates itself as the past withdraws."  A unique word exists, only in the Brasilian language, that best describes those longings and that word is SAUDADES …. a deep emotional state of nostalgic longing for an absent something or someone.)