Ah, it's that time of the year again when the cold weather has been ushered out by warm and sunny days, the smell of fresh-cut grass is in the air, and the promise of backyard barbecues looms. However, if you're the type who is devoid of grill skills, you might want to hang up your tongs and get your fix from one of the area's barbecue hotspots.
Most foodies and grilling enthusiasts know that finding good, authentic barbecue north of the Mason-Dixon Line is a difficult task and, to be fair, it should be. In general, barbecue is a southern culinary phenom. More specifically, it is categorized according to strict regional, often sauce-based, guidelines. (Although the 2010 US Census Bureau considers Delaware a "southern Atlantic state," for culinary purposes I will not, so no "Delaware-style" barbecue here, folks.) Here's a breakdown of regional sauce styles:
BEFORE YOU CHEW, KNOW YOUR 'CUE
Eastern North Carolina vinegar sauce – Spicy and acidic African flavor profile; thin and watery and used to soak pork as it is cooked over a flame
 
Piedmont- or Lexington-style dip – Tangy, vinegar-based sauce sweetened and reddened by ketchup; typically used for pork
 
South-Carolina-style mustard sauce (known as Carolina Gold) – Spicy, zingy mustard-based and thinned by vinegar; used to dress pulled pork and other pork cuts
 
Texas-style mop or basting sauce – Thin, glaze-like sauce that may include beef stock, vinegar, and/or Worcestershire; applied using a mop as meat (typically beef) is smoked
 
Kansas City-style sauce – Thick, sweetened by molasses (or brown sugar) and reddened by ketchup and sometimes includes soy sauce or vinegar; most common sauce in American barbecue
 
Alabama white sauce – Thick, creamy, or milky mixture of mayonnaise, vinegar, and black pepper; typically used as a dip for smoked chicken (sometimes pork as well); considered an anomaly among barbecue traditions
SMOKE 'EM IF YOU GOT 'EM
Don't fret—just because Delaware isn't exactly Dixie doesn't mean there isn't any authentic barbecue to be found. You'll find pitmasters and BBQ joints dotted throughout the state and many of them hold their own against their southern counterparts. Here's a roundup of some of the best smoked and grilled eats in the greater Wilmington area.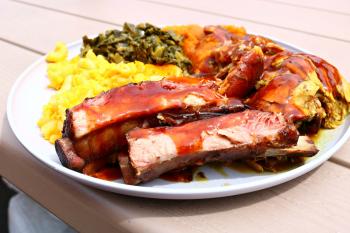 Russell's Quality Foods – If barbecue is a religion, the right kind of smoking wood is the Holy Grail. Many pitmasters will tell you that cut the of meat and type of sauce used in the cooking process are often times secondary to the type of wood used in the smoker or grill—it's that important. When burned, wood imparts its natural qualities and scent into the food as it cooks and that's why hilariously entertaining BBQ guru/owner Alphonso Russell starts with cords of hickory wood in his well-worn, blackened smokers. Best described as a roadside stand, this popular, hidden-in-plain-sight gem is located in the parking lot of a liquor store (talk about a perfect marketing ploy) and is a lot like the little engine who could—small but mighty. The diminutive kitchen churns out plateful after plateful of perfectly sauced classics like racks of ribs, chicken, and pulled pork, but a detour from traditional fare is where the real magic lies. Try the not-yet-trademarked "cu-jerk-en" (a delightful hybrid of curry and jerk chicken cooked in the smoker and slathered in sauce), smoked Italian sausage sandwich, or Russell's take on a traditional cheesesteak. Sides like mac and cheese, collard greens, candied yams, and potato salad prove to be deliciously complementary. Do you wake up thinking about barbecue? No worries. There's even a breakfast menu for those who like to start their day with a break from the norm.
Locale BBQ Post – There's usually a surefire way to tell if a restaurant is worth its salt—a small, concise menu—and the folks at this Wilmington fan favorite seem to agree. The offerings may be limited but flavor is abundant. Sandwiches overflowing with pulled meat (chicken and pork to be precise), racks of intentionally charred ribs and brisket (hey purists, take note of the telltale smoke ring), and wings keep hungry diners clamoring for more as evidenced by the fact that even though this place opens before sunrise, some of the more popular items sell out by early afternoon. As if the barbecue here isn't a big enough draw, housemade pickles—often a forgettable item at any other joint—are a big deal and can be ordered as a side. Speaking of sides—or fixins as they're called here—shouldn't be overlooked; the baked beans and cornbread with housemade sweet butter are mouth-watering.
Racks Smoked BBQ (formerly Balan BBQ; 867 S. Dupont Hwy. New Castle, DE 19720; no website) – If ever there was a business pulling double-duty, it's this little workhorse. Part Filipino grocery, part barbecue hidden gem, Racks is an obscurity-seeking culinarian's fever dream. Where else can you buy hard-to-find authentic Asian snacks and American barbecue? Here you can shop for taro root popsicles and soursop juice while you wait for your pulled pork sandwich and brisket to be boxed up—talk about a win for food diversity!
(Note: Side dishes are at the cook's whim and change frequently, so be prepared if your favorite isn't available.)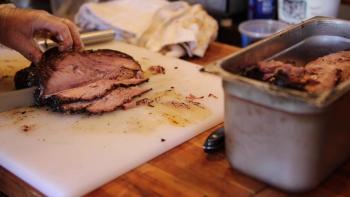 Limestone BBQ and Bourbon – Get out your map because this sometimes raucous honky-tonk will take your palate on a ride through a bunch of regional barbecue styles. From fork-tender, Texas-style brisket to fall-off-the-bone St. Louis ribs, you'll forget you're in the First State. Throw in the fact that this place houses a few single barrels and serves over 50 different bourbons and you'll swear you're in Kentucky. There's occasionally live music and a vibe that makes you feel like pulling up a rocking chair and sipping on some bourbon on the front porch—a fitting activity after you filled your belly with some of the best smoked meat in the state.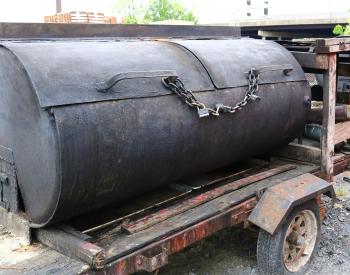 Madison's Smoked BBQ – Suspend your belief in outdated culinary tropes for a minute and believe me when I tell you great barbecue can be found in a…strip mall. I know, I know—I can almost see your upturned nose and your head shaking, but it's no different than discovering great food in a trailer in a parking lot or in a basement hole-in-the-wall (which, coincidentally, are the type of nondescript locations where some of the world's best food can be found). The menu reads like a greatest hits list of classics, but most people would say the brisket is the biggest draw. Seriously, come for the brisket—it ranks right up there with anything that comes out of a smoker in the South and, really, isn't that the highest of praise?
Barbecue always seems to put people in a good mood. Seriously, have you ever seen anyone angrily eat a rib? Why not channel your inner cowboy, keep the good times rolling and check out some of Wilmington's and the Brandywine Valley's live music venues? There's no better way to burn off some of that brisket than rocking out to your favorite band.