When the food-focused Expo Milano 2015 opens this Friday, the centerpiece of the USA Pavilion will be on wheels: six food trucks known as Food Truck Nation will showcase a sampling of regional American cuisine.  "We thought it was the right way to represent what's happening in America," explains Mitchell Davis, Chief Creative Officer of the USA Pavilion. "They're really entrepreneurial, reliant on social media and really show diversity in the food." – Laurie Werner, Forbes.com
Entrepreneurial. Social. Darn tasty.
That's what the food truck scene in Delaware is like right now. After three or four years of slowly building in number and reputation (and a long winter that's just seen signs of a thaw), the food trucks of Delaware are ready to roll into spring.
If you're in town on the same day as the start of Expo Milano 2015 (this Friday, May 1), enjoy the diversity of the local food scene at the Rolling Revolution Food Truck Night Market outside the Delaware Center for the Contemporary Arts. Food trucks of all flavors, including five of my favorites, will be on site to feed the crowds. No way I'm missing it.
But after that, you'll find food trucks on the streets and at local events all season long in Delaware. Two major trucky hangouts: The Downtown Wilmington Farmer's Market at Rodney Square (every Wednesday at lunchtime) and the DCCA (every Thursday at lunchtime). And here are five trucks I really enjoy – with links to their schedules:


KOI on the Go
KOI is the OG of the DE food truck world – the truck that made everyone believe fresh, delicious, gourmet food could come out the window of a metal box. KOI fish tacos are the tacos of legend in Delaware – lightly fried, topped with chopped tomatoes, cilantro, radishes, and spicy mayo. (Extra hot sauce on the side is not for the faint of heart.) But KOI isn't just about the tacos – I'll often order a combo meal if it involves some of their Thai fried rice, and the dumplings are perfect little packages of pork in a tasty sauce.
Where to find a schedule: Facebook.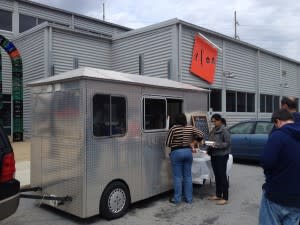 I Don't Give a Fork
First off, let's respect: Awesome name for a sandwich-based truck. This truck originated on the college streets of Newark, Delaware – and if you can imagine exactly the food that you'd want after a night out in a college town, that's what they serve. (I'm not going to call it stoner food, but they have famous sandwiches known as the Wake & Steak and the exactly-what-you-think-it-is Mac & Cheesesteak, so, yeah, let's call it stoner food. Delicious stoner food.) Yes, there are some lighter items, like a recently introduced shrimp banh mi and veggie options. Do not ask for utensils.
Where to find a schedule: Facebook.

Kapow
Fusing flavors from Southeast Asia and Hawaii, Kapow packs a punch into a small truck. Popular items include the Thai Guy wings and the Kapow rolls (and with two rolls to an order, I'm always looking for someone to split them with me so I have room for something else too). Rice bowls make up much of the entrée section, including the Huli-Huli bowl with Hawaiian chicken – but if you're lucky enough to catch owner Wit Milburn on a day when he's running specials on the Spam Musubi bowl or the Tae Kwondos (kimchi tacos), order those.
Where to find a schedule: Yup, Facebook.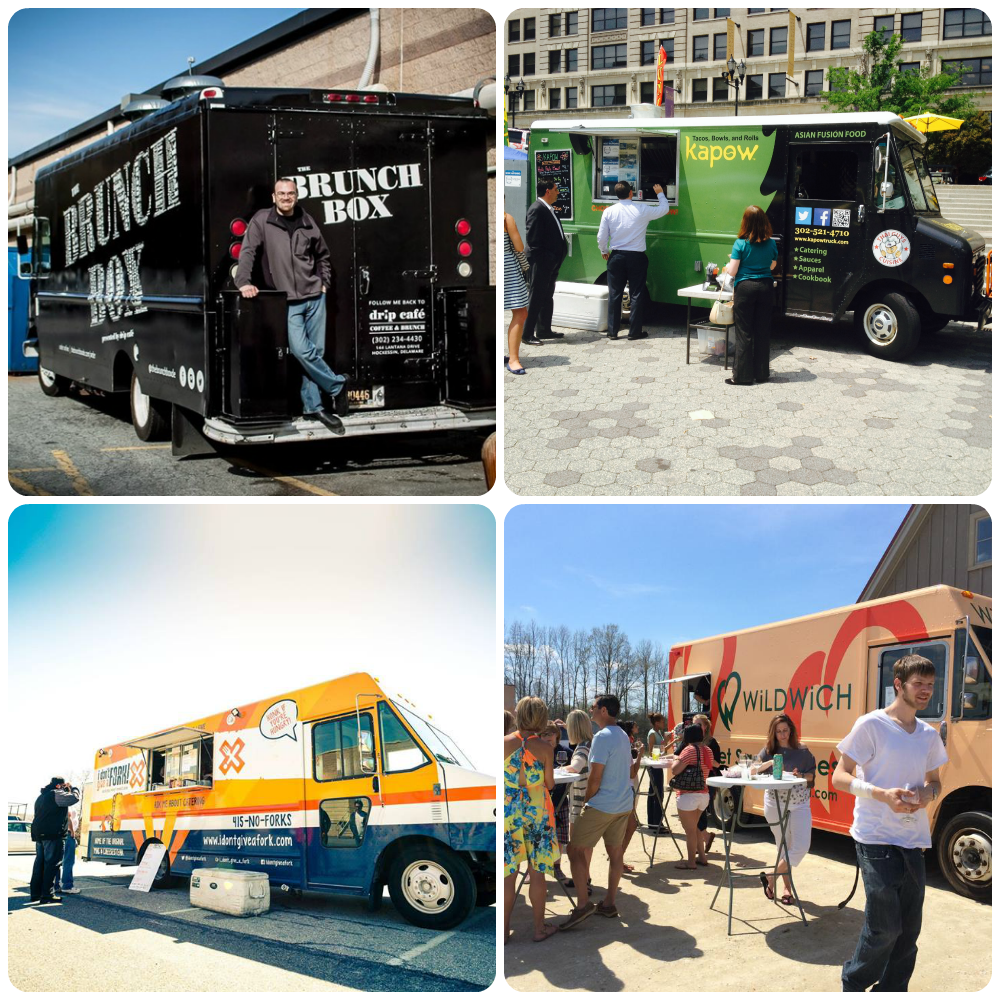 Wildwich
Scratch-made cooking in sandwich form, the Wildwich guys make everything but the bread for their lengthy line-up of sandwiches. I'm a fan of the Saigon (the hickory-smoked salmon banh mi) and the Jolly Mon (spicy and sweet jerk chicken with a mango salsa), but I know crowds also like the T-Rex (steak, horseradish, crispy onions) and the Wingman (a hot-wing style chicken-salad sandwich, though your appreciation for this will depend deeply on how you feel about your buffalo chicken touching your bleu cheese – and this is a hotly debated topic in the circles I travel). Definitely get your drinks here, with their homemade lemonades and Arnold Palmers.
Where to find a schedule: Yadda, yadda, Facebook.

The Brunch Box
Delaware's newest food truck branches off from one of my favorite breakfast spots: The Drip Café in Hockessin.  According to official sources: "The Brunch Box offers a tightly focused menu built around portable versions of the café's popular offerings – breakfast sandwiches with a twist, organic yogurt parfaits, Drip's house-made baked goods and French-pressed coffees from Ceremony Coffee Roasters." The Brunch Box just debuted and will have its first public appearance this Friday night. I'm not telling owner Greg Vogeley how to run his business, but if the Cali sandwich from Drip (scrambled egg, mozzarella, baby arugula, and basil-avocado aioli on a grilled roll) isn't on the menu at the Brunch Box, then I'll be telling him how to run his business.
Where to find a schedule: Pinterest. (Just kidding. Facebook.)