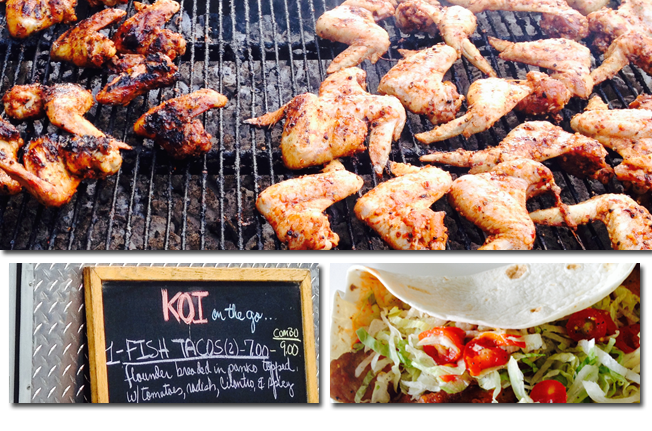 Maybe there was a time when farmers markets were mostly full of farmers taking their produce to market. And they surely still do that, but food vendors have infiltrated the marketplace in the past few years, turning these markets into weekly gathering spots for local street food. Here are three of my favorite spots to stop and nosh, for brunch, lunch and dinner.


Brunch: The Newark Natural Foods Co-Op Farmers Market If you want to shake the hand that pulled your produce out of the ground, there are few better places to do so than at the Sunday morning farmers market outside the Newark Co-Op. Calvert Farm, Lockbriar Farms, Bayberry Farm all are small, local, and friendly. (Say hello to Toby at Bayberry Farm, and hell tell you everything you want to know about what hes offering.) But on a quiet Sunday morning when you're a bit tired, a bit lazy, maybe a bit hungover there's plenty to perk you up. Java Puppy, the coffee food truck, is almost always around for a caffeine hit, and you'll find local baked goods from Big Sky Bread as well. Newarks own Wandering Chef food cart is also a mainstay, with their dumplings that become a cult favorite on the University of Delaware campus during the school year. Also on scene: KOI on the Go, a food truck that specializes in Thai fusion flavors and serves what might be the best fish tacos in Delaware. Breaded with panko, lightly fired and topped with tomatoes, radish and cilantro, with a spicy mayo on top, these are flavorful, fresh tacos that people line up for anywhere KOI goes. You'll almost always find the tacos on the menu, while other specials rotate. (I'm sometimes tempted away from the tacos by a fried rice special, especially when topped with an egg.) There's a hot pepper sauce KOI leaves out on the side that's very tasty and very hot seekers of only mild thrills should use sparingly. Also at the market: KAS Cake Emporium offers a variety of desserts, but also meat and chicken pies that hit the spot if you hit the town hard the night before. (Spice levels can vary from tingling to what the hell is that volcano in my mouth? Ask before ordering.) And the sausage masters at Maiale Deli and Salumeria are always on site selling product, and sometime there to grill it up into a sandwich. The week they had ginger-sage pork sausage with farm-fresh fried egg and bacon aioli? Best. Sunday. Ever.

Lunch: Farmers Market at Rodney Square Everybody who's anybody in the food truck world rolls into the heart of Wilmington's financial district on Wednesdays for lunch at the Farmers Market at Rodney Square. Sure, you can buy some local produce and a hand-crafted candle or two, but the focus here is on feeding the masses that emerge from the corporate towers nearby in search of some sun, some fresh air and some street food. Both KOI and the Wandering Chef show up regularly at Rodney Square. Other popular food trucks include Wilmington's KaPow Truck, an Asian-fusion truck that runs the gamut from Thai to Korean to Hawaiian. KaPow specializes in Kapow rolls (an variation on an egg roll that's stuffed with enough pork to make a light meal), Thai Guy wings (not too hot, believe it or not), and rice bowls. Kimchi beef tacos are worth getting when theyre on the menu, but I watch for days when owner Wit Milburn is feeling Hawaiian and breaks out his Spam Musubi Bowl, and get that. Its flavorful, filling, and just enough for lunch.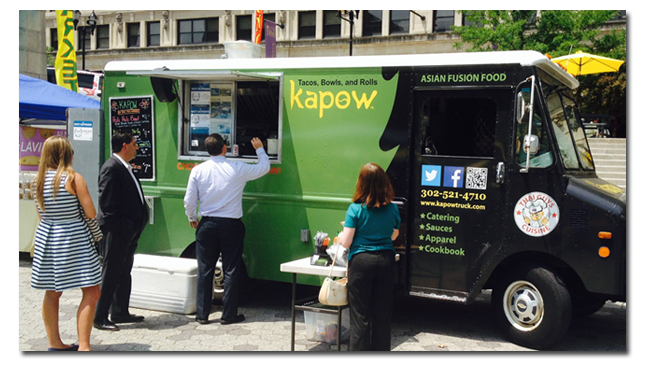 Other regulars in Rodney Square include Double Dog and the Sausage Kings, Smokeys Brick Oven Pizza, and Not By Bread Alone, where they were recently offering up a variety of seafood-based entrees like wild-caught salmon and crab cakes, as well as vegan options like a seitan stir fry and eggplant ratatouille. A number of soul-food spots make Rodney a weekly destination for down-home cooking. I've gotten mac n cheese from Mamas in the Kitchen and a zoagie fried hoagie from its namesake food truck, Zoagies. Rodney Square sets up some picnic tables, but if you want to grab one, best get out to lunch early (or get lucky later in the day).

Dinner: Wilmington Farmers Market at Cool Spring Park For a true neighborhood experience, head over to the Cool Springs Farmers Market on Thursday nights. Its an easy walk from downtown Wilmington in a residential neighborhood near the city, but there's parking to be found around the park. Most people at the market have walked from their homes and gather to buy veggies and breads and to get out of cooking dinner. Many vendors are familiar from above. Depending on the week, you might find KaPow, KOI and Mamas in the Kitchen there, as well as some water ice on a hot summer night. Fat Ricks BBQ was there a couple of weeks ago when I stopped by, with Fat Rick himself tending to the front counter, grilling up some wings and serving up Carolina pulled pork (a half-pound of pork in the Boss Hogg) and Ricks ribs. Gable Music Ventures program the entertainment at the market, and those folks have smart and eclectic tastes, programming everything from the 1st State Symphony to Italian gypsy folk music, but always something worth listening to over dinner.