By now, children have settled comfortably into their back-to-school routines, everything is pumpkin spice-flavored or scented, and the warm, waning days of summer are gradually giving way to autumn.
Leaf peepers, eager to catch a glimpse of Mother Nature's color-changing sleight of hand, can finally take to the back roads of the Brandywine Valley National Scenic Byway and get their fall foliage fix. And while nature provides a feast for the eyes, don't forget the bounty of delicious foods the changing season brings us. Cooler temperatures inevitably make us think of heartier, comforting dishes—the kind that warm the body and soul. Soups, stews, casseroles and such are much easier to digest when one doesn't have to worry about bathing suit season and most local restaurant menus reflect and celebrate the seasonal change.
There is something about autumn that encourages exploration like no other season—we find ourselves taking to apple orchards and pumpkin patches, going for forest hikes and walks, and relishing aimless weekend drives. Starting at Rodney Square and renowned Hotel Du Pont in the heart of downtown Wilmington, stretching across Routes 52 and 100, and crossing the state line into Pennsylvania, the Brandywine Valley National Scenic Byway covers 12.25 miles and takes a little over an hour to complete if you're a languid driver and are intent on truly exploring. There is perhaps no better way to satisfy your inner explorer than to drive along, arguably, the area's most beautiful scenic route and discover local delicacies and dishes that are as comforting as a warm blanket.
Here are 10 awesome autumn dishes from restaurants found along the byway:
Roasted duck breast (Green Room at Hotel Du Pont) – Typically, roasted anything—be it meat or vegetables—makes its debut this time of year on most menus but there's something magical about the duck breast at Delaware's toniest hotel. If fall had a flavor, this dish—with its inventive, just-enough-heat chili caramel, lentils, and carrot puree—would be it. This is indulgence at its finest.
Maple, bourbon, and black pepper beef short rib (Columbus Inn) – Does it get any better than exploring the scenic byway and dining at an eatery named after the most famous explorer in history? Marrying the seasonal and savory, this fork-tender short rib is dry-rubbed and slow-smoked for an unbelievable 18 hours before it hits the plate. As if that wasn't hearty enough, a jumble of campfire fingerlings and silky creamed corn round out the meal.
Pot roast sliders (The Copper Dram) – This broody, diminutive bar churns out seriously big flavors with its menu of elevated pub grub. The fact that the slow-cooked pot roast is topped with truffle oil mashed potatoes and fried onion straws before getting turned into tiny sandwiches may be contrary to how Mom served it, but that shouldn't deter you from tucking into a plate of these stunners. Your palate won't regret it.
Can't wait to explore and plot your own adventure?
Use our interactive map to find your way. 
Macaroni and cheese with tomato jam (Buckley's Tavern) – Did you know that Thomas Jefferson, by way of his enslaved cook James Hemings, is credited with introducing macaroni and cheese (in the form of macaroni pie) to the colonies? Ever the Francophile, Jefferson adored French cuisine and considered his culinary contributions to this nation greater than those of his presidency. Local favorite Buckley's Tavern pays a bit of a tribute to Jeffersonian mac and cheese by serving its bubbling hot version in a cast iron skillet topped with a generous smear of housemade tomato jam. (In Jefferson's day, the tomato was thought to be poisonous due to it being a member of the nightshade family. Jefferson was said to dispel such wives' tales by publicly biting into a tomato like an apple for all to see.) The perfect pairing of savory and sweet will have you pledging allegiance to this ultimate comfort food.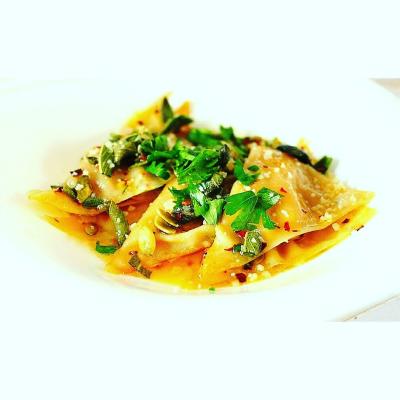 Exotic mushroom ravioli (Brandywine Prime) – It's not an exaggeration to say that just about every item on this posh steakhouse's menu could be included in this list (and, believe me, the steaks are more than worthy of the honor), but the ravioli are a sleeper hit often dwelling in the shadow of the prime cuts of meat for which the restaurant is famous. They are stuffed with a mélange of maitake and king trumpet mushrooms—no doubt a nod to nearby mycology metropolis Kennett Square—and bathed in a rich parmesan-truffle cream sauce so delicious it should be bottled and sold separately.
Pork belly (Hearth Kitchen) – There seems to be a hard and fast rule about cold weather cooking: Low and slow is better and tastier. Meat cooked at low temperatures for several hours is coaxed into a yielding, melt-in-your-mouth tenderness and infused with the flavors that come from braising, roasting, or smoking techniques. Hearth Kitchen, another gem from chef/restaurateur extraordinaire Bryan Sikora (of Merchant Bar, La Fia, and Crow Bar fame), may be known as an upscale casual dining spot and a haven for wood-fired pizza lovers but there is some serious cookery going on here. The 72-hour cured pork belly follows the cardinal rule of low and slow cooking and is served with a creamy risotto, corn chow-chow (a pickled vegetable relish popular in southern states), and sweet corn broth. It's safe to say this pork belly will make yours happy.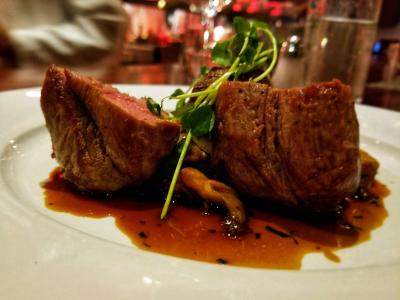 Venison loin (Krazy Kat's) – Perhaps a throwback to our hunting and gathering days, game meat offers a certain culinary comfort and the fennel-crusted venison loin at Krazy Kat's is a dish that blends savory and sweet and classic and innovative flavors. Served with a far-out white chocolate corn polenta and smoky heirloom carrots, the loin is drizzled with a cherry jus and will make you wonder if Willy Wonka is working the stove in the kitchen. Surprisingly, every component of this dish...works. Did you really expect anything less from a place that spells crazy with a 'k'?
Vegetable and goat cheese omelet (Terrain Garden Café) - Turns out your mother and every doctor on the planet are right—a hearty breakfast is the optimal way to start your day and this Glen Mills hidden jewel gets it right. If you've ever wanted to nurse your inner fairy woodland creature or had a burning desire to dine in an oversized greenhouse—or eat warm bread from a flowerpot (more on that later)—this is your place. Nestled in the far corner of an upscale home and garden center, Terrain prides itself on a rotating seasonal, farm-to-table menu and boasts one of the best brunch menus in the area. The overstuffed vegetable and goat cheese omelet is crafted with farm fresh eggs and manages to be both hearty and delicate at the same time. A heap of roasted potatoes and a lightly dressed salad cap off the meal. And, yes, you should absolutely indulge in the warm bread that is served in a quirky little terracotta flowerpot alongside that week's housemade compound butter. (Another cute touch? Your bill arrives tucked in between pages of a used book.)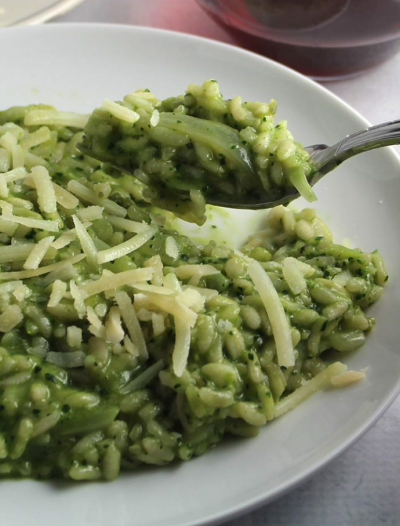 Berkshire pork chop (1906 at Longwood Gardens) - The Du Pont family's reach crosses the state line at this glorious garden—the result of Pierre S. Du Pont's genius. The restaurant's name pays homage to its founding year and serves a seasonal menu of both traditional and innovative dishes. True food lovers know that the pairing of pork and sage is considered one of the most delicious flavor combinations to enjoy during colder months (ask any fan of pork saltimbocca) and the thick-cut chop here certainly fits the bill. Staple autumn eats like roasted carrots and beluga lentils boost the hearty factor and, with a bit of lily-gilding, a sprinkling of lardons elevate the dish even further.
Risotto con pesto (Antica) - Think of risotto as macaroni and cheese's grown-up, sophisticated cousin; it's filling and creamy and doesn't share the stigma of being limited to kiddie palates. This Brandywine-area BYOB deftly avoids the red gravy restaurant minefield by offering a menu with a few classic dishes and a slew of elevated ones. Tender braised chicken, toasted pignoli, homemade pesto, and a drizzle of tomato coulis all mixed in with creamy arborio rice is enough to happily send you into post-meal hibernation mode.
An autumn drive along the Brandywine Valley National Scenic Byway is the perfect way to usher in the season and allows everyone from locals visiting beloved favorites to those looking to discover something new to enjoy some of the region's tastiest dishes.