One of the great tasting events of the year in these parts is the annual The Farmer and The Chef, event at the Chase Center on the Wilmington Riverfront. Local restaurants partner with local farms to create dishes inspired by the local bounty in harvest season, and both farmer and chef stand behind their dishes at most booths. Its like Comic-Con for local food geeks. And you can tell the local chefs like it too. Happiness comes across on the plate. "Having a relationship with the farmer is like knowing the artist who painted the painting." So said Chef Eric Aber (co-owner with his wife, Sasha, of Home Grown Cafe in Newark, and - full disclosure buddy of mine) when asked about the local food supply. Its full of diversity and hidden gems. Its amazing, the diversity of local product that's available hidden just out of site, off Route 1. Home Grown has been an advocate for local, fresh ingredients since they opened more than a decade ago. Their menu and their website lists more than 20 local vendors from which they get meat, veggies, ice cream and beer. His dish at The Farmer and The Chef included a date-and-pomegranate-roasted lamb from regular Home Grown-supplier Powers Farm, on a pita with some tomato/cucumber salad and fresh tzatziki sauce.

Other fan (namely, me) favorites:

Chef Robert Lhulier Chef Robert Lhulier at the (unfortunately) private University & Whist Club had lines all night for his lobster-and-corn spoon bread with vanilla-corn ice cream. All the corn came from SIW Vegetables, a seriously hidden but worth seeking out farm stand on the beautiful backroads of Chadds Ford.

Susan Teiser Susan Teiser from the Centreville Café had delightfully light potato pancakes from Obis One, the apostles of black garlic right over the bridge in New Jersey. (They run occasional farm events, if you're lucky enough to be in town during one. And if you haven't discovered black garlic yet, you probably will soon.)

Ernest & Scott Taproom Ernest & Scott Taproom offered up a saddle of rabbit made with a sunchoke puree from Bayberry Farm in Middletown, run by Newark Farmers Market mainstay (and the guy I get most of my veggies from on Sundays), Toby Hagerott.

Two Stones Pub Two Stones Pub brought a mushroom soup that's regularly on the menu at their Kennett Square location, and it was killer. (The local mushroom scene is worth a whole nother blog, but mark my words, close proximity to the Mushroom Capital of the World, as Kennett bills itself, raises the bar for mushroom soup across the board in the Brandywine Valley.)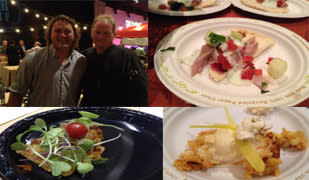 Takeaways from all this: Any time of the year, but especially in the harvest season, watch for local food on local menus. We take our farm-to-table seriously, and much of what is served locally is raised locally, as the seasons permit. And if you're coming to town and are interested in getting a taste of the local farming scene, here are a couple of local farms from The Farmer and The Chef that are harvest season destination:

Milburn Orchards Come for the U-Pick apples. Come for the Fall Festival weekends, where admission is $10 but you can spend hours on hayrides, in the corn maze, petting the goats and shooting apples at targets with a slingshot. (All of that is technically meant for children. Technically.) Do not leave without getting a dozen Milburn apple cider donuts. But I can't eat a dozen donuts! you say. Which is something you'd only say if you haven't had warm Milburn apple cider donuts.

Highland Orchards Apple picking season starts at the beginning of September at Highland, and they keep a schedule of picking times on their website for when apples should be ready through October. Plus, pies. Don't miss the pies.

SIW Vegetables Amazingly fresh, great selection, beautiful tomatoes and peaches. Go in the morning, and you'll find a bunch of local chefs shopping for the day.

Woodside Creamery Because, ice cream.