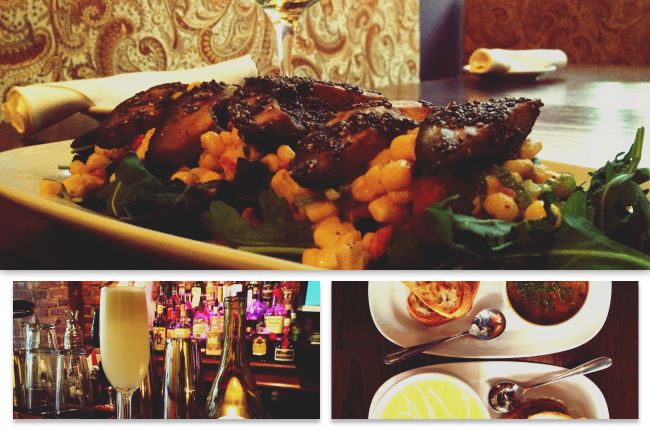 If you know nothing else about Delaware, you probably know these three things: Your credit card checks and toll payments come here (thank you very much), your vice-president comes from here (you're welcome, SNL), and were small but mighty (official nickname: Small Wonder, not to be confused with that other Small Wonder. Get in a car in Wilmington and drive down to Rehoboth Beach, and you'll travel from one end of the state to the other in 121 miles. Now, think on this the nation of Chile is just about 121 miles wide on average ... but a wee bit longer. Imagine the state of Delaware, stretching westward across the United States, through the corn fields of Iowa, the ranches of Wyoming, and the mountains of the Sierra Nevada. And now imagine it all has waterfront property. That's the landscape that created the cuisine of Chile, as diverse as its geography, with influences from many of the European nations that visited South America over the past few centuries. And all that history shines richly through the food at Pochi, one of the hidden gems in downtown Wilmington's dining scene. No, strike that. Not so hidden anymore. Only two years old, this Chilean restaurant and wine bar is the top-rated restaurant in Wilmington on TripAdvisor, and its not hard to see why. Pochi is as good as it is unexpected, warm and welcoming and full of small wonders.

A story of a family and a country, in three dishes Pochi owner Patricia Millan has a business background and a family full of cooks everyone cooks and there's not a dish on the menu that doesn't evoke a story or a memory from her home country. A quick tour:
Ceviche Mixto: Tilapia and shrimp ceviche marinated in lemon juice, julienne red onions, served with heart of palm and house sauce These are the flavors of Arica, the first city of Chile, a port town on the northern border with Peru, and Patricias hometown. These are the flavors she was raised on and knows by heart. A note: Chilean ceviche is not the same as Caribbean ceviche (which is sweeter, often with tomatoes) or Peruvian ceviche (quickly marinated in lime juice), but is traditionally marinated for about 30 minutes in lemon juice, so that the flesh of the fish fully cooks in the acid. The fish must be exceptionally fresh, and it is, coming from Philadelphias famed Samuels and Son Seafood.
Palta Frita: Arugula, tomatoes, corn, scallions and red peppers topped with fried avocado, tossed in soy sauce and chia seeds in a cream vinaigrette One mention of this appetizer and Patricia laughs. Its not her favorite dish on the menu, but it was her grandmothers recipe, and grandma knew something about food, because its become a crowd favorite. The fried avocado is a revelation, a new experience of avocado far removed from its familiar home in Tex-Mex food. (Indeed, Chile is one of the worlds largest avocado exporters.) The flavors of this salad pop in your mouth the sweetness of the corn, the acid from the tomato, the salt from the soy, the creaminess of the avocado. Its every flavor note you've ever heard talked about on Top Chef, all in one dish. (And its vegan.) A hearty appetizer, its enough to share. You won't want to share.
Pastel de Choclo: Bed of beef and chicken casserole, black olives, hard-boiled egg topped with crust of basil-infused sweet corn, served in Earthenware. Corn is a central crop in the heartland of Chile, and to the south, cattle ranching produces beef often used in slow cooking. Both come together in this dish that speaks to my Irish heart its a shepherds pie from an alternate Ireland where corn grew instead of potatoes. Many layers of flavor keep producing surprises until the moment you finish this warm, soul-satisfying dish.


Tips on a night at Pochi
Yes, this is a wine bar, and the wine menu has been carefully curated by Patricia herself, focusing on small, family-owned wineries from Chile (with a few Californians and European bottles in there as well, but really, Chilean wine offers great value for the dollar and, cmon, why did you come here, anyway?). Wine flights, available every night, offer both value and education, with detailed descriptions of each pour.


Wine Down Wednesdays: A nice selection of bottles, half priced. Boom.


Parking outside is tough there are only two spots in front of the restaurant, and theyre probably taken. Your best bet might be to park on Market Street by 9th and walk a couple blocks, or parking at one of the nearby parking garages. (Street is free after 6pm and on Saturdays and Sundays.)


The cocktail menu skips the standard tinis to focus on traditional Chilean drinks, from the pisco sour to the caipirinha. (Yes, they use egg whites in the pisco sour to give the drink its luscious body. Yes, I know some people won't order it because of that. But you should make your friend order it and then try some.) One drink Patricia recommended as a traditional pre-dinner drink from Chile: The Vaina Old Fashioned, with port, Pisco Capel, crème de cacao and an egg, garnished with cinnamon.


Lunch business is brisk, but if you've got some less adventurous eaters in your pack, the grilled chicken sandwich is shockingly good.


For a 15-table restaurant, there are several options for seating. If you're flying solo, the bar is a friendly place, and tremendously helpful if you want to explore the menu with wine pairings. Business partners might feel comfortable noshing at the high tops in the back. Romantic tables for two fill the middle of the room, and up front, two larger tables on either side of the front door are perfect for groups of five or six people.


Yes, this is a 15-table restaurant. Make reservations if you're dining at peak times, especially if there's a show at The Grand.