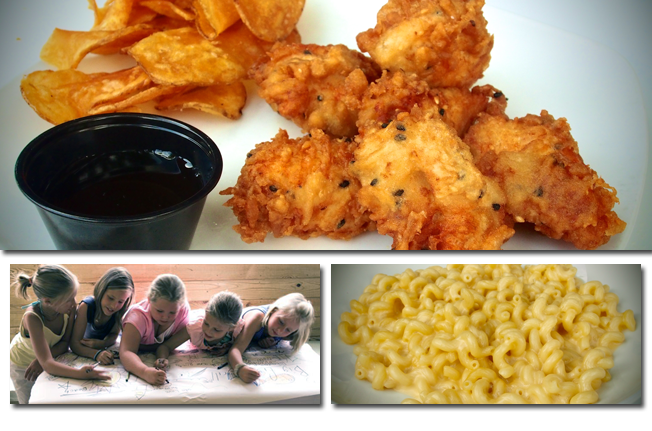 A couple weeks ago, a friend sent an urgent FB request: Were going out in a group. We need good beer. There's a birthday. Children will be in attendance. Ice cream has been promised. We need good beer, good ice cream. Help! This is a cry I could not ignore. Because I've been there. My kids are growing up quicker all the time, but for awhile there, my sons favorite restaurant was one now-closed pizza place I won't name. Now I'm originally from New York, where we don't traditionally use cardboard as an ingredient in our pizza crust, but for my boy, I ate at this place, feasting on unlimited salad and pizza and soup and a variety of other foods where air quotes were required. (Their cinnamon rolls? Darn tasty. No lie.) When you travel with kids, you get sucked into a lot of nameless pizza joints. Demand better. As the summer begins, here's a quick take on six spots in the area where kids are not only welcome, but appreciated. The kids menus are creative, tasty and mostly devoid of parsley (the green devil garnish), the service is friendly and the noise level is just loud enough that your reasonably well behaved darlings won't bother the people in the next booth.


Home Grown Cafe in Newark
Why its good for adults: Newark's perennially hip hotspot, catering to vegan, vegetarian, carnivorous and gluten-free lifestyles, is a collision of global influences, and a great choice for families with varying degrees of hunger. Mix and match off a menu that's full of shareable bites, wraps and sandwiches, seasonal entrees and global bowls. (Mushroom bisque never disappoints, and the Thai chicken wrap is a fan favorite, but much of the menu changes with the seasons.) The bar is often hopping from happy hour on through dinnertime, with a nice selection of craft beers on tap. Live music plays four nights a week, mostly too late for the kiddies, but Jazz Sundays kick off around 7pm.
Why its good for the kids: There's a kids menu that owner Eric Aber promises no garnish will ever touch. Some kids love hummus (not my kids, but some kids), and the hummus plate with cucumber and pita is a huge hit with those little guys. Chicken tenders, potato chips and even the cheese sauce for the mac n cheese are all made in house. The grilled cheese, a favorite on the adult menu, will have you sneaking food off your kids plate.

Buckley's Tavern in Centreville
Why its good for adults: The kind of welcoming tavern you want to find at the end of a long day. Ask for a table on the tavern side, where tall booths will give you some privacy, and the natural craic of the place will cover up the occasional yelp from the kids. The menu bounces between pub favorites like the fish and chips and more sophisticated fare (seared foie with fig syrup), but you won't go wrong just ordering a pint and a flatbread. The GM is serious about his beers and his wines, and a few questions at the bar will undoubtedly yield a better drink than what you were planning to order.
Why its good for kids: Crayons and kids menus and freshly prepared standards like chicken tenders and some exceptionally cheesy mac n cheese. (Order the mac n cheese bites, an app on the menu, if you'd like the adult version.) Kids will also love the Sunday pajama brunch (wear your PJs, get 50 percent off), and the smiley pancakes that come with it.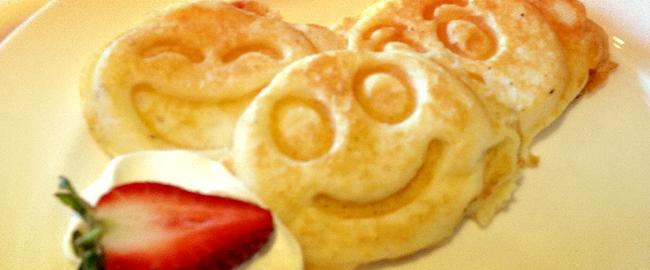 2 Fat Guys in Hockessin and Greenville
Why its good for adults: Remember when your health teacher said that some foods were always foods and some were sometimes foods. This is a restaurant that's unabashedly sometimes oriented, but perfect nights where you're looking for something unpretentious, comforting and delicious. (My wife once ordered a special called the fat jar, with pulled pork, burnt ends and coleslaw, served in a bell jar. She will not enjoy me mentioning that.)
Why its good for kids: The menu is divided into a Just for Kids section, where you'll find the standard grilled cheese, hot dogs and chicken nuggets, and the slightly-older Jr. Menu, with ribs, wings and steak. (And wing sauces like poached pear and molasses, root beer barbecue and yes, PB&J sauce are flavorful and unspicy enough for the kids. Not sure? Ask for a sample. Still not sure? Ask for the sauce on the side. They're happy to accommodate, and to slip the pack of Oreos that come with the kids meal into your pocket when the kids aren't looking.

Big Fish Grill on the Wilmington Riverfront
Why its good for adults: Its family friendly, but they're serious about their seafood (and the gluten-free menu). This restaurant spun off from a popular beach joint and brought its seafood cred with it. Order something fresh off the fish boards, pick a preparation that allows the fresh fish to shine through, and you'll be fine.
Why its good for kids: If you have a fish eater, there's a number of choices, from the crab cakes to the fried fish fingers (not sticks, please). Hot dogs and chicken fingers will take care of the others. Best parts? The table is covered in paper and crayons are provided. The wait staff usually kick things off by writing their names in big letters, and then the kids can have at. And if you've ever been in a situation with a starving toddler and no bread basket in sight, you'll appreciate the crackers and smoked-tuna dip that are on the table as you sit down.

Iron Hill Brewery in Newark and Wilmington and elsewhere
Why its good for adults: The beer. And the extensive menu, the covers pub fare, Elaine-worthy big salads, shareable appetizers for the entire family, pizzas and more. But also the beer. Iron Hill was born during the first microbrewery boom and survives well into the second coming of craft beer, partially because they have a beer for every season, and good food to pair with it.
Why its good for kids: Lots of options. There are a solid 15 entre choices on the kids menu, including pizzas, burgers, quesadillas and chicken pot pie. Do you pair with two sides (one hot, like smashed potatoes, and one cold, like a fruit cup), or stick with one side and get ice cream for dessert? Kids ice cream dishes come with one of those flaky rolled cookie tubes that I steal. Every. Single. Time.

Harry's Seafood Grill on the Wilmington Riverfront
Why its good for adults: This is the fanciest place on our little list. But sometimes, when mommies and daddies go on vacation with their well-behaved kids, they want to play dress up. Harry's is a top-rated seafood joint in Wilmington, with oysters on the half shell, lobster in the nude and everything in between. Chef Kate Applebaum has New Orleans roots, and when those flavor profiles make their occasional appearances on the menu, order them. The room is magnificent, the hospitality is warm, the wine list is long and unpretentious, and the drinks are exceptionally well made, especially the margarita.
Why its good for kids: The children's menu at Harry's, not publicized much on the website, will make your kid feel just as grown up as the adults, with menu items that encourage trying new things (Krabby Patty lump crab cake sandwiches) while not ignoring that some kids just need mac n cheese (offered with cut up hot dogs!). Mango sodas and mockaritas will make every fancy Nancy feel special.


Home Grown Cafe images [Chicken Tenders, Mac 'n' Cheese, Grilled Cheese] courtesy of Sasha Aber