The customers spoke. They listened.
The original Capriotti's Sandwich Shop, located on Union Street in Wilmington, Delaware and home of the famous "Bobbie," is introducing some really tasty-sounding new menu offerings in response to customer feedback that they add greater variety to their roster of sandwiches, subs and salads.
The new menu will officially hit all Delaware locations by February 18. Taking a twist on the time-honored regional classic, the cheese steak, it features yummy flavor combos including:
The BBQ Chicken Cheese Steak
The Grilled Chicken Parm Cheese Steak
The Chicken Chipotle Crunch Cheese Steak
The Impossible™ Cheesesteak (vegetarian)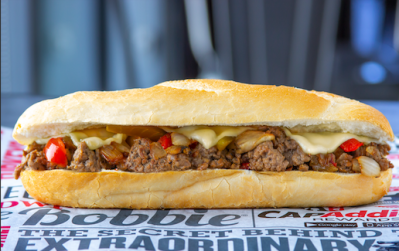 Capriotti's is also rolling out a wider selection of sandwich sizes: five inches, eight inches, 10 inches, and 18 inches.
A staple among visiting and local foodies alike, Capriotti's is best known for the "Bobbie." Essentially Thanksgiving on a sub roll, it is stuffed with in-house roasted and shredded turkey, cranberry sauce, stuffing, and mayo. The Bobbie has racked up a ton of awards, from Delaware to Las Vegas to Los Angeles. Most notably, it earned the title of "Greatest Sandwich in America" from AOL.com in 2009.
Capriotti's launched in 1976 with the opening of its Union Street flagship store in Wilmington's Little Italy neighborhood.
Capriotti's has since expanded to more than 100 locations in 19 states. Each year, the franchise earns numerous regional food accolades. In 2012, USA Today named Capriotti's one of the "10 Great Places for a Surprising Sandwich.