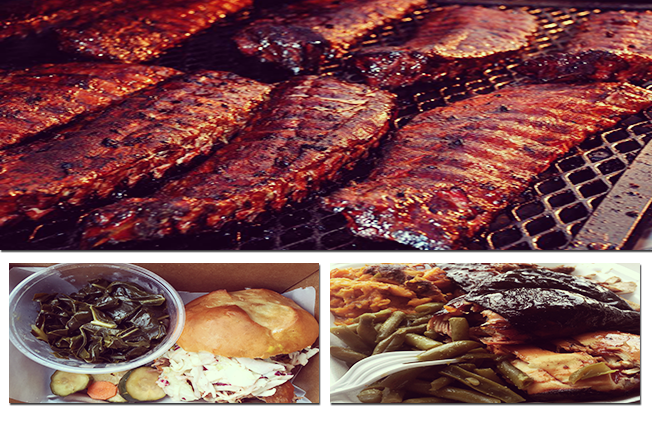 Delaware is not a southern state.
But it's not exactly a northern one either. In fact, it's only state in the union that's east of the Mason-Dixon Line. (Think about that for a moment.) And so it is that this small state, this Delaware, all 96 miles of it, spans two distinct American food cultures. Take the drive from Wilmington to Selbyville (one-time home of the world's largest frying pan), and you'll see what I mean.
But like that frying pan, many of the south's finest traditions have traveled all around the state of Delaware. Some are embraced in the north. (Helen's sausage!) Others, less so. (Uhhh, muskrat?) But the finest of all southern traditions – at least, where the belly is concerned – has taken root in the Wilmington area, and we are now a town that can be proud of our local barbecue scene.
If you're a traveler with a sophisticated palate for smoked meats, there are places in Delaware you need to try before you leave town. If you're a family looking for a plate of pork, some greens and beans and hush puppies, then we've got a place for you. And if you're looking to lose some weight – well, I got nothing for 'ya. Go check out the hiking trails. Then get some barbecue.


In the scant weeks since Wilmington's newest BBQ joint opened, demand has far outpaced supply, and apologetic "sold out" signs have popped up on the front door as early as 1pm. They've ramped up production to meet the demand, but demand doesn't seem to be going away anytime soon.
BBQ masters Dan Sheridan and Chris Baittinger both spent time at some very impressive local kitchens – Dan at Cantwell's Tavern and La Fia Bakery + Bistro, Chris at Chelsea Tavern and the University & Whist Club. But a childhood friendship and mutual love of the smoke brought them back together when Dan hatched a plan to open his own place.
"We're actually lucky that we're not in Texas," Dan said. "Because we can do chicken instead of just brisket, and we can do a St. Louis-cut rib."
And a Carolina mustard sauce. And mac-n-cheese. And giant servings of sweet peach tea sold in a container that looks like it should hold wonton soup. With no local tradition to insist on the "right" way of doing things, Dan and Chris haven't tied themselves to any one tradition or style of barbecue.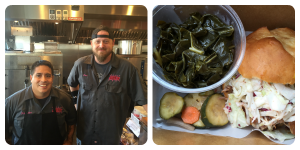 That said, there are touches that put some local into the Locale. The black garlic in the black garlic-peach BBQ sauce comes from Obis One, right over the bridge in New Jersey.  The cherry wood used to smoke the meat the first weeks they were open came from a tree two blocks away from the restaurant. Pickles are dusted with Obis One's "New Bay" seasoning, and they're as good as you'd expect considering Dan also owns the Wilmington Pickling Co.
I brought home a barbecue platter one night for dinner. The pulled pork was tender and perfectly paired with the mustardy Carolina sauce (topped with some cole slaw). Ribs had a gorgeous smoke ring, but the big winner (and fastest to go on my family's table) was the beef brisket, a tender piece of meat love topped with some of that peach-black-garlic BBQ sauce.
Sides, including the creamed corn and the mac-n-cheese, had a pleasant kick. (Chris said he messed a bit with the hush puppy recipe the first week and his friends told him to stop it, and good call – they're just about as good as can be.)
One note: This isn't a sit-down joint. There's a picnic table outside that seems designed for people who just can't wait to get to their cars to eat, but that's about it. You won't care.

Inside a small red shed, in the middle of an industrial area, across the street from a Wal-Mart … you know this is a place to find some good barbecue.
And a guy like Russell is exactly the kind of guy you'd expect to get it from, as this recent exchange we had while I was ordering lunch will attest:
"How you doing today?"

"Uhm, could you tell me what's in the Yardbird Platter?"

"What do you want to be on it? Hey, we can do a little of this, a little of that. Do you want jerk or barbecue?"

"What do you think?"

"Well, if you're not afraid of the spice, go with the jerk. If you are afraid of it…"

"Yeah, maybe I'm afraid of it."

"Why are you afraid of the spice? How about I do a little half and half for you."

"That sounds good."

"Half and half. Sold! We got green beans and sweet potatoes today. Alright? Alright."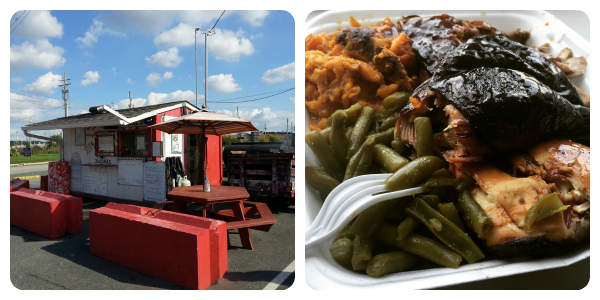 It was definitely alright. A heavy plate of chicken and sides was soon in front of me, with a generous bit of sauce on top. Russell sized me up well – a full plate of the jerk might have been a bit too hot for my tender tastebuds. Mixed with the barbecue? Just right. The buttery, smoky sweet potatoes delighted with every bite, and even the garlicky green beans couldn't be ignored. (I finished my ample side of them.) Beef brisket is served on Fridays only. I know what I'm doing on Friday.

Last time I interviewed Dave Deal (for this piece), he was getting ready to compete in another BBQ competition in Philly. That's how he started in the BBQ biz, with competition partner John Brown. But even after he tried to get out for a spell, the barbecue biz pulled him back in – to a counter located inside The Well Coffeehouse and Marketplace in Hockessin.
And that's where he smokes. Ribs. Chicken. Brisket. Pork. People drive from miles and states away to get their hands on some of Dave's barbecue.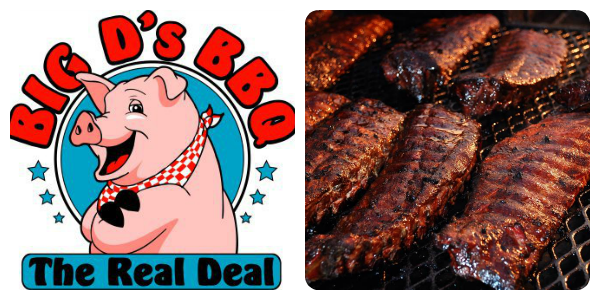 We chatted, last time we talked, about what competition judges are looking for, how they judge meat and how precise everything needs to be. And you get the sense that Dave has it down to a science, and then further down from there, to some spiritual level with the meat. But you also get the sense that he'd rather just serve up some food to a family that's going to get their hands dirty and dive in. Because sometimes, you don't have to know why something's good to know that it's just good.

Fat Rick's BBQ
Go to an event in the Wilmington area in the summer – the Ice Cream Festival, the St. George's Blues Festival, the Clifford Brown Jazz Festival – and you're likely to bump into Fat Rick. (I usually drop his first name when chatting with him.)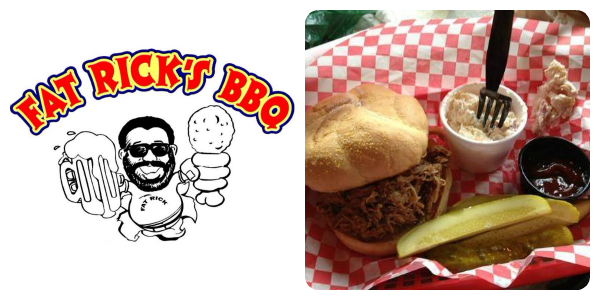 Rick Betz has been serving classic American barbecue in the area since 1989. At catered events, you'll find him roasting a whole pig (and what's not to love about that.) But catch him at a festival, grab a couple rib bones worth of pork so you have enough room left for catfish and hush puppies, with a good squirt of sauce on the side, and dig right in.