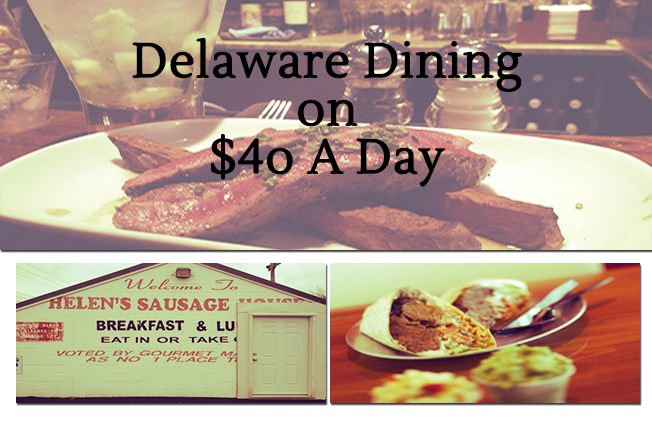 This week, a challenge from my blog bosses:
"How about something for people traveling on a budget?"
"How much of a budget?"
"Let's say $40 a day. Can you come up with stuff for $40 a day?"
"Can I come up with stuff for $40 a day? We will FEAST on $40 a day."
On to the feast.

A couple of notes: None of the prices below include tax, because hey, welcome to Delaware. And none of them include tip, but I'm sure you'll treat your servers kindly.
And this isn't just about plowing through cheap calories. This is about getting the most authentically Delaware dining experience possible with just a couple Jacksons in your pocket. And if we're striving for authenticity over breakfast, we're starting at:

 Breakfast: Helen's Famous Sausage House
I am not going to lie to you – if you're in Wilmington, this is a drive. At least a half an hour, maybe a little more if you like obeying speed limits. It's not easy to find, either, and it sure ain't fancy. Eggs aren't cooked to order. That would take too long, and there are mouths to feed.
Look, you either are the kind of person who is going to drive 30 miles for a sausage sandwich or you ain't. But if you are, you don't leave Delaware without a stop of Helen's.
This is a nationally recognized sausage house. Gourmet magazine wrote about it once. They painted that on the walls. The sausage and egg sandwich comes standard with two thick links of locally sourced sausage, pictured here. (You can order with one sausage, but seriously, you just drove 30 minutes to get here and when are you coming back? If the answer is not "for lunch," get the full sandwich.) Also great: The pork chop sandwich (huge, delicious) and the scrapple-and-egg sandwich, fried up crispy and served in the classic Delaware style, on two pieces of what might be Wonder bread.
One sausage sandwich: $4.15.
One can of orange juice: $.90
Total so far: $5.05
Now, we could stay here and order eight more sausage sandwiches and call it a day, but we strive for gastronomic diversity, and so back up north!

Lunch: Ioannoni's Specialty Sandwiches
If someone has told you "Oh, you're going to be near Philadelphia, you have to get a cheesesteak," then someone has steered you toward the third-best sandwich that's native to these parts. And there's nothing wrong with a cheesesteak, but the true taste of Philly is the roast pork sandwich with sharp provolone and broccoli rabe, and the best roast pork sandwich in Delaware is at Ioannoni's.
The Roast Pork Supremo is what it's called, and it's excellent all around – well-seasoned pork, cheese with the right amount of bite, rabe with just a touch of heat, everything nice and juicy without getting sloppy. This sandwich is a beautiful thing.
(As a second choice for lunch, you could go to a neighborhood Capriotti's for an original Bobbie – Delaware's No. 1 sandwich export – but frankly, there's not a whole bunch of vegies on my under-$40 menu today, and that broccoli rabe on the Roast Pork Supremo might be the only thing standing between you and scurvy.)
Roast Pork Supremo $8.90
Total so far: $13.95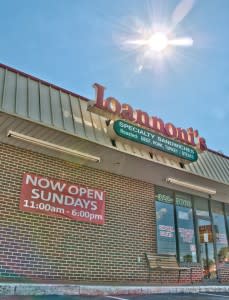 Happy Hour: Harry's Savoy Grill
Harry's Savoy is one of Delaware's finest restaurants – elegant without being fussy, deeply rooted in Delaware but not showing its age. The menu elevates classic steakhouse fare, and the oysters are always a good bet.
But today, in our quest to stay under $40, we're hitting the bar, for one of the best happy hours in town. All cocktails on their specialty menu are $5, and bar snacks come straight out of the kitchen with the same care as they would if you were dining on an expense account. I ordered up the grilled rare flat-iron steak with sweet potato fries and a maple glazed gastrique, alongside a cucumber mint gimlet made with Hendrick's gin.
Flat-iron steak snack: $6
Gimlet: $5
Total so far: $18.95.
Harry's Old Fashioned (because yes, you're having a second drink): $5
Total so far: $23.95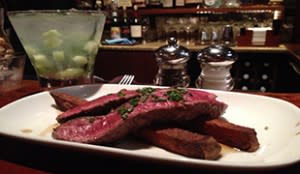 Late Night Dinner: El Diablo Burrito
These are not authentically Mexican burritos, but they sure are authentically Delaware. The original opened in Trolley Square, Wilmington's bar-hopping hub (and where better to open a burrito joint) and other locations have been opening in north Wilmington and Newark. Burritos. Order the short rib and goat cheese burrito with red pepper walnut sauce. Or the citrus braised pork with pineapple habanero salsa and pickled peppers. In fact, put pickled peppers on everything. (Because they're delicious and no one wants scurvy.) Add a side of house-made chips. With queso. We still have the money. Get the queso.
Pork burrito: $7.50
Chips with queso: $2.50
Total so far:  $33.95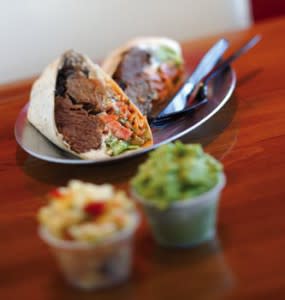 Across the street: Trolley Tap House. Just opened. You got $6.05. Go crazy.
[Editor's note: Yes, we know, the math is off. Matt forgot to account for his steak app at Harry's. He blames the second cocktail. Total for the day: $39.95. So you won't really have much left over to spend at the Trolley Tap House, but you should go there anyway.]