There is a special season after football but before the ground fully thaws. A time of quiet, of rest, of Sundays without strictly designated purpose. A time when there's actually time.  
This … is Brunch Season.
And if ever there was a brunch that could swallow your Sunday whole, it is the Sunday brunch at Deerfield. This seven-time recipient of the Delaware's Best Brunch award and mainstay on OpenTable.com's nationwide top 100 brunches list, the Deerfield brunch is iconic, opulent and quantifiably measurable. A full 111 feet of "brunchy goodness" are promised, though not without some trepidation. Managers confessed to me that they remain keenly aware of table lengths every time they reconfigure their brunch layout, fearing some jerk who might show up with a measuring tape and demand an extra couple feet of brunch if they fall short.
I suddenly felt a little bad about the measuring tape in my pocket. (Not bad enough to put it away, but a little bad.) The good news: Deerfield covers its 111-feet promise with room to spare, including six feet of waffle station, eight feet of salad options, four feet of soup, five feet of raw bar, 10 feet of omelet station options, eight full feet of kids food and a whopping 16 feet of breakfast items. (I wasn't sure how to measure a tower of pastries at a round table, but Deerfield cleared the 111-foot hurdle before I had to whip out the calculus book.)
A Deerfield brunch is an experience, and one that's best to prepare for. So after taking my family out to brunch there a few weeks ago, I offer the following suggestions based on experience:


 Start with a plan.
There's a lot of food here and unless you believe in brunch chaos, you will want to prioritize … or at the very least organize your meal into three overarching categories of starters/mains/desserts, so you don't end up with a course progression that goes: Oysters and shrimp from the raw bar, French toast with sausage, bagels with house-smoked gravlax and capers, crab soup, traditional Eggs Benedict, eggs with crab cakes and chipped beef over biscuits, pineapple upside-down cake, chopped Caesar salad, chocolate covered strawberries, croissants … and lamp chops. (At least, that's the order my notes say I followed, but I remember eating some Millionaire Bacon in there somewhere, so that list might not be complete. Also, I probably did not need those lamb chops at the end, but I regret nothing.)

 Do not skip the Benedicts.
Most everything is available on the buffet line, but Benedicts (either a traditional or a Chesapeake crab version) are made to order in the kitchen, so as to cook that yolk just right and drizzle each order with a fresh slather of Hollandaise. If you time in our right, you can order your eggs, go on a quest for meats and potatoes, and return at just about the right time to bring it all together.

 Mix and match.
The waffle station is close to the ice cream station. This is not an accident. Improvise away. (And if you want a Bloody Mary with a stick of Millionaire Bacon? Why not.)

 Know the high-ticket items.
Millionaire Bacon, with its sweet and spicy rub of chili powder, cayenne pepper and brown sugar, is a perennial favorite. But don't overlook the lollipop lamb chops, the rich crab soup, the chipped beef (a great version of a classic), and the Black Raspberry White Chocolate Chip Fudge Swirl ice cream, made by Woodside Farm Creamery exclusively for Deerfield.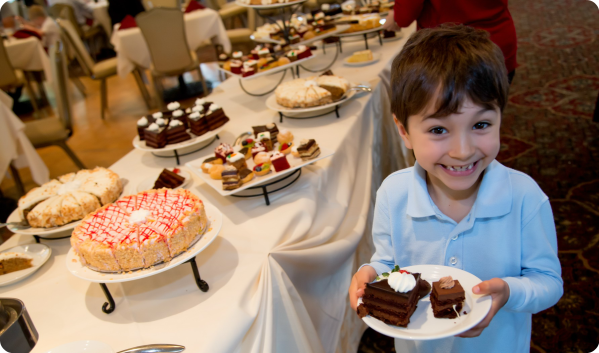 Get in on the action:
Action station items go beyond omelets. At the "Sunrise Station," you can wrap your ideas in a tortilla to make your own breakfast burrito. Choose your salad ingredients at the chopped salad station, and watch as their proprietary salad chopper – a souped-up pizza cutter, designed by Deerfield golf club engineers – cuts it down to size in seconds.

 Don't bring your son to brunch the morning after a sleepover.
Rookie mistake. I probably could have handled another three or four courses of food if I didn't need to pour that kid into a bed.