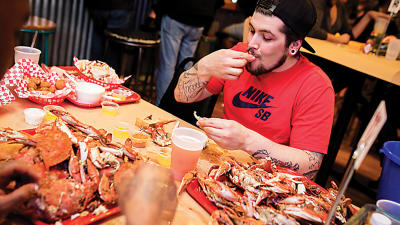 Take a look at a map of the Chesapeake Bay and you'll see that it points straight toward Wilmington. While its true that the waters of the bay don't quite come up to the Delaware border, crabs from the bay crawl onto restaurant menus throughout the region. Serving crab is a matter of local pride in the region. And nowhere is the crab experience more genuinely local than it is at a crab house, where tables are covered with brown paper, crabs come by the dozen (or the bushel), and your eating utensils are a little fork, a big mallet and your increasingly spice-covered fingers.
Pickin crabs isn't a meal. Its a social event, one that can and should take a few hours when done properly. You see, the sweet meat of Maryland blue crabs isn't all that easy to get at, not by snow crab or king crab standards. Their skeletons can be a bit sharp, there's a learning curve in finding the meat, and it all gets a bit untidy, as shells fly and butter drips. But man, nothing says I'm on vacation like I can afford to sit around for a few hours drinking beer and eating crab while my fingers get too messy to even consider touching my iPhone.
If you're a first-timer, please don't worry. Friendly service is a key ingredient to a good crab house, and I've never met a server who wasn't happy to show you how to get the most from your crab. (Still doesn't sound like your kind of fun? Hey, I get it. Some people don't want to fight their way through a shell to get at dinner. That's what crab cakes are for, but crab cakes are a whole nother story. If you're looking for the best local cakes, you can find suggestions here. And here. We spend a lot of time arguing about crab cakes in these parts.) Old school crab houses can be found all over the Chesapeake coast, but in Wilmington, theyre harder to come by. But I've got four places that are worth the drive. None of em are fancy. Just the way we like it.

Sambos Tavern
As old school as old school gets, Sambos Tavern is actually located on a waterway connected to the Delaware Bay (not the Chesapeake), in Leipsic. You're forgiven for not having heard of Leipsic before. Its a bit out of the way. (I once drove a visiting corporate executive to Sambos for dinner. On the way, driving along a particularly quiet patch of road, he nervously asked if I was taking him there to kill him. I think he was joking.) A couple things you should know: As a traditional tavern in Delaware, Sambos can't legally allow people under 21 inside. Don't bring the kids. Its only open in season, from about April to November. Make reservations, especially if you want a table in the back where windows overlook the Leipsic River. And heres a general rule of thumb: When a place has that many rules, is that out of the way, yet remains a beloved destination spot for many locals, you know its good. Get an order of crabs, an appetizer of the shrimp (some of the plumpest I've ever had), and definitely some hush puppies. You don't need much else, except a beer.
The Wellwood Club
The Wellwood Club, located on the North East River at the top of the Chesapeake Bay, has more than a bit of history to it. (A quick tour by owner Larry Metz shows just how many fixtures inside the main dining room were donated by 19th century American presidents, a throwback to the time when the club was a summer getaway for politicos between Philadelphia and Baltimore.) Today, the club still has a formal dining room, but crabs are served on the patio out front and in The River Shack out back, where picnic tables sit on top of a giant sand pit, the dcor has a distinct beachy appeal, music plays on weekends and the steamed crabs come covered in a special spice blend that the chef won't reveal.
Wilmington's Riverboat Queen
So its true, there are not many crab houses located in Wilmington proper. But there is a crab boat. The Wilmington Riverboat Queen, built in that old Mississippi style, offers all-you-can-eat crab cruises along the Christina River Thursdays and Fridays during crab season, running through September. Cruises depart at 7pm and return at 9pm, so you'll have two hours to eat all the crabs that you can eat, while enjoying the sights as they go by. (Since you are on a time limit here, this might not be the best value for a first-time crab picker. But anyone with some experience, or quick crab studies, will surely get their fill.) Beers and other libations are available on board for an additional cost.
Hilltop Crab House
As the name suggests, this one aint located on the water, but that's perfectly fine. Hilltop Crab House has a bar side and a restaurant side that caters to families and crab pickers, all located just over the line into Pennsylvania. They carry a full line-up of crabs, just in case you've got some people in your party who would rather stick with snow crabs than fight for some authentic blue crab meat. (No judging! OK a little judging.) All-you-can-eat crabs are available year-round at Hilltop, and come with a salad bar and French fries.