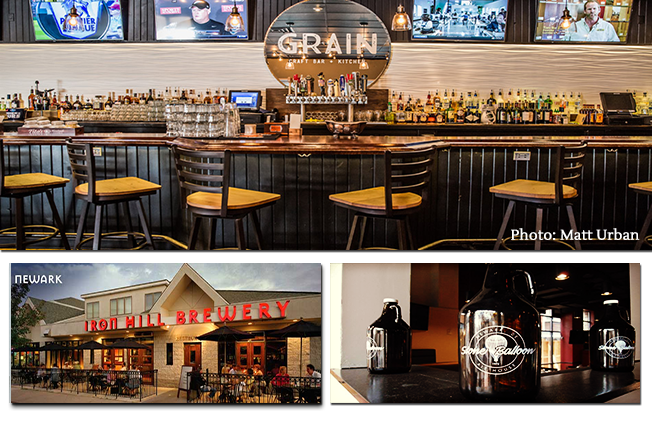 Walk in the door at Grain Craft Bar + Kitchen and the first thing you'll see is a communal table carved out of a single tree, planted sideways into a blackboard where the question of the day has already been scrawled in chalk and answered by about half dozen people. Grab a seat at the tree table if one is open its first come, first served or wait on a high-top near the bar. Or go outside, where long tables come with built-in ice chests to hold your beers and the cushioned chairs look like the kind of place where you could easily lose a Sunday afternoon.
So go and sit just about anywhere at this hip new craft beer spot at the top of Main Street and watch as the cars pour into town, full of people looking to eat. Because there's no downtown dining destination in northern Delaware that's quite like Newark.

This is a college town, proud home of the University of Delaware Blue Hens, and every time I visit, I'm reminded that college kids have far more options for eats than they did when I was 19 and the choice was cheesesteak or chalupa. You can still find a fine piece of pizza on Main Street and gosh knows there are burritos for all, but college cuisine has definitely risen in quality and variety in the past 20 years, and Newark now feeds the munchies of foodies from all around the area.
Take Grain, which just opened last August after a transformative facelift from what used to be Mojo Main, a dearly departed (and much darker) music spot. Lee Mikles and Jim O'Donoghue, neighbors and now partners, did far more to renovate the space than open the windows and throw on a new coat of paint.Grain has become a restaurant that celebrates Delawares history while keeping the customers comfort in mind.
You'll find USB ports below each seat at the bar, for all your cell charging needs (and much to the appreciation of beleaguered bartenders/professional phone chargers). The Beer Bible not only tells you whats on tap and in bottles, but it also plots each brew on a graph, showing where it falls from bitter to sweet and malty to fruity. Like what you're drinking? Check the chart, and try something else in the same zone.
The food menu offers tons of bar food fun, from the bacon-wrapped corn dogs to the pretzel board with jalapeno cheese, mustard and crab dip and though there are burgers and the like, this is a menu designed for grazing.
Grain is new on Main Street, and there is always something new on Main Street. This is a community that embraces bold new flavors while fiercely protecting the classic watering holes (including Deer Park Tavern and Klondike Kate's, the founding fathers of the local college scene) that have served generations of UD students.
I'm not going to do a full rundown of everywhere to eat in Newark. It would be foolish to try, Id forget somebody and some new place would open while I was typing. Besides, Newark is a town you can travel to without a plan of where to eat; just walk around and see what strikes your fancy.
But here's just a little sample of what you'll find there, in order that you'd come across them as you drive down Main Street and toward UD.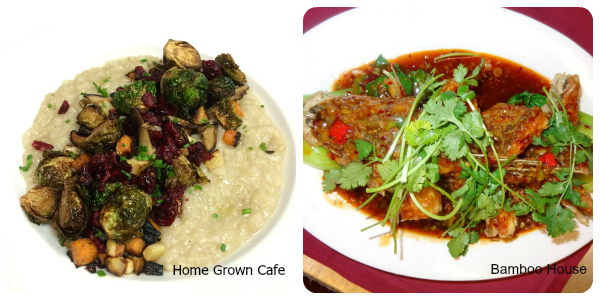 Bamboo House
Just before you pull onto Main Street, you'll find one of my favorite local Chinese spots inside the College Square shopping center. The owners will help you navigate the authentic Chinese menu if you're up for it, but even the most basic fare is miles ahead of the usual takeout. Try: The soup dumplings and crispy whole fish.

Cafe 67
The new cafe inside Newark Natural Foods offers a lunch buffet that's strongly reminiscent of what you might find at a Whole Foods. I popped in for lunch one day last week and put together a plate of curry chicken over rice, jerk chicken leg, Swiss chard and braised oxtail. (Hey, I was hungry.) I'm not sure I can recommend oxtail when you're paying by the pound, but the entire thing cost $11 and was spot-on delicious. Try: Whatever is on the often-changing buffet.

 Bing's Bakery
Visit Delawares longest running bakery for a bite of something sweet especially if you're a fan of the Cake Boss, who visited a couple of years ago for his show Bakery Boss. Try: The glacés. (Buddy liked em.)

 Ramen Kumamoto
I'm a huge fan of this ramen joint (read more here), but here's a new tip: If you order a bowl of ramen, you can add a mini bowl of their chicken karaage (fried chicken) in curry over rice for only $2. It comes as an appetizer and its delicious and its certainly more food than you need, but hey, two bucks. Try: The signature mayu ramen.

Iron Hill Brewery
Newark is home of the original Iron Hill Brewery, which is a good enough reason to visit anytime but definitely check out whats happening in the Oktoberfest season (fall) and burger season (May), when they celebrate with a new burger every day for Burger Month. Try: The beer sampler. Because why choose?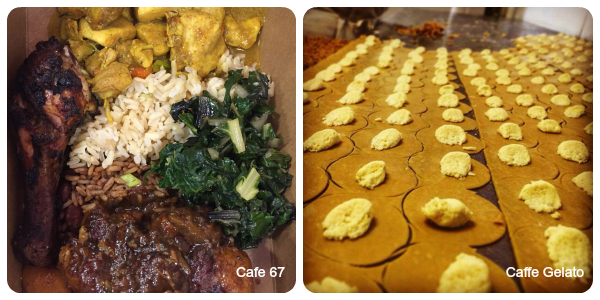 Before you knew a vegan, Home Grown had something on the menu for them. But this Main Street staple caters to all tastes carnivores, herbivores, brunchivores, cocktailivores making it a great spot for groups with differing tastes. Try: Funky fusion dishes like the Korean Chicken & Waffle.

Taverna Restaurant
One of several dining spots that have opened in recent years on Main Street, Taverna caters more to locals than students, but that hasn't hurt business. The rustic Italian menu keeps the vibe relaxed. Try: The housemade whipped sweet ricotta. Simple and delicious.

El Diablo Burritos
Yes, I'm picking favorites. And that favorite is the short rib burrito with pickled peppers. Try: The chips and queso. Don't forget the queso.

 Stone Balloon Ale House
Once Main Streets most revered music hall the place Springsteen and Metallica and The Dave Matthews Band would play when they were in town the Stone Balloon is now a gastropub with a creative menu and an impressive beer list. Try: A glass of bacon. (Yep.)

Caffe Gelato
Northern Italian cuisine in a white tablecloth setting, Caffe Gelato has long been Main Streets premier place to go when you want to dress things up a bit. Try: Pan-seared scallops. And then get a scoop of gelato in a cone as you head out the door, because gelato just tastes better when you're walking down the street people watching.