On my first visit to Wilmington, my future employers wined me and dined me in what was then Restaurant 821 on Market Street. As a starry-eyed 28-year-old with an appetite for food that I couldn't afford, I was sold. That location is now home to Chelsea Tavern, a perfectly great gastropub with a killer burger, but in its time, Restaurant 821 was arguably the finest fine-dining establishment in the region, beloved by the business peoples at MBNA and THE place to go for a business dinner in downtown Wilmington.
(Long gone now, that restaurant's legacy lives on in local kitchens. Sous Chef Roger Andrews opened his first El Diablo Burritos shortly after 821 closed. He now has four locations scattered across northern Delaware, so you are never more than 10 minutes away from a short rib burrito with pickled onions, and you will never want to be more than 10 minutes away once you've had one. Chef Julia Robinson also started her career at 821, and how her Rehoboth Beach restaurant The Blue Hen is a semifinalist for a James Beard Award for Best New Restaurant. And there are others. But I digress.)
​The Wilmington dining scene has changed quite a bit since the early Aughts, but I wondered about the business dining scene. It's been awhile since any employer wanted to wine and dine me (though I do get many invites to eat birthday cakes, which are appreciated), so I spent some time talking to friends and bartenders and lawyers (and even some friends who are lawyers) to see where people dine when business is on the line. And just about everyone had the same answer: You gotta know the client.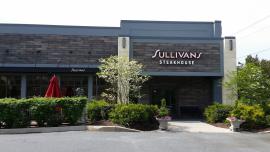 You've got your traditionalists, those who would celebrate with steaks and bourbons and big bottles of red pulled from deep in the cellar after a long day of trading pork belly futures or something. In search of their natural habitat, I drove up to Sullivan's Steakhouse on Concord Pike and found a back room full of … dentists, actually, having a pretty good time. Apparently, there is a lot of corporate entertaining that happens in those large, private back rooms (so private, you barely know they're there from the dining room), but the main dining room is full of white-linen power tables. You can certainly go classic – strip steak (the Wagyu maybe?), Idaho baked potato and creamed spinach, please – but both the room and the menu avoid the dated vibe that plagues some similar places, and the bananas foster bread pudding is worth a trip to the dentist (which, good news, short trip tonight).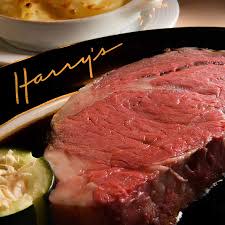 Harry's Savoy Grill is a great meeting spot near the PA line, especially if you want to impress clients coming in from the north. I recently popped into the bar to order the 45-day aged 18 oz. ribeye, after the seeing several dozen images of this beauty on owner Xavier Teixido's Facebook page. (Good marketing, Xavier) It comes with two onion rings, and while you can order potatoes on the side, which decided against, and was glad because I could barely finish the steak and I wanted to finish the steak. It's no stretch to say that Harry's prime rib is the best around, and if your business meeting is on Half-Priced Wine Wednesdays and you're ordering the bottles, no one else needs to know.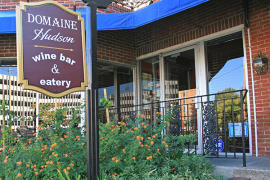 Downtown, I've met many a solo traveler (usually in town for a trial) sitting at the bar inside Domaine Hudson, where the lack of TVs, the impressive number of wines available by the glass, the good company of the bartenders and the abundance of cheese make it a relaxing retreat after a long day at work. String some small plates together for a nice weeknight meal that will keep you out of the hotel room for a good stretch. (If you're celebrating post trial with co-counsel, groups up to 12 or 14 can nab the very private table in the back room for just a $100 room rental fee.)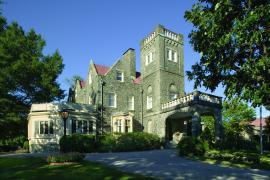 Many of the people I spoke with talked about the value of privacy over business meals. That's a draw for members of the private University & Whist Club inside the Tilton Mansion, where CEOs and governors and maybe even a Biden can dine without the ruckus that might follow at a public restaurant. (On a recent tour, my guide showed me a private room right off the kitchen, behind closed doors and sans windows, where I'm told many legal teams and corporate titans meet to hash out confidential deals away from prying eyes. There's even a side room for lunch that can be completely walled off, if no one wants to leave the negotiating table but everyone needs a sandwich.)
For more relaxed client entertaining, one of the most private dining experiences in town happens around the single table for eight at Robert Lhulier Cuisine. Once the executive chef at some of Wilmington's best restaurants (including two of those mentioned above), Robert has embraced the pop-up scene, designing intimate four-course meals that not only provide a great environment for conversation, but will also score you points as a savvy, sophisticated foodie in the know. (Weekend tables book months out and I've got about 1/26th of the annual Saturday inventory on lockdown, but weeknight availability is better.)
And that matters to many of the folks I spoke with. Whether you're hosting clients or colleagues, you want to impress on some level, but it's not always about who can buy the most expensive bottle of cabernet. Sometimes, it's about who knows where to find the best enchiladas in town. (One friend swears he entertains many clients at La Poblanita on the Lancaster Pike. Try it, enchilada lovers.)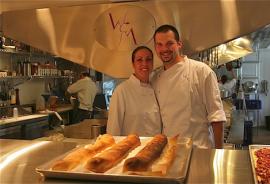 For an upscale version of that same feeling, drive a client out of the city and into the bustling burbs of Hockessin, to grab a seat at the bar at The House of William & Merry, the region's most unassuming-on-the-outside-but-killer-on-the-inside spot. Tables are great if you like that sort of thing, but if you're trying to impress a foodie, the bar is where the action is. Conversation is always lively, the open kitchen can be kicking on a busy night, and if you're lucky, Chef Bill Hoffman might deliver your dish himself.