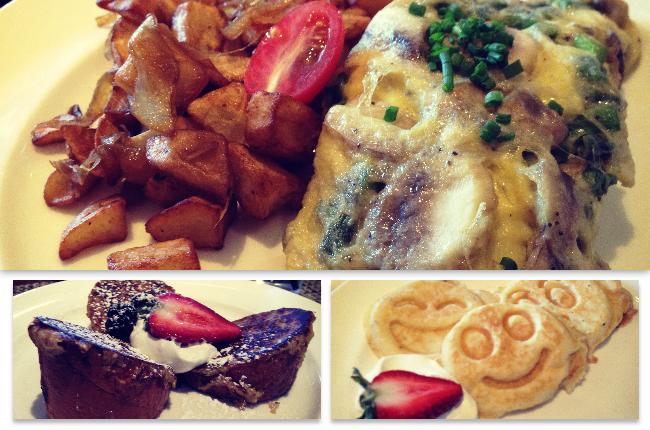 In most times of the year, brunch is a luxury a nice-to-have-but-hardly-necessary meal that falls outside the normal order, a late nosh for the late riser. Breakfast? That's a daily requirement, the most important meal of the day. Brunch? On a bright summers day, it doesn't break into the top three. But in the winter months, brunch seems more vital. It starts later in the day, allowing the sun to rise a bit before you need to fully wake up. Its warm and inviting. And nothing helps build up a protective layer of fat against the cold like Hollandaise sauce. As part of our annual service to the brunchy set, I'm rounding up some of the areas best-loved brunch spots (and some of the seasonal pop-up brunches). Usual definition apply: Brunch must offer some combo of breakfast and lunch foods, must run from sometime in the AM until sometime in the PM, and must at least offer alcohol as an option for the weary. Whats new in brunchland this year? I'm detecting a distinct trend toward extreme brunch, as more brewpubs and ale houses get in on the action. Scrapple is the new bacon, and you'll find it everywhere -- fried into a hash, inside a benedict, cooked into a cheesesteak, you name it. And if you can put Hollandaise on it, someone is going to put Hollandaise onto it. Because its brunch. And you've got a nap coming.

The Green Room
Brunch is always in season at The Green Room at the Hotel du Pont, but the holiday brunches every Sunday in December will sell out quick. Santa comes down the chimney to visit on Dec. 20. (And its not brunch, but if you're looking to start a new family tradition, especially with little girls who like to dress up, check out the Victorian Holiday Tea. Sandwiches. Scones. Sweets. Its an amazing, delicious spread.)
Deerfield
Santa arrives to brunch at Deerfield on Sundays Dec. 6, 13 and 20 to enjoy one of OpenTable.coms 100 best brunches in America. (Remember how in Rudolph the Red-Nosed Reindeer, Santa is unnervingly thin, and Mrs. Claus is freaking out, and then suddenly he fattens up right before the holidays? This magnificent brunch might have done the trick.)
Hagley Museum & Library knows how to deck the halls for the holidays and they also know how to deck out brunch. The Belin House Organic Cafe will serve an la carte brunch menu Saturdays and Sundays, through Jan. 3 serving a special holiday brunch menu with made-to-order omelets, pumpkin leek soup, open-faced roasted turkey sandwiches, Maryland crab cakes, warm apple cider, and more.
Winterthur Museum Garden & Library
The annual Yuletide Brunches with Santa happen this year on Dec. 12-13 and 19-20 at Winterthur Museum, Garden & Library. Brunch runs from 9am-2pm, but Santa is there from 9-11am.

Downtown Wilmington and Nearby
Chelsea Tavern
Wilmington's craft brew destination puts out a decidedly guy-friendly brunch that begs to be kicked off with a MANmosa (Hoegaarden ale, orange juice and a shot of Stoli O vodka). New menu items will stick to your ribs all day long, including the biscuits and bacon gravy, the crispy scrapple hash and breakfast nachos with scrambled eggs, home fries and Hollandaise.
Columbus Inn
A classic buffet brunch with many action stations to keep things fresh, including the carved prime rib, panini press, crepe station, and a bit of dim sum on Sundays, with dumplings, spring rolls, sesame tuna and more.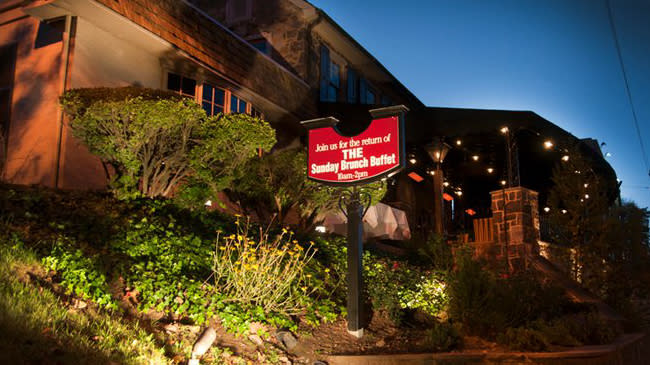 Kid Shelleens
Right near the heart of Wilmington's hopping Trolley Square bar scene, Kid Shellen's brunch menu seems designed to satisfy those who wake up late and those who have trouble waking up at all. The make-you-own-Bloody-Mary bar serves as a good eye opener for the day, but I think you'll find the corned-beef hash (made from homemade corned brisket) is worth waking up for.
Piccolina Toscana
Family brunch with an Italian twist, where pastas, salads and zuppa adorn the buffet line, and the kitchen cooks up cleverly redesigned entrees like the creamy chipped prosciutto (Prosciutto di Parma and shallots in peppery local cream served over grilled brioche) and the ouva inferno (Eggs, spicy pomodoro sauce, and fontina cheese baked in a casserole and served with toasted brioche batons).

North of the City
Ulysses Gastropub
A gastropub with a smoky Southern swagger, Ulysses arrives on the brunch scene with two important entries into the local scrapple pantheon: the scrapple Benedict with beer and cheddar fondue and the scrapple mac & cheese (basically, everything you loved about the scrapple Benedict without the eggs and bread getting in the way). House-smoked pastrami hash and a classic shrimp and grits round things out.
Brandywine Prime
The brunch menu takes inspiration from regional ingredients and cuisine, including Lancaster farm-fresh eggs, Kennett Square mushroom omelets, Pennsylvania maple syrup and (of course) fried scrapple. If you're brunching with a date, check out the Prime Brunch for Two, which comes with two BP Bloody Marys, a half bottle of Gruet Brut sparkling wine, and a measure of fresh squeezed orange juice.
Buckley's Tavern
Its not just the pajama-clad people watching that makes this a notable brunch. It starts with homemade bakery items, including (the day we visited) some delicious chocolate-chip scones. Entrees change seasonally but often include classic omelet preparations, eggs Benedicts and variations on shrimp and grits, plus a family-style plate of meat with plenty of bacon, sausage and ham to share around the table. (Smiley-faced pancakes on the kids menu came in a variety of smiley-faced expressions. The kids appreciated it.) Adults in their PJ's get a half-priced brunch, which makes this a flannel-laden steal of a deal.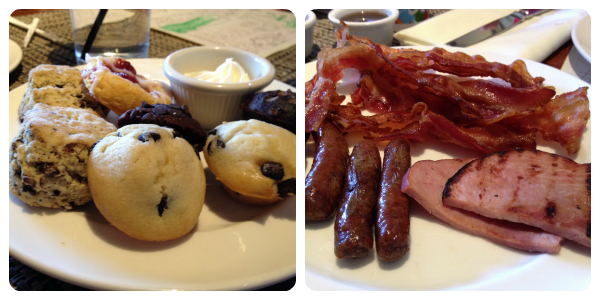 The House of William and Merry
Putting his own jelly and jam on traditional brunch dishes, Chef Bill Hoffman changes the brunch menu (and all W&M menus) with the season. What you'll find now: Biscuits and gravy served with a crispy poached egg and a house-made cheddar biscuit; open-faced, house-made scrapple sandwich with black garlic and a local pepper jam; the House French Toast with blueberry cornbread, lemon curd and powdered sugar.
Mendenhall Inn
For their classically executed brunch, the Mendenhall Inn offers a buffet/a-la-carte hybrid, with traditional apps (peel-and-eat shrimp, smoked salmon and trout, an antipasto station) and desserts (bananas Foster, chocolate mousse) served on the buffet, and main-course entrees (seared scallops, French toast, classic Benedicts) arriving from the kitchen.

Newark and Nearby
When Grain launched their brunch menu in October, they went through 45 dozen eggs on the first day some inside the bacon, egg and grilled pound cake sandwich, some inside the hoagie roll with scrapple and American cheese, and some sitting on top of the sunrise nachos tots topped with chorizo chili, bacon, red peppers, onions and cheese sauce. And that's before you get to the omelet menu.
Under Chef Robbie Jester (recently seen on Guys Grocery Games), the revitalized Stone Balloon Ale House has recently rolled out a new brunch menu that well suits the rock-n-roll history of the Stone Balloon. There's short rib on top of the open-faced omelets, crab cakes and beer cheese on an English muffin melt, and a Hot Mess plate that takes most everything mentioned above and throw on some hot sauce. In addition to the brunch cocktail menu (with the tableside mimosa for four), kick off the day with a brunch Cinnamon Toast Crunch shot (Fireball and Rumchata).
At the Rail Wine Bar and Grille
On the grounds of Delaware Park, but away from the casino (in the White Clay Creek Country Club), the Champagne Brunch Buffet offers an impressive selection of brunch items from the light (yogurt parfaits) to the not-so-light (creamed chipped beef over buttermilk biscuits), and a chocolate fondue fountain that the kids will love. (Sure. Its for the kids. Keep telling yourself that as you go back for more marshmallows, strawberries and peanut butter spoons.)
Deerfield advertises more than 111 feet of brunchy goodness, and they back up their boasts with more tasty options than any reasonable human can/should sample on a single visit. (That might be why they've topped Delaware Today's Best of Delaware awards for seven years running, and are recognized by OpenTable as one of the 2014 Best Brunch Restaurants in America.) From the raw bar with oysters, shrimp and crab to the meat carving stations to the gourmet mac-n-cheese station (with DIY toppings), and all the usual breakfast suspects, this is a brunch to spend some time on.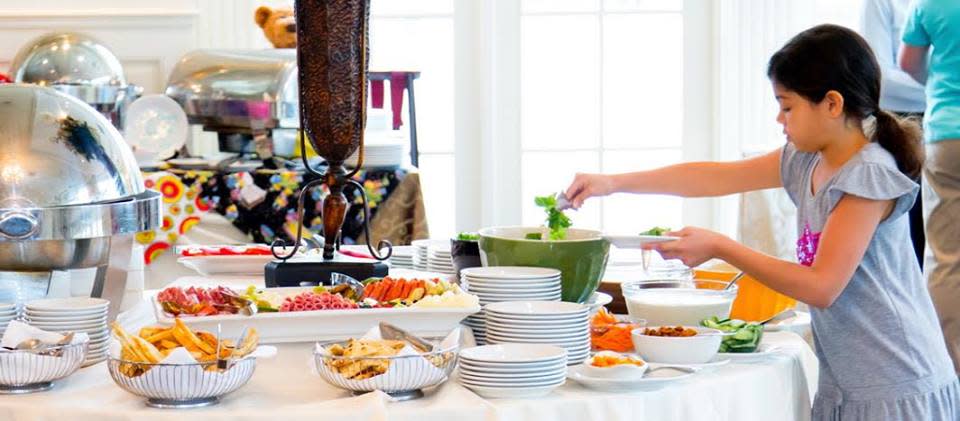 Caffe Gelato
Brunch comes by way of northern Italy to Caffe Gelato, on an extensive menu that allows you to decide how Sunday morning should go, whether it starts with apps (like the roasted butternut squash raviolo), or goes right into something sweet (crepes with berries, sweet ricotta and a honey-orange sauce). Salads, omelets, paninis and pancakes fill the rest of the menu, but save room for a gelato at the end of the meal (either at your table or to eat from a cone while strolling down Main Street in Newark).
Home Grown Cafe
I can't do brunch at Home Grown without ordering the Chili Hash made with eggs, potatoes, chili, bacon, cheese, scallion, jalapenos, and sour cream. But for those who don't share my chili hash addiction, they offer many other items to satisfy a wide variety of brunchtime appetites, from the Waffle of the Week to the powerful day-starting Chefs Breakfast (egg, avocado, fruit, multi-grain toast, house-made ricotta). Almost anything can be made veg/vegan with the additional of vegan sausage and bacon and almost any Sunday can be made better at the Build Your Own Mimosa Bar.