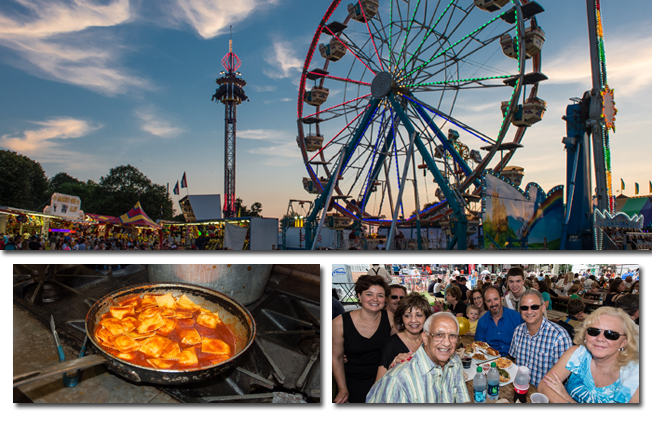 Greek. Italian. Chinese. Beer. Wine. Ice cream. A fair is a veritable smorgasbord - orgasbord - orgasbord, especially in June in Delaware as the summer festival season gets rolling. If you're visiting town over the next few weeks, make sure you carve out some time to pop into one of these six local institutions. (And yes, one of them is in July, but well make an exception for beer.)


Holy Trinity Greek Festival
Holy Trinity Greek Orthodox Church, Wilmington 808 N. Broom St., Wilmington June 3-7, 2014
The annual Greek Festival marks the unofficial start of the summer festival season in Wilmington, and it does so in a honey-soaked bacchanal of church-made eats. What to eat: If you want to try as much of everything as you can, you'll need to start with a sampler platter, where you'll have to choose between mousaka or pastichio, but you also get some spanakopita, tyropita, two dolmades (stuffed grape leaves) and two keftedes (meatballs). Share it with someone, and that will give you the intestinal fortitude (and stomach space) you need to wait for a gyro. They have Greek salad and calamari and souvlaki, but if you're getting full at this point, you need to check yourself and get into the loukoumade's line. These honey balls, topped with cinnamon, are a Greek Fest staple. Served fresh and hot, with sweet honey bursting into your mouth as you bite into it, this is the dessert funnel cake wants to be when it grows up. I've stood in line for upwards of 20 minutes when things are crowded, and I did so gladly. Tips: Get there early if you want to snag some prime outdoor seating, but they also offer indoor seating inside the Hellenic Community Center. Even if you'd rather be outdoors (and you do, because that's where the entertainment is), pop into the center just before you leave to snag some dessert to take home. (Do not leave without some kataifi.) An Important tip for people in town on business: The Greek Festival offers curbside pickup for lunch from Tuesday through Friday. Download the order form, fax it in a half hour before you plan to pick up, and be the office hero.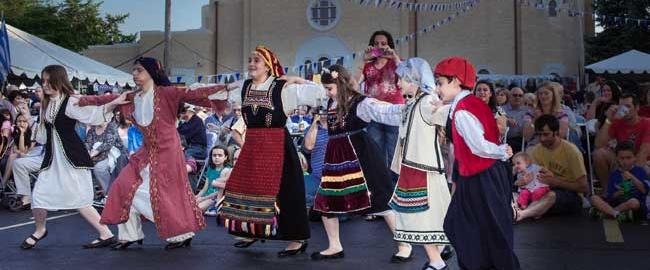 St. Anthony's Italian Festival
St. Anthony of Padua Church 905 N. Broom St., Wilmington June 8-15, 2014
The annual Italian Festival draws tens of thousands of people to Wilmington with rides, nightly entertainment and lots of food. What to eat: You'll find homemade spaghetti and ravioli and pizza, all of which is very good, but look past the staples to find those Festival-only gems that you won't find elsewhere. Panzarotti, a deep fried calzone-like device filled with sauce and cheese, has been a festival staple for decades. (Don't bite into it first thing out of the fryer, or you will bear the rookie mark of the burned chin.) Seek out the Cafe Antonin for a sandwiches, and go with either the porkette or the spezzato (veal, mushrooms and peppers), and then top it off with a visit to my favorite booth, La Piazza, with the delicious fried smelts (my personal must-have every year, but maybe not for everybody), broccoli rabe and fresh olives. Italian desserts are everywhere, but on a hot day, I usually can't pass up some gelato from the Caffe Gelato street booth. (Can't choose? They'll combine more than one flavor in a dish, no problem.) Tips: Even for locals, parking can be a confusing nightmare. If you go early, you should be OK, but in primetime, take advantage of the free shuttles from Salesianum School at 18th and Broom.

Brandywine Food & Wine Festival
Myrick Conservation Center 1760 Unionville-Wawaset Road, West Chester, PA June 14, 2014
Taste the wines of the Brandywine Wine Trail, without all that pesky driving. What to drink: Pours from Black Walnut Winery, Borderland Vineyard, Grace Winery, Kreutz Creek Vineyards, Paradocx Vineyards, Patone Cellars, Penns Woods Winery, Stone Barn Cellars Winery and Ten Gallon Hat Winery will give you a good feel for the kind of wines being made in the area. Some other vendors that will give you a taste of the area: Amani's BYOB often pops up at the top of best BYOB lists in Chester County, an area where the bring-your-own-bottle culture thrives. Kilby Cream is a Maryland dairy farm that not only make their own ice cream, but they've brought back the milkman with home delivery. And Farm Fromage will give you a solid taste of the Lancaster cheesemaking scene. Bonus: Check out the suddenly very-relevant-to-Delaware demonstration from the Chester County Beekeepers Association.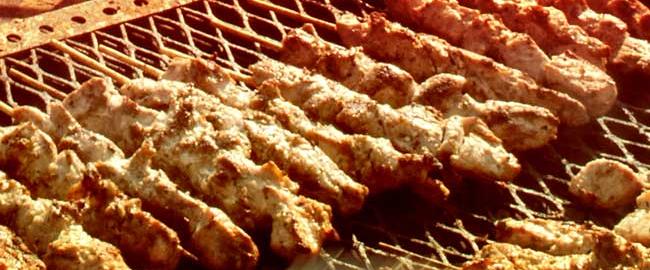 Delaware Chinese Festival
Chinese American Community Center 1313 Little Baltimore Road, Hockessin June 20-22, 2014
This celebration of Chinese arts, history, and culture also boasts an impressive spread of Chinese dishes in the food court inspired by homey street food. Last years menu included scallion pancakes, dumplings, BBQ pork buns, Taiwanese sausage, bubble tea and much, much more. And you can wash that down with a Chinese beer.

The Old Fashioned Ice Cream Festival at Rockwood Park
Rockwood Park 4651 Washington St. Extension, Wilmington June 28-29, 2014
Yes, the festival is full of frosty treats, but man cannot live on ice cream alone, which is why the Ice Cream Festival also stocks itself with a bunch of local restaurants and food vendors for a day of family fun, music, and not skipping dessert. What to eat: Restaurants and vendors tend to turn over from year to year, but my favorite from last year was the sweets put out by UD Creamery, the on-campus, student-managed, why-the-hell-didn't-we-have-one-of-these-where-I-went-to-college ice-cream shop at the University of Delaware. Here's hoping they return with my favorite from last year, Flavor 1923 (in honor of the 90th anniversary of UD's Study Abroad Program), with its French Vanilla flavored ice cream with bittersweet chocolate chunks and salted caramel swirls.

Downtown Newark Food & Brew
All over downtown Newark July 26, 2014
Local restaurants partner with regional and international breweries to present an afternoon meant for tasting and grazing. Expect to see representation from Victory, Troeg's, Heavy Seas, Dogfish Head and more. Each restaurant will usually present a couple of tapas plates to go with the brewery that they're hosting. Check the website for the menu as we get closer to the event. Tips: The day starts at 2 pm, and that's when the crowds will be at their lightest. Get there around then and you'll be able to hop from restaurant to restaurant (almost all within easy walking distance of each other) when crowds are light, and then settle in somewhere for food and brews later in the afternoon. (Reservations somewhere wouldn't be a bad idea, but they're not necessary.)