Eat. Drink. Opera. Eat. Drink. Opera. Eat. Drink. Bed.
That's how you make a weekend disappear during the annual OperaDelaware Festival. Over the first weekend of this year's Puccinifest (featuring Il Tabarro, Suor Angelica, Gianni Schicchi and a modern sequel to the latter called Buoso's Ghost), I plotted to use my intermezzo time wisely, leading a weekend visitor on a whirlwind tour of new dining spots (and unique experiences) in downtown Wilmington, Delaware. Highlights from the weekend:
This brand-new boutique burger bar seemed like a great idea for a bite before Friday night's dress rehearsal of Gianni Schicchi – such a great idea that we had to fight for a table … and we arrived before quittin' time, at 4:45pm. ("We take reservations for lunch even," said the slightly perplexed gent at the gate, who seemed slightly surprised himself.) F&C has been slammed almost since the moment it opened its doors a few weeks ago. Is it because of the burgers? They're ground in house with a mix one-third brisket, one-third chuck, and one-third filet mignon (a rare but welcome combo). They come bearing clever names like the Goomara (with tomato jam, soppressata, pesto, mozzarella) and the Moo Caliente (charred habaneros, ghost chili aioli, pepper jack), but in good conscience, I can't recommend any burger that comes without their thick, house-cut bacon on top. If you're feeling daring with your heart, try the Morning Glory, which comes with bacon AND scrapple.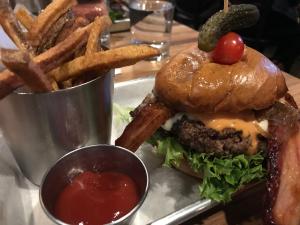 The rest of the menu is just as fun, and just as good. Fried chicken skins made for a great happy hour snack as we waited for a table and sipped on cocktails like the Smoking Betty (Joven Mezcal, Cachaça, orange bitters, grenadine) and the Angel's Share (Maker's Mark, blackberry, vanilla sour, simple syrup). The brown-liquor selection runs deep here, with shelves of small-batch bourbons and high-end scotches. And there are milkshakes on the menu that seem like must-trys, including the Saturday Morning Cartoon made with a unholy mixture of Apple Jacks, Froot Loops, Cinnamon Toast Crunch and Cap'n Crunch. Sadly, my post-burger stomach made it a try-next-time.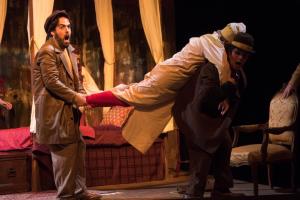 Opera: I worried that my chicken skin/bacon/beef dinner might make me sleepy, but Gianni Schicchi proved to be a delightful laugh fest, one that captured the attention of my 7-year-old daughter and made me feel quite cultured when I realized I knew one of the tunes. (Photo: Moonloop Photography)

Iron Hill Brewery:
It seems that every time friends visit, I have a new Delaware brewery to show off. This weekend, I could brag on all of them in one place, at an outdoor party hosted by Iron Hill and featuring samples from every single one of Delaware's 21 breweries. (In Delaware, the beer trail comes to you.) With three flights to choose from, I picked one that featured local favorites Dew Point, Brick Works, Bellefonte, Iron Hill and Argilla, alongside a couple travellers from southern Delaware. It was a beautiful spring afternoon to sit outside, sip some beer and participate in one of my favorite spectator sports – watching other people play giant Jenga while tipsy.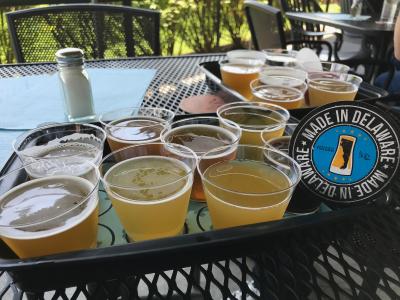 Domaine Hudson:
Newly installed Chef Pat D'Amico is no stranger to this kitchen. He made a guest appearance at a pop-up dinner last year when then-chef Dwain Kalup ran away to get married, and the foie gras app from that meal landed on my 2017 "Best Things I Ate This Year" list. So when Dwain ran away a second time to start a new life with his new wife out west, owners Beth and Michel Ross conveniently had Pat's number already programmed into their phones.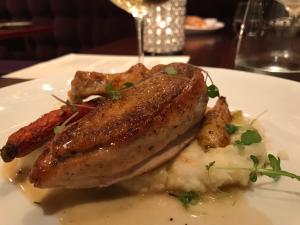 DH hasn't lost a step in the transition. The four-course tasting menu is still the best way to experience the restaurant (though if you're in a hurry, a half-sized portion of pasta and a glass of wine makes for an inexpensive, yet intensely flavorful, weeknight supper). We had time for two courses before curtain. I argued for a cheese plate (now featuring an incredible Point Reyes blue), but didn't object when my companions vetoed me in favor of the charcuterie board.
Five selections, including a delicious pork rillette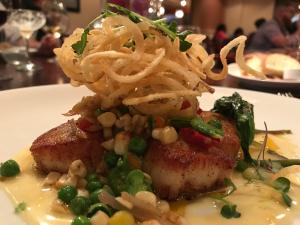 and shaved smoked pork shoulder, more than served as an app for three people (especially when paired with one of the best bread baskets in town).
I opted for the chicken after our waiter described the Green Circle Heritage bird as the sumo wrestler of poultry (good call), but my wife won dinner with her beautiful plate of sea scallops, adorned with an inverted nest of potatoes and a bright citrus sauce.
Opera: Opening night for a double bill of one acts: Il Tabarro and Suor Angelica. Tragic tales both, and beautifully sung on the stage of The Grand Opera House, including this incredible duet by Eleni Calenos and Matthew Vickers.
(Photo: Moonloop Photography)

Stitch House Brewery: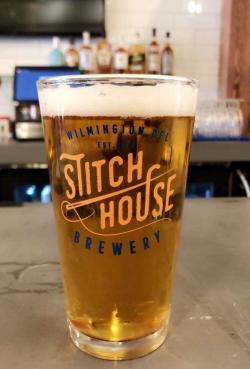 Apres l'Opera, the beer. I managed to score a drink ticket to the official OperaDelaware afterparty on Market Street's hottest new spot, Stitch House. Real opera folks were greeted warmly by the staff – very warmly. (I think a few regular bar stools will be opening up after the opera festival concludes next weekend.) What else to order but a High Note Abbey Dubbel, the beer brewed in honor of the opera across the street. Says Stitch House's head brewmaster Andrew Rutherford: "The style was created by benedictine monks located in Belgium … and will have esters and phenols in the flavor from the yeast itself and will have a darker color." Andrew sounds like he knows what he's talking about. I thought it tasted excellently beery.
I couldn't eat another thing, and definitely not one of the giant sandwiches I saw coming out of the kitchen, but I was sorely tempted by the looks of some queso fundido. Chef Dan Sheridan captures the it-flavors of the moment on his gastropub menu, tossing whole wings with a harissa/roasted garlic sauce and adding pimento cheese to a bacon-lettuce-avocado sandwich. My next visit, I'm coming for a cubano with pork carnitas, grilled ham, hot mustard and Wilmington Pickling Company pickles.