Mardi Gras—or Fat Tuesday—is all about indulgence, revelry, and celebrating the culture of New Orleans. As the Cajun saying goes, it's a way of "getting all the sin out" before entering the solemnity of the Lenten season. The storm before the calm, if you will.
The First State might be 1,200 miles north of the Gulf, but local bars and restaurants are set to prove that N'awlins spirit isn't as much about geography as it is about essence of good cheer (and good beer). Expect to see NOLA-inspired dishes of both the Cajun and Creole variety, drink specials, and sweet treats gracing the menus of area restaurants and watering holes.
This year, Mardi Gras falls on March 5th and local restaurants are gearing up to celebrate the holiday of excess with dishes that rock and drinks that'll knock your socks off. Here are some "geaux-to" places to get your N'awlins fix:
CAJUN KATE'S (722 Philadelphia Pike, Wilmington, DE 19809; (302) 416-5108)

Since its 2006 debut in nearby Boothwyn Farmers Market (1362 Naamans Creek Rd., Garnet Valley, PA), Cajun Kate's has been a universally-loved fan favorite and the Wilmington location is no different. As the name implies, the menu is New Orleans-inspired and the diminutive hotspot churns out big flavors daily—here Mardi Gras is just known as regular ol' Tuesday. Owners Don and Kate Applebaum, both classically-trained chefs and former New Orleans residents, are not shy with the seasoning that embodies the heart and soul of Gulf cuisine. Get your fill of traditional dishes like gumbo and jambalaya or nosh on a muffaletta or po'boy if you prefer your classics between two slices of bread. Be sure to check the website for a host of creative weekly specials—that's where the Cajun magic lies.
NORA LEES FRENCH QUARTER BISTRO (124 Delaware St., New Castle, DE 19720; (302) 322-7675)

A visit to Nora Lees feels like a trip to Bourbon Street. Thanks to live music from a host of talented performers, the dimly lit space has an electric, underground vibe and you can almost feel your cool quotient increase when you sidle up to the bar and order a traditional Hurricane or Pimm's Cup (or a Swamp Ghost if you're adventurous). Be forewarned: the menu is not for those who think of salt and pepper as spices—there is serious soul here. Even typically mundane bites like chicken fingers and nachos get a lift from Cajun seasoning, but a walk outside of the culinary comfort zone is rewarded with tasty dishes like blackened alligator sausage and bourbon-glazed crawfish tails. Everything about this place is pure entertainment. The staff even gets in on the fun by dressing up in burlesque-style costumes. Let the good times roll, indeed.
KID SHELLEEN'S CHARCOAL HOUSE & SALOON (1801 W. 14th St., Wilmington, DE 19806; (302) 658-4600)

The beloved neighborhood pub is no stranger to throwing a good party and creating an awesome menu to match. In fact, the party gets started early and runs from February 27th – March 5th. This year's Mardi Gras menu plays like a NOLA greatest hits list—the work of Executive Chef Andrew White. Start off with cornmeal-dusted oysters or chicken and andouille gumbo or tuck into a hearty bowl of shrimp and grits. If you're not in a fork and knife mood, get your hands on one of busting-at-the-seams shrimp po'boys and wash it down with a Hurricane or a Bloody Mary from the bar (side note: the loaded garnish that accompanies the Bloody Mary is practically a meal in itself).
DE LA COEUR CAFÉ ET PÂTISSERIE (1836 Lovering Ave., Wilmington, DE 19806; (302) 660-7178)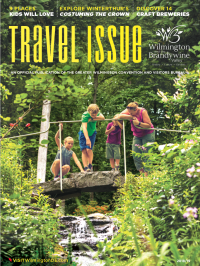 Louisiana Creole and French culture are intertwined and there's no better place to experience a bit of the joie de vivre atmosphere than at this charming little neighborhood café. The always-packed De La Coeur serves breakfast and lunch and, in honor of Mardi Gras, will be offering a delicious roster of pastries and desserts.
Make Mardi Gras and all the rich history, diverse culture and glorious gardens of Wilmington & the Brandywine Valley part of your next weekend escape. Start planning your visit today with our free Visitors Guide.