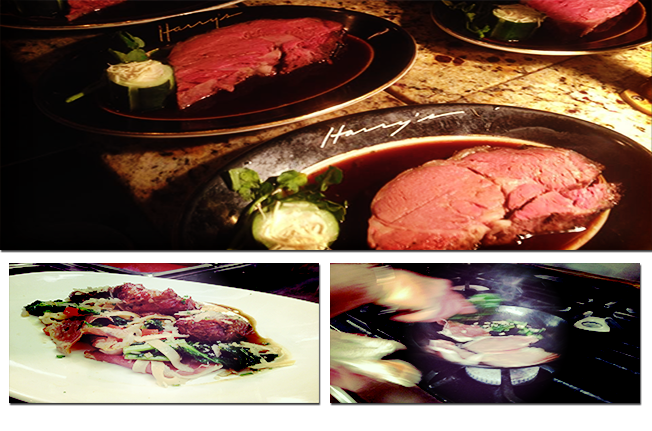 I'm in the middle of the venerable Harry's Savoy Grill in north Wilmington, waiting to chat with restaurateur/owner Xavier Texiedo and Chef Patrick D'Amico, and there it is, sitting right next to me:
The prime rib.
It's a gorgeous hunk of meat at the carving station, just waiting for a customer to order a chef's cut (10 ounces) or a grill cut (12 ounces) or a savoy cut (18 glorious, gluttonous, order-another-bottle-of-wine-'cuz-we're-gonna-be-here-awhile ounces). It's crusted with herbs, cooked to a perfect medium rare, and is still making my mouth water as I'm typing this.
And I realized, looking at it, that I haven't ordered a prime rib in almost 10 years.
I used to love prime rib. It was my go-to order when I wanted steak. But then I got so many bad versions– some bland, some overcooked, some literally just roast beef in gravy that some cut-rate wedding caterer was trying to pass off as prime rib – that I stopped ordering it.
It's a story that Xavier's heard before. Harry's has proudly served prime rib since the day the doors opened – and yet, this is not a restaurant that's beholden to its past. A quick peek through the restaurant's Facebook page reveals plate of grilled wild boar with rabbit sausage, foie gras with pomegranate bourbon caramel sauce, small-batch bourbon tastings and more.
How do you stay current and classic? How do you walk the line? That's what I wanted to know about when I sat down with Xavier and Pat – and I ended up with a quick one-on-one cooking demo from Pat as a bonus. This job has its perks.
But first, back to the prime rib…

Xavier:  That was whole origin of this restaurant. We were restoring all of those classics that had really been forgotten. Nobody served good prime rib. Prime rib was something people were selling for $8.95. I don't even now where you would get your meat like that. Where do you get meat where you can afford to do that and it's that bad?
But one thing hasn't changed since day one. We have one foot in tradition and one foot in innovation. We feel that good taste is universal and timeless – but trends change, and we want to do things that show that we've stuck our head out the window, that we're current and we know what's going on. There's always a balance, and I think that's true of every good place.

Pat:  When I first came on here and talked to Xavier, he said it would probably take me about a year to get acclimated to the way this is. And about nine months into it, I started getting it. I had the opportunity through Xavier and [Executive Chef] David Banks to do me, do myself, do what I do.
But in the same respect I wanted to learn how to make that prime rib, to respect what they achieved for 24 years. It's simple, but it's the best way I've seen it done. So I respect their recipes, from the prime rib to the clams casino. God forbid if I run short of casinos, I feel like I'll be tarred and feathered outside in the courtyard.
By customers. Not Xavier.

Xavier:  Believe it or not, we sometimes look at prime rib and say, "Do we still want to serve prime rib?" Because on one side, it's an albatross around your neck. That's world-class prime rib out there, but for someone younger, they say, "I don't want to go to a place where they serve prime rib because there's probably a bunch of dead people in there." But it's funny, all of a sudden, prime rib is hot in New York. It's the comfort steak. It's a roast. It's shared. It looks big. It's got good taste, fat and lean, and a sauce. It has Sunday dinner written all over it.

Me:  Pat, you talked about being allowed to do what you do. Can you talk more about that?

Pat:  That's hard to explain. There are a lot of influences. Sometimes, I do my best on the fly, cooking at the moment. Sometimes a guest comes in and says, "I want Pat just to cook." Everything's done to order, everything's done right there.

Xavier:  What I would say about Pat is, more than anything, he's just really intellectually curious about food. And I think he really likes spontaneity. What works well for us, we have a structure around things, but we have this other force that's always trying to keep all this stuff fresh. If it were up to Patrick, he'd change every dish every day, so we run this fine line between the two.

Pat:  We have pork cheeks on right now. They've been braised, for about three-and-a-half to four hours, and then cooled just by letting them rest to room temp. And they just dissolve right in your mouth. I serve that with a little kale, tomato and a little sheep's milk crema.

Xavier:  So the fine line is always respecting tradition but also being able to grow, and it doesn't matter if its in wines, beers, spirits, service, bread, food, timing, atmosphere. We're a restaurant that's about evolution, not revolution.
I just think that's what works. I think you need a little of both. There's a certain DNA that runs through the place, but as long as we respect that piece, we can introduce guests to all these other things.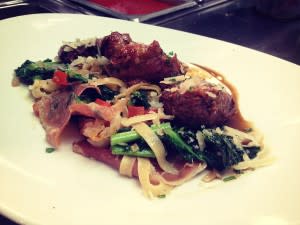 So back in the kitchen with Pat, he fired up those pork cheeks for me. The fresh pasta, made in-house, goes into the water. Kale and other veggies into a hot pan. As a chef, Pat wears his heart on his sleeve – there's love in his voice when he talks about a dish. And there's love on the plate when he gives me a bite of the meltingly tender pork, with the prosciutto in the pasta and the light sheep's milk crema that adds a piquant bite, suggesting a cream sauce without the heaviness of one.
Postscript: A week after I visited with Xavier and Pat, I went back. Couldn't stop thinking about that prime rib. Xavier was at the bar, chatting with regulars and new customers alike, as I found the one open chair at a crowded happy hour. I ordered a chef's cut, complete with au gratin potatoes. It tasted classic, but better than that, it tasted good – like how I remember prime rib should taste. And I caught more than one other bar customer eyeing it up in envy.