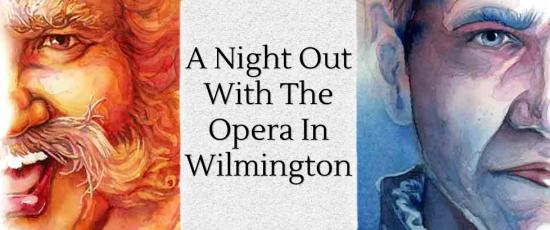 Back in my Spark days, I always wanted to do a story about where touring artists coming through town would go to eat. But other than a few stories that we heard over the years – the Motown diva who pulled up to a local steak joint late at night, a celeb couple sighting at Woodside Ice Cream – it became clear that most touring artists either crashed after their shows, traveled with their own chefs or took off immediately after the show to head to the next city.
But sitting in my office at the Delaware Shakespeare Festival last week, I was listening to the cast of OperaDelaware's "Falstaff" rehearse a floor below me and the thought hit me – these people are in town for weeks, rehearsing and eating and drinking and not necessarily in that order. (I know some opera people, and I don't think they would disagree.) So I asked if I could corner a few to talk about where they've been eating since they've been in town and offer some recommendations on places to try. I spent a good bit of time explaining scrapple, but truth is, they didn't need many recommendations. My friends Brendan Cooke (general director of OperaDelaware) and the singers' hosts in town had already turned them on many great places. Not that I didn't have a few ideas for them.
So, here's one other idea: You should get yourself to The Grand Opera House in Wilmington before "Hamlet" and "Falstaff" close. And if you don't want to take the word of the guy who works above the rehearsal studio, watch for reviews after opening weekend. If you can still get tickets.

The cast of characters: Lara Tillotson (Geltrude in "Hamlet"), and Sean Anderson (Ford in "Falstaff"), Ann McMahon Quintero (Quickly in "Falstaff")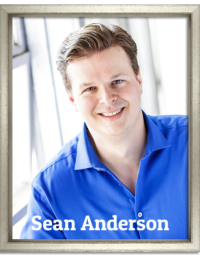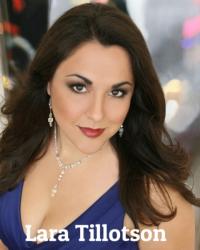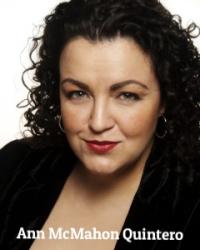 On breakfast
Sean: "Because the rehearsals for 'Falstaff' have been in the afternoon and evening, we haven't had much time to get out. But I love breakfast. I've been staying in Chadds Ford, and that means there's a lot of stuff between here and there. There's a fantastic French cafe I went to, De La Couer. That was amazing. I had a breakfast sandwich with arugula and Sriracha aioli. It was amazing. And also the croissants -- I took a couple of those. It was really good."
Lara: "Oh, that's got all the buzzwords!""
Sean:" Right? And sometimes I just want a greasy spoon diner. Lucky's? I drove past there and said, I have to go there. That looks like an old-school diner, and it absolutely is. I had the sweet potato pancakes. Really good."
Me: "So, if you love breakfast and you're coming in from the north, you should check out this barbecue joint called Locale BBQ Post, where they make a breakfast sandwich with eggs, cheese, and bacon of the week…
Cast: "Bacon of the week?!?"
Me: "Bacon of the week. And they put a Rémoulade sauce on it, and then give you another sauce that's smoked honey and pepper flakes and secret stuff."
Ann: "That's happening. I'm making a note."

 On lunch near the OperaDelaware offices:
Sean: "We went to Taco Tuesday at Cocina Lolo. I really enjoyed the crab guacamole. That was pretty awesome. And it was a goodly portion."
Lara: "There's a Jamaican place on 4th called D&H that has f***ing killer jerk chicken."
Ann: "Do they have goat curry?"
Lara: "Yes." (Palpable excitement all around) "It's like somebody opened a restaurant in their kitchen. … Very tasty. I highly recommend lunch specials, piled with rice and cabbage and carrots and beans."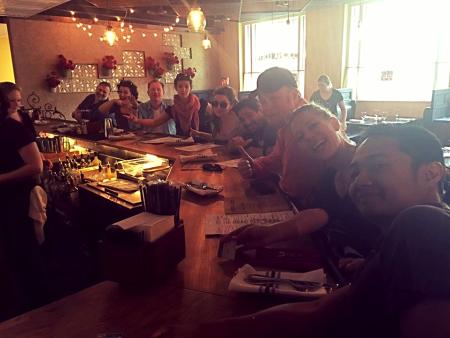 On finding the local spots
Lara: "I went to the Dead Presidents pub? Up on Union Street? We got some Irish nachos, basically French fries covered with cheese and bacon, jalapeños, what's wrong with that? And I asked the bartender, hey, I've never been here before, what should I have?"
Me: "He suggested the Chicken Nixon."
Lara: "Yes sir! That is exactly what I had. And it was delicious. It's blackened chicken with barbecue sauce and bacon, and oh, god, it was good."
Ann: "So Jeremy took us to La Tonalteca, in this strip mall. Really good. We all got the carnitas. We asked the waiter what was good, and he said, 'The carnitas, I eat them every day. Get the carnitas. Get the $#!@# carnitas.' So we did.

 On cocktails
Lara: "La Fia is top on my list of places I need to go."
Me: "La Fia is great, and your can sit at small bar that's seat yourself where you can eat. And right across from that now is Merchant Bar…"
Lara: "I've had drinks at Merchant Bar! We didn't eat, because we had already eaten, but…
Ann: "Oh, that's where you told me you had the proper cocktails."
Lara: "Yes! Proper cocktails. Proper cocktail bar."
Me: "One other thing you might want to check out is the happy hour over at Harry's Seafood, within walking distance of here…"
Lara: "I've heard that too."
Me: "Happy hour is a great deal. It's half off cocktails, the bar food menu is inexpensive with mussels and calamari and half-priced oysters on Tuesdays and Thursdays. It's a great bar to hang out in."
Lara: "Ok then. You know, I've not been to a place yet that I wouldn't go back to."