From beer gardens to shopping mall food courts, people have always been enamored with venues that offer a variety of food and drink options and since everything old is new again, it's no wonder why the food halls of yesteryear are making a roaring comeback.
But what exactly is a food hall?
Typically, a food hall is a spacious location that contains restaurants, specialty purveyors, producers, and artisans selling from kiosks or small stalls. Sometimes both raw ingredients and prepared foods can be found under the same roof, giving off a bit of a farmers' market air. The modern food hall concept has ancient roots and can be traced all the way back to Emperor Trajan of Rome and the world-renown Grand Bazaar in Istanbul with its narrow, hawking stalls is the longest, continually operating permanent market of its kind. In the early 18th and 19th centuries, a burgeoning department store scene in London helped usher in the era of the food hall—Harrod's being among the most famous. American society saw its own culinary landscape changing during the same time period and food shops like Quincy Market in Boston (1825), Reading Terminal Market in Philadelphia (1893), and everyone's favorite fish-tossing destination Pike's Place in Seattle (1907) were born and forever altered the way people ate. Dining, once confined only to one's home, became a public and communal activity. A game-changer, indeed.
Food halls are usually reserved for bustling metropolises (like The Bourse in Philadelphia), but the city of Wilmington was ripe for a concept of this sort and diminutive DE.CO (a portmanteau for Delaware Collective) delivers. A collaborative effort between local developer Buccini/Pollin and Seawall Development, DE.CO bills itself as a launchpad for chefs and a haven for eaters and is located in art deco-styled DuPont Building in the heart of downtown's business district. The spacious venue is home to 8 stalls (7 permanent residents and a pop-up that plans to host a rotating roster of in-residence chefs and their teams), a test kitchen, a chic atrium bar, and a lounging area that occasionally doubles as an entertainment and art space.
DE.CO, in true food hall tradition, offers diners a range of cuisines whose dishes would please both the pickiest and most adventurous of palates. Take a look at the 7 permanent food stall occupants: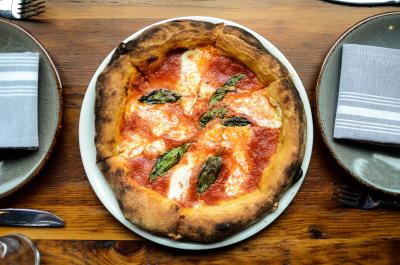 Pizzeria Bardea – Since its opening, the rustic Italian gem consistently lands on both foodies' and critics' best-of lists. The DE.CO menu shies away from the hearty plates of its main restaurant and focuses on Neapolitan-inspired artisanal pizzas and salads which anyone knows is quite possibly the best meal on earth. Don't expect to find run-of-the-mill pies; instead opt for the Upside Down, a formaggio-centric mash-up of mozzarella, grana padano, and ricotta topped with garlic oil and tomato drizzle. Pair it with one of Bardea's lighter salads, an authentic panzanella (bread salad), and that's amore.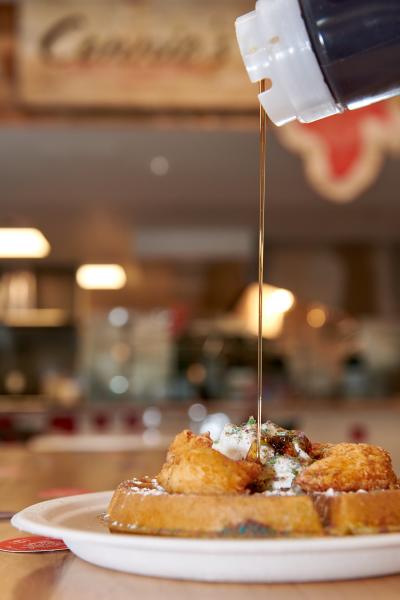 Connie's - An outpost of the Baltimore favorite, the soul food-inspired restaurant capitalizes on the chicken and waffles craze. Crispy, seasoned chicken tenders are perched atop a pillowy, hot-off-the-iron buttermilk waffle on which diners can drizzle maple syrup or dot some fiery hot sauce, but serious foodies opt for fried shrimp and a red velvet or cereal-infused waffle. If poultry and the pancake's cousin isn't your thing, order a Maryland legend: the Baltimore chicken box (fried chicken and French fries). Round out your meal with a cup of the homemade sweet tea.
Phubs – The pho and banh mi-slinging crew behind the counter at this restaurant make you feel like you're at one of the busy food stalls in Vietnam. The atmosphere is fast-paced, raucous, and fun—you might be treated to a bit of banter while you wait for your food. The pho, a traditional noodle soup, is studded with slices of jalapenos, a sprinkle of cilantro, and a couple of lime wedges; shrimp or flank steak can be added. A variety of banh mi (think of it as a Vietnamese sub), rice bowls, and bubble tea complete the spot-on menu.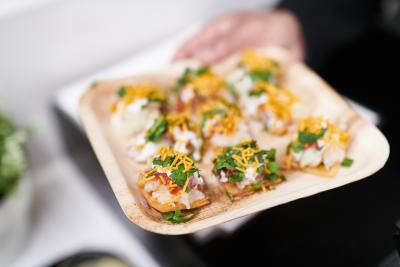 Verandah – If variety is the spice of life, this Baltimore outpost is thriving. An array of traditional street foods like samosas, kebabs, chaat, and paratha (flatbread) are served alongside heartier dishes like tikka masala. The offerings are creative and go a long way to prove that Indian cuisine is more than curry.
Stripp'd – Healthy eating doesn't have to be synonymous with boring or tasteless. Drink to your health with a smoothie or fresh, cold-pressed juice. If you're looking to fill up without overloading on calories, açai bowls and steel-cut oatmeal are a good bet. A rotating menu of sandwiches and salads packed with nutritious ingredients make for the ultimate feel-good meal.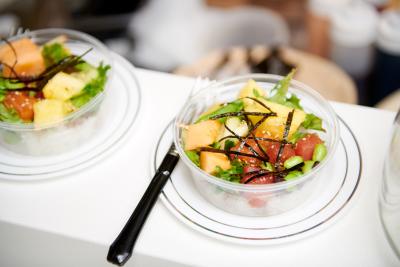 Al Chu's Sushi – Chances are, if you're a sushi lover, you know Al Chu's name. For years, he was the chef at downtown's popular Mikimoto's and was responsible for many of menu's most well-known sushi rolls. Now he's calling the shots at his own place and, judging from the queue of hungry diners sidling up to the adjacent sushi bar, it's a hit. Chu brings his culinary expertise to his menu of sashimi, sushi rolls, and Hawaiian poke bowls.
Spark'd –HOTEL DUPONT, Wilmington's swankiest landmark, has one of the best pastry programs in the area. In a genius move, the powers that be decided to create a confection haven for its popular desserts. Patrons can nosh on pastry chef Leah Steinberger's sweet-and-tart lemon bars, cookies, and a seemingly endless array of baked goods—her artisanal confection work is almost too good to eat. Almost.
DE.CO has proven to be a welcomed addition to downtown Wilmington's growing food landscape and fits in nicely with the city's sophisticated revitalization efforts. With each opening of a new restaurant, palates and horizons are expanding. A delicious endeavor, indeed.
* DE.CO is open seven days a week for breakfast, lunch, and dinner.