My senior year of college, my friend Jason decided to brew beer in the kitchen of the tiny, five-room off-campus house we shared with two other philosophy majors – because, hey, sometimes when you stare into the abyss, you need beer.
I remember that scene well – giant glass bottles and lots of tubes and water boiling on the kitchen stove until we had a jug full of brown beerish liquid and a few pounds of leftover mashed grains, the natural byproduct of brewing. (As it turns out, mashed grains can be put to great use for composting and baking pizza crusts, in addition to throwing it onto front lawn of the neighboring college house with which you have a long-standing blood feud.)
Twenty years later (and long after the statute of limitations for petty beer-related acts of vandalism has expired), Jason is putting that philosophy degree to use as the production brewer at Lake Placid Brewery, home of Ubu Ale, Big Slide IPA and a Maple Sap Ale that's right up my alley. He went to grad school to get his Master Brewer's certificate at UC Davis and brewed the white Belgian ale that my wife and I gave away as wedding favors. My point: Jason knows his beer.
So what else to do when he visited than embark on an exciting journey through the heart of the exploding beer scene in northern Delaware. All of our three stops – Dew Point Brewing Company, Bellefonte Brewing Company and Liquid Alchemy – have opened in just the past few months, adding to the critical mass that has turned my hometown into a destination where beer-loving friends can sample two or three breweries (or four or five, if you have a designated driver) in the course of an afternoon.

Our afternoon:

First stop: Dew Point Brewing, at the historic Garrett Snuff Mill in Yorklyn, inside a restored (and beautiful) brick building located in the middle of not much. (It's only 10 minutes from our starting point at Longwood Gardens, on a route that winds down quiet country roads in a way that might have been unthinkable before GPS.)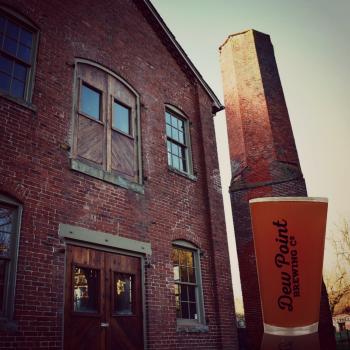 Beers sampled: Hopworts Express IPA, Dubbel Dip, Nit Wit, 1901 Saison, Piedmont Pale Ale
Jason the Brewer's favorite: Dubbel Dip. ("Can you smell that apple aroma in there?" he asked. And sure enough, there it was.)
The vibe: A neighborhood brew house. When we arrived up the stairs in the tasting room, the house was packed – regulars unpacking sandwiches at one table, a couple sipping beer and working on their MacBooks like they're at a boozy coffee shop at the next, and a full bar that took us a good minute to find a place for our bellies. Large windows allow you to look out at a pastoral scene if the sportsing on the TV isn't to your liking, as you sip through their offerings. I could easily see spending an entire afternoon here with friends and some guac and chips (or without the friends), but beer trail beckoned.

Second stop: Bellefonte Brewing Company, a 15-minute drive this time and mostly a straight shot from Dew Point, though the last 500 feet are a challenge. It's tucked in the back of a warehouse/storage area, and though there's a sign, it requires a bit of faith to keep driving back past where you think the place could possibly be … until there it is.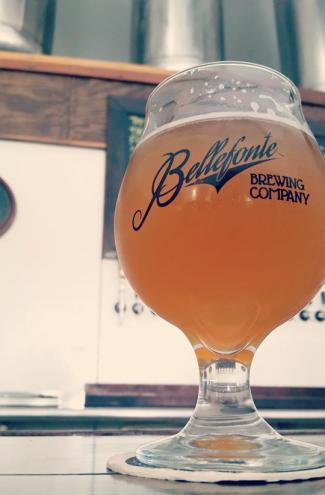 Beers sampled: Tart Saison, Aston Abbey, Punk'n Ale, River Road IPA, Bellefonte Sunshine, Dirty Side Rye, and my notes get a little fuzzy after owner/brewer Craig Wensell poured us a few more.
Jason the Brewer's Favorites: The Tart Saison and the Aston Abbey.
The vibe: A hip, underground backyard barbecue. The warehouse space where Bellefonte is located has a surprising amount of character, even on a rainy day. Food trucks often park right outside, and the loaded fries topped with steamed chicken and Tepochi sauce from the Doggie Style truck hit every spot that wasn't currently full of beer. (Note: I also have no idea what Tepochi sauce is, but it should be more popular.)
I tagged along as Craig gave Jason a tour of the facility and the two talked shop for a bit, including Craig's strong family tradition of beer brewing – which is how Craig learned, with no formal training. Afterwards, I quietly asked Jason if you can make really great beer without a fancy grad school degree. "Absolutely," he said. "There's art to it. You can pick up the science. And this is a very good, clean beer. I like this place." I had to pull him away – we had only gotten through about half the beer list, but we soldiered on.

Third stop: Liquid Alchemy, a meadery that's 10 minutes away. (Beer purists will soon find Twin Lakes Brewing Company open to the public and the same distance away, when their tasting room opens in 2017.)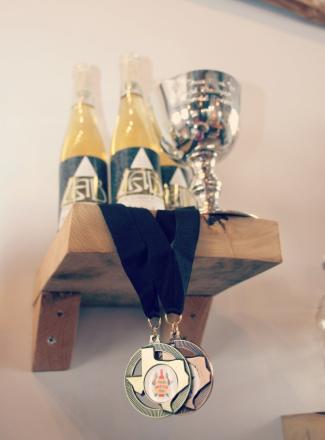 Meads sampled: Choco-Cherry-Bon-Bon, Red-Cowabunga, Cosmo-Naughty, Currant-Lee, Overly-Hoptimistic, 04, Pucker-Up Baby, Thai-Grrr, Sweet-Nothing
Jason the Non-Mazer's Favorite: Thai-Grrr, made with chili peppers. (As I have a philosophical problem with spicy drinks, I'm overruling him and going with the Cosmo-Naughty.)
The vibe: Antiquey tasting lounge. For those not familiar with mead, this ancient ale is fermented from just honey, water and yeast, but the final product has more versatility than you might expect, from simple sweetness to complex, cocktailesque flavors. (The Cosmo Naughty is made from just honey, blood oranges, passion fruit and pomegranates, but does indeed come out like a Cosmo – and with a similar kick.) Liquid Alchemy is a mom-and-pop operation, but their first trip to the Texas Mead Cup resulted in a best-in-show trophy for that Thai-Grrr. Spicy drink aside, it's a nice cap on the day for beer lovers, and a must-stop if you have a non-beer-lover you're dragging along. (You know it happens.)
If you like this, please read our Craft Beer Guide to Wilmington & the Brandywine Valley.