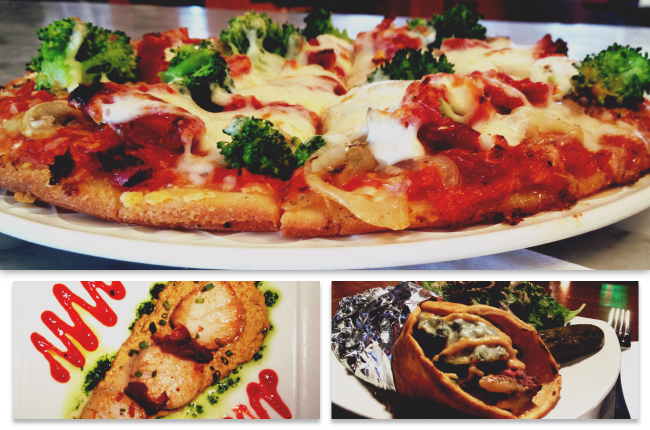 My education in gluten-free dining began a few years ago, when I tried to take an intern out to celebratory lunch. I ordered a pizza. She ordered water with a side of quinoa. She told me not to worry about it, but I felt bad. I mean, I ate my pizza, because, well, its pizza. But I felt bad about it. Fast-forward to the now, when many local restaurants have become significantly more educated, aware and able to cater to gluten-free diets with a variety of options including pizza. But lets be clear there are precious few gluten-free restaurants in the area (with one notable, and sweet, exception). And though many of the restaurants below follow strict internal food prep guidelines using separate equipment to make gluten-free dough at Pizza by Elizabeths, involving managers in a four-person food-safety check at Big Fish Grill on the Riverfront, locally sourcing bread from gluten-free bakeries at Home Grown Café everyone I spoke with emphasized that while they offer gluten-free dishes, they cannot guarantee that no trace elements of gluten will appear on the plate. The risk of cross-contamination is always present, even in gluten-friendly kitchens. This I can promise: Every one of the managers of these restaurants want you to be happy, to leave satisfied and to feel safe. If you have concerns, just ask. Theyre ready to answer questions about how they prepare their food. (One other note: The restaurants listed here offer robust gluten-free menus with dishes that anyone would enjoy, but this is by no means an exhaustive list. Many local restaurants can and will cater to gluten-free diners, and many chain restaurants have their own gluten-free offerings.)
Gluten-friendly menus in Greater Wilmington
Seafood

Big Fish Grill on the Riverfront
A relaxed seafood spot on the Riverfront in Wilmington, with many fresh fish options and a variety of allergy-aware menus, including gluten-free, egg-free, dairy-free and garlic-free menus
Spinach Salad
Fresh spinach, chopped egg, bacon, gorgonzola cheese, sliced mushrooms in a warm apple cider vinaigrette
Fresh Fish of the Day (excluding Salmon)
Choose a fresh fish from the Big Fish Board, excluding salmon, to be grilled or blackened served with an allergy free sauce (like the fresh tropical fruit salsa) and a choice of two sides (like sauted spinach and sweet potato mashers)

Veggie friendly

Home Grown Café
This casually hip spot in Newark has a locavore spirit (they buy gluten-free bread from Amaranth Gluten Free Bakery in Lancaster) and a global approach to cuisine, featuring a menu that caters to vegans, vegetarians, carnivores and omnivores and gluten-free lifestyles.
Philly sandwich
Sauteed spinach, roasted tomato, provolone, roasted garlic spread, gluten free flatbread
Polynesian Grilled Chicken ** 18
Snap peas, carrots, red pepper, coconut rice, pineapple-ginger glaze

Pizza

Pizza by Elizabeths Greenvilles upscale pizza boutique does a brisk lunch business with a wide variety of gourmet pizzas, and segues nicely into dinner with a robust wine list. There's always at least one gluten-free item on the dessert list.

Arden Pizza Also noted: If you crave the legendary taste of the Delaware beaches, all Grotto Pizza locations now offer gluten-free pizza crusts.)

Gastropubs
All three of these beer shrines have solid gluten-free menus, and a few options for gluten-free imbibing as well. (And points to Iron Hill for their gluten-free children's menu!)

Iron Hill Wilmington
Fisherman's Stew
Shrimp, scallops, mussels and market fish simmered in a garlicky tomato-white wine broth At the bar: Red Bridge. (Some Iron Hill locations occasionally brew their own gluten-free beers. Ask your servers.)

Ulysses Gastropub
Blackened Catfish Rueben
Chipotle coleslaw, thousand island, swiss cheese on gluten-free buns At the bar: Gluten-free beers rotate in on the draft list, as well as three or four ciders

Two Stones Pub
Smoked duck breast
Root vegetable puree, Brussels sprouts, pancetta, rodenbach-cherry puree, crispy parsnip ribbons At the bar: A variety of Greens gluten-free beers from the U.K., plus ciders on tap
(Also noted: Delawares own Dogfish Head Brewery now brews a gluten-free beer, Tweasonale. It ranks in sixth place on Paste Magazines list of best gluten-free beers: The fruitiness of the strawberries is balanced by mild hoppy tones. Leave it to Dogfish Head to create an off-centered ale without gluten. One of the most interesting of the bunch, if not the most recognizably beer-like. Find it at local restaurants that stock Dogfish beers.)

Asian

Potstickers Sushi has long been a good option for the gluten-free, as long as restaurant knows to avoid traps like traditional soy sauce. Potstickers substitutes organic gluten free Tamari soy sauce.
Chicken or vegetable lettuce wrap
Honey-soy emulsion
Thai spicy beef with basil and kaffir lime leaves
Thai chili, onion, basil, kaffir lime leaves

Italian
Both Wilmington and Newark have fine-dining Italian restaurants that feature gluten-free pasta throughout their menus. Piccolina Toscana in Wilmington features a modern Italian tapas concept with a comfortably sleek lounge, and Caffe Gelato in Newark specializes in northern Italian cuisine with a 1,500 bottle wine cellar and a number of gluten-free gelato flavors (including dark chocolate).

Piccolina Toscana
Pork Belly
Slow roasted pork belly with white bean and prosciutto ragout
Risotto
Pearl onions, leeks, and parmesan with slow cooked veal breast

Caffe Gelato
Crispy Polenta and Pulled Beef Short Rib
Drizzled with truffled extra virgin olive oil, garnished with diced tomatoes and micro greens
Chianti Braised Organic Chicken Red-Rice Fettuccine
With roasted fennel, roasted shallots, oven dried tomatoes, arugula and toasted pine nuts, served in a Chianti wine sauce over fettuccine

Spanish

Ole Tapas Though there's no specific gluten-free menu at this tapas restaurant on the outskirts of Newark, the menu states that most items can be adapted, and many gluten-free websites praise the restaurants flexibility and knowledge.
Vieras en Serrano
Scallops and Serrano ham, almond-saffron puree
Datil con Almendra
Medjool dates, blue cheese, almond, sherry gastrique

Desserts

Sweet Christines Gluten-Free Bakery The one fully gluten-free location on our list is this sweet spot in Kennett Square, where all-natural ingredients are used to make cupcakes, cookies, breads and brownies. Check them out online they ship to just about anywhere in the country. **Main image: Pizza By Elizabeths, Bottom-left: Ole Tapas, Bottom-right: Home Grown Cafe