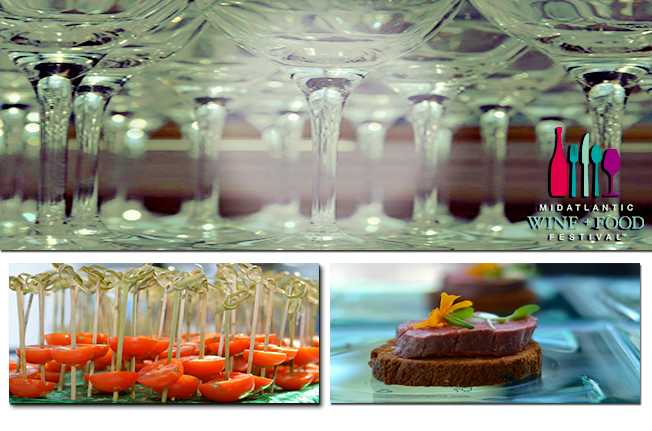 The MidAtlantic Wine + Food Festival is the biggest event of its kind between NYC and Washington D.C. Four days, dozen of events, even more dozens of chefs and winemakers from around the world, all happening in and around the Brandywine Valley from May 13-17. The festival is about bringing the world to the MidAtlantic, yes, but Ill admit, I have a soft spot for the events that also show off the history and cuisine (and the cooking chops) of our MidAtlantic region to everyone in town for the festival. A couple of weeks ago, I went to one of the preview brunch events a couple of weeks ago. Highlights for me: Chef Doug Ruleys pickled egg salad on toast with lox, smoked egg aioli and chervil; Chef Michele Mitchell's vanilla bean fromage de chvre cheesecake sphere with strawberry thyme infusion and graham cracker crust and Chef Dan Butlers egg yolk ravioli (which sold out before I got any but was raved about all over the place). Well, that whet my appetite. And with that in mind, here are a few highlights to put on your radar. The full schedule is available here.


History on a Plate: A Tribute to James Hemings Dinner. Thursday, 6:30 p.m. $175 James Hemmings was a mixed-race American slave owned by Thomas Jefferson (and older brother of Sally Hemings, who pops up in history books occasionally as the woman fathered some of Jefferson's children). Jefferson brought both James and Sally with him to Paris, and while there, James was trained in the arts of French cuisine, including a stint at the Michelin 5-star kitchen of Chateau Chantilly. Jefferson freed Hemings, allowing him to go on to become a chef in Philadelphia and New York, helping define the roots of what would become Mid-Atlantic cuisine and introducing wait for it . macaroni and cheese, ice cream, whipped cream and French fries to the American palate. (My children should have James Hemings posters on their walls.) Chef Ashbell McElveen will lead a team of five chefs in this dinner designed to honor the legacy of James Hemings at the historic David Finney Inn in New Castle.

Historic New Castle Progressive Winemakers Dinner Dinner. Friday, 6:30 p.m. $500 Historic New Castle Festival Lunch Tour Lunch. Saturday, 11:30 a.m. $100 The 91st annual "A Day in Old New Castle" features historical music, military re-enactments, children's activities and two tasting tours of historic homes are aren't generally open to the public. Both the dinner on Friday night and the lunch on Saturday take similar paths you'll travel from spot to spot, where chefs and winemakers will be around offering samples.

Scrapplegasm Breakfast. Saturday, 8 a.m. $60 We love our scrapple here in the Mid-Atlantic, and this breakfast at the Hotel du Pont serves up some next-level scrapple. (Past breakfasts have included buffalo, duck, rattlesnake, goose, antelope and rabbit scrapple.)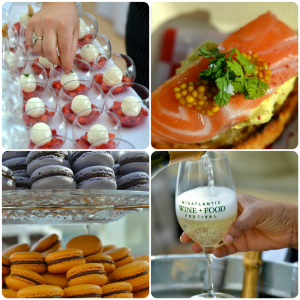 Tasting with the Pros: Beer and Cheese Edition Afternoon snack. Saturday, 2:30 p.m. $60 The craft brew scene is strong in the Mid-Atlantic region, and this afternoon tasting will feature suds from local breweries 16 Mile, 3rd Wave and Twin Lakes, among others.

Sunday Gospel Brunch Brunch. Sunday, 11 a.m. $125 Not only do you get fed brunchy goodness by great local chefs, but you eat that brunchy goodness inside the beautiful World Cafe Live at the Queen, listening to the Combined Choir of the Calvary Baptist Church. Its a transporting moment at the end of the festival. With donuts. And one more I'm really looking forward to, though its more of a west-coast party:

California Cool: Xtremely Xclusive Winemakers Dinner Dinner. Thursday, 6:30 p.m. $150 Local wine pioneer Eric Miller and local restaurateur Xavier Teixido have invited some of their favorite winemakers from small-production California vineyards to this five-course dinner at Harry's Savoy Grill. I just got my hands a list of the wineries represented: Eagle Eye Winery, EeZ, Kieran Robinson Wines, Palmeri Wines, Tenuta Il Corno and Hook & Ladder. If you've ever planning a trip wine country in California, get to this dinner, meet some people, make some connections, and your visit out west will be amazing.