Call it a professional hazard but the one question I get asked the most is from frugal foodies looking to score big bites for paltry pennies. OK, maybe not pennies but you get the drift—more than information on white tablecloth, fine-dining establishments, diners want the scoop on where to find inexpensive meals. Thanks to a recent visit from the Donkey Sauce-slinging, platinum blonde king of Flavortown—yes, that would be one Guy Fieri of Food Network's Diners, Drive-Ins and Dives—the city of Wilmington has seen a renewed interest in dining that won't break the bank.
Luckily, there are plenty of hidden gems, classic delis, up-and-coming spots, and even a James Beard Award nominee that offer legit, substantial dishes that won't relegate you to the appetizer or kiddie menu or set you back more than an Alexander Hamilton (that's a ten-dollar bill for those of you fishing around in your wallet).
The Rise of Wilmington's Dining Scene
Our List of Bargain Bites in Wilmington
1.Treehouse Breakfast Sandwich (Treehouse Café; $7) – It may sound like an exaggeration but this sandwich from this local hippie hangout might go down in the culinary annals as the heftiest, most filling sandwich of all time. A croissant jam-packed with a western omelet, avocado, green peppers, tomatoes, and onions, it's basically enough good-for-you fuel to power you through your day.
2. The Bobbie® (Capriotti's; $10 for a medium) – There's probably not a single Delaware food list that doesn't include this trademarked sandwich and rightfully so. Commonly referred to as "Thanksgiving on a roll" by residents, this stuffed-to-the-gills turkey, stuffing, and cranberry sauce delight is a meal all by itself.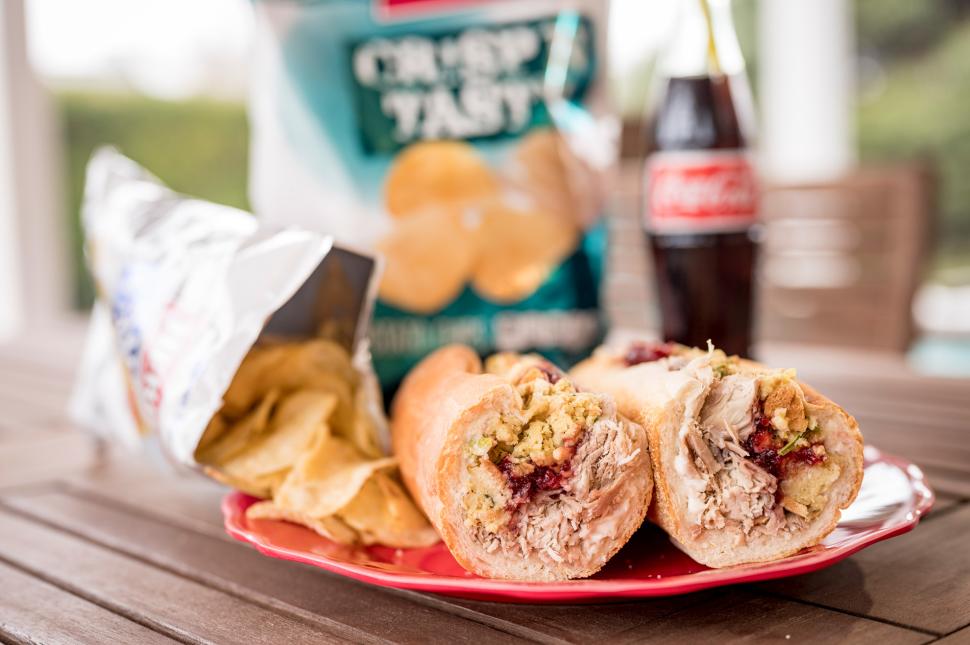 "The Bobbie" Cappriotti's Wilmington, Delaware
3. Stitch House Fried Bologna (Stitch House Brewery; $9) – With origins in the Midwest, Appalachia, and the South, the fried bologna sandwich is considered a regional delicacy and typically thought of as a last resort meal. You know the kind of thing you throw together when the cupboards and refrigerator are bare. Lately, fried bologna sandwiches have gotten a reputation makeover and have begun appearing on menus outside of their original birthplaces and, as it turns out, Stitch House has really fancied 'em up. Thick-cut slices of fried bologna, smatterings of grain mustard and beer cheese, and locally-made pickles are tucked into a brioche bun, elevating a once-humble sandwich to a new level.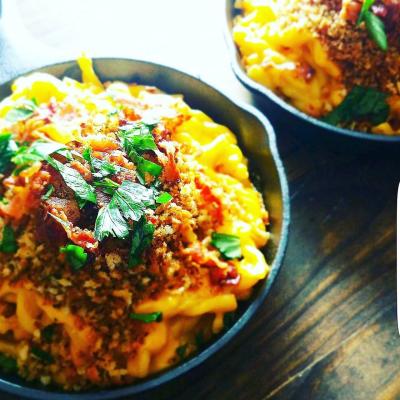 4. Mac & Cheese (The Copper Dram; $10) – This ooey-gooey cavatelli and cheese dish arrives piping hot and bubbly with a dusting of perfectly crunchy panko breadcrumbs—comfort food at its finest. Roasted veggies or pancetta can be added but beware frugal foodies, the additional toppings will cost you. Really, the dish is hearty and filling enough to stand on its own—no extras needed.
5. Salmon Avocado Toast (Legal Grounds Café; $8) – If you enjoy a good pun—the café's name is a tongue-and-cheek nod to the fact that it shares space with a law office—and inexpensive breakfast sandwiches and coffee, then this is your place. Most of the breakfast menu clocks in at under $9, making this Elsmere coffeeshop one of the most affordable spots in town. The salmon avocado toast with capers and cream cheese feels luxuriously decadent and would likely set you back a pretty penny at a big-city brunch restaurant but is quite reasonable at $8. A breakfast this good should be illegal, right?
6. Flank Steak Pho (Southeast Kitchen; $10) – Pho (pronounced fuh) is a Vietnamese rice noodle soup that has gained popularity in recent years and, though many chefs put their own spin on the dish with different ingredients, nothing beats a steaming hot bowl of the traditional stuff and Southeast Kitchen gets it right. Thin strands of vermicelli noodles, tender slices of flank steak and bean sprouts come together in a hot broth flavored with basil and jalapenos and, believe it or not, costs less than two cups of fancy-schmancy artisanal coffee.
7. Cherry BBQ Chicken Wings (Bardea; $10) – When is the last time you had a meal from a James Beard Award nominee that didn't drain your wallet? Never? Tuck into a plate of crispy, sauce-tinged wings at this downtown eatery and you'll be able to cross that aspiration off your culinary bucket list. The super-saucy wings hail from the small bites menu but they're substantial enough to qualify as a filling lunch or late-night snack.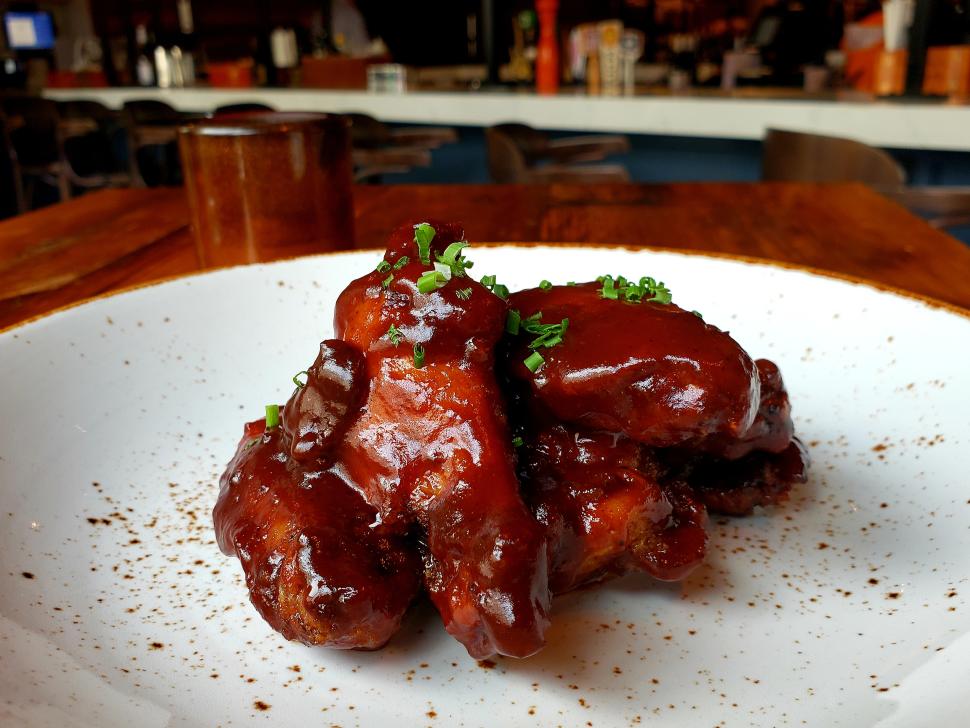 "Cherry BBQ Chicken Wings" Bardea Food & Drink, Wilmington, Delaware
8. The Delaware Destroyer (Johnnie's Dog House & Chicken Shack; $6.99) – It's hard to resist eating a hot dog (or anything, really) with the name of your state in its title and, boy, does this dog deliver! This Frankenstein hybrid of hot dogs (two, to be exact), mac and cheese, chili, and toppings hefty enough to up its weight to nearly a pound would make a gastroenterologist scream. Sure, it's a caloric bomb but who can say 'no' to a dish with such an awesome name?
9. Jerk Chicken (Grapes Real Jamaican Cuisine; 2302 N. Market St., Wilmington, DE 19802; no website; $7 for a medium platter) – A whole meal for less than $10?! This Jamaican, no-frills neighborhood joint is North Market Street's best-kept secret. Totally unpretentious, this spot attracts those looking for traditional, authentic island fare; there are no surprises here, just deliciousness. Want to kickstart your palate with a spicy jolt? Order a platter of the perfectly seasoned jerk chicken accompanied by decent-sized scoops of rice and beans and cabbage and carrots.
10. The Braised Short Rib Grilled Cheese (Mojo Loco; $10) – This local darling consistently churns out dishes that you wouldn't expect from a restaurant on wheels. That's right, it's a food truck and every day loyal fans flock to social media to get the lowdown on the truck's daily whereabouts. Regulars know that it's necessary to nail down this popular truck's location in order to get their hands on the indulgent short rib and Vermont cheddar sandwich that has quickly become a fan favorite. Do yourself a favor and make sure you have both hands free to hold this monster sandwich—Texas toast used in place of regular slices of bread and a swath of caramelized onions demand your full attention.
Are you a fine diner or a frugal foodie? Tell us where you find your favorite bargain eats in Greater Wilmington & the Brandywine Valley via Twitter and Instagram using #VisitWilm.