The escape room craze has been sweeping the country over the past few years, and that trend has not been overlooked here in the Brandywine Valley. If you are looking for a fun way to spend some quality time with family and friends, especially during the cold blustery days of winter, escape rooms are perfect for teams of all ages, skill levels and experiences.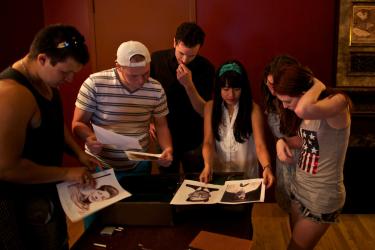 If you haven't experienced one for yourself, escape rooms typically involve locking your group (typically 4 to 8) into some type of confined space where you will have to process a series of clues or puzzles in order to escape. Rooms are often themed after well know pop culture movies and TV shows, and vary in complexity. However, knowledge of the room's theme can be an advantage.  
Here in Wilmington, we have three excellent escape room options that make for a perfect way to spend some quality time with your friends and family. Let's take a quick look at each of them, and you can decide for yourself which one will best fit your needs.
Axxiom is an Exodus Escape Room company that has rooms here in Wilmington and even more options at their Newark location.
Here in Wilmington, you can choose from escape room themes like Pharaoh's Tomb, Criminal Capture (The Zodiac Killer), Sorcerers' Quest - Wizards Rune, The High School Mystery, Shawshank, and Sherlock Holmes.
There are even more escape room options to choose from if you head to Main Street in Newark with themes changing regularly.
The typical rate at an Axiom escape room is $25 per person, but there are discounts available for students and all large groups are considered "private bookings," so there won't be any strangers added to your group at the last minute.
Axxiom (Wilmington)
1708 Marsh Rd.
Wilmington, DE 19810
http://www.axxiomwilmington.com/
Axxiom (Newark)
280 E. Main Street
Unit 132
Newark, DE 19711
http://www.axxiomnewark.com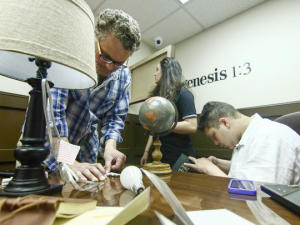 Another escape room option that you might want to check out is Great Escape Delaware in Newark. Their escape rooms include themes that will put you in the shoes of an archaeologist, a secret agent, a wizard, a space traveler, or someone trying to survive the zombie apocalypse.
Do you think your group has what it takes? Just like Axxiom, Great Escape typically charges $25 per person to participate in one of their rooms, and they also offer discounts for students, military, and large groups.
Great Escape Delaware
700 Capitol Trail
Newark, DE 19711
​http://www.greatescapedelaware.com

Escape Room Tips
Anyone who enters an escape room does so with the goal of getting out. If you want to be successful at doing just that, you want to put the odds in your favor. So, when you decide to take your shot at one the Wilmington area escape room challenges, make sure that you are fully prepared.

The most important thing that you can do in any escape room situation is to communicate with your fellow escape artists. While you are interacting with them, make sure that you are careful to observe every detail of your surroundings and keep track of any clues that come up along the way. It can also help to pair up with a partner or break into smaller groups to explore sections of the room.
One final piece of advice that every first-time escape artist needs to know is that you should never panic. First of all, you're not going to be trapped in the room forever, so relax. And if you are worried about getting out of the room quickly, taking a calm, cool, and collected approach is always going to prevail.
With that bit of advice in hand, the time has come for you to collect your friends or family and head out to one of greater Wilmington's escape rooms.
Good luck escaping. 
Please note: All room themes listed above are subject to change. For current themes please contact the individual escape room location prior to your visit.