Birds are singing. Trees are budding, and we all lost an hour of sleep. It must be spring! Though we can't earn that hour back, we can use our time to get adventurous.  The Wilmington & Western Railroad has upcoming springtime rides for the entire family to enjoy.  
Easter Bunny Express 
This season, ditch the typical Easter egg hunt and have fun on the rails with the Wilmington and Western Railroad. You and your family are invited to hop aboard an antique steam locomotive for a round-trip to Ashland with a surprise visit from the Easter Bunny, himself.  Each child will receive a special treat and have an opportunity to take a picture (or selfie) with the Easter Bunny. Of course, there will still be Easter eggs.  
New for 2022! Brandywine Springs Historic Express 
May 21st - Boarding Begins 9:45AM Departure: 10:00AM
It's not officially spring until you ride a 1929 Pennsylvania Railroad Doodlebug railcar, right? This antique locomotive passes through Brandywine Springs Park, the historic amusement park of the late 1800s – early 1900s. Take a trip down memory lane as The Friends of Brandywine Springs paint the picture of the park in its heyday; cries of laughter from the funhouse, children smiling on pony rides, couples cutting a rug in the dance hall, live bands, boats on the lake, and squeals of joy from an early wooden roller coaster. This two-part historic express includes a walking tour. Be sure to pack your comfy shoes. You know the ones with the laces or straps.  
Volunteer Recruitment Day  
May 7th from 10:00am - 2:00pm
We've all come across those rides that say, "You must be this tall to ride". Well, no need to worry about that here, but you do need to be at least 16 years old to volunteer. Whether you like to be behind the scenes or rack up your community service hours, Volunteer Recruitment Day is a great opportunity! Come and explore how to support this successful heritage railroad. You'll gain knowledge in all areas of railroad operations including staffing and driving trains, training the engine and train crews, selling tickets and merchandise, repairing the track and infrastructure, restoring century-old locomotives and cars, planning and organizing special events, designing and maintaining the website, decorating the station and trains for special events, maintaining and repairing the buildings, and cleaning and landscaping the station grounds. I bet they even give you one of the cool conductor hats too.  
Yorklyn Limited
Varying dates now through October 1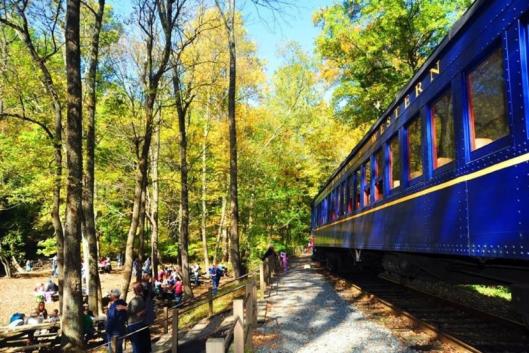 There are so many activities to start enjoying in the Spring. Some enjoy long walks on the beach and a sunset, while others enjoy leisurely train rides and a picnic nestled in nature's beauty. This season embark on a relaxing yet scenic train ride out to Mt. Cuba Picnic Grove in Red Clay Valley. Passengers are allowed to de-train and soak up the simplistic beauty of the grove. If you prefer to stay mobile, you are more than welcome to remain on the train as it travels through Ashland and Yorklyn. In our opinion, this is one of the most relaxing and fun ways to spend an afternoon with family.