Since the age of 10, Joe Biden has called Wilmington and the Brandywine Valley home, and #46 has left quite a footprint on the First State. He is well known for his love of comfort food (Italian and ice cream are at the top) and his love of all things Delaware. We've pulled together a list of Joe's favorite spots (it should be no surprise that many of them are food-related) and locations around our region that mark important milestones in his life and political career. We invite you to come explore them. And who knows? If you are lucky, you may even see Joe himself if he happens to be in town, even if it is just a brief glimpse of his motorcade.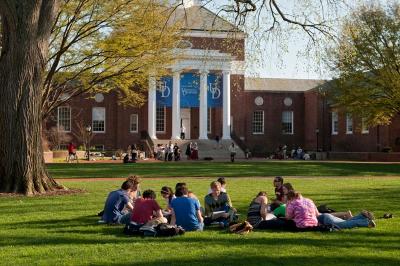 Start your tour at The Biden Welcome Center on I-95 in Newark. The welcome center celebrates the entire Biden family and their service to Delaware. It was renamed for Biden in September 2018. The welcome center is also a good kicking off point because you can gather information on all there is to see and do in the area. For advance planning, go to www.visitwilmingtonde.com. There, you'll find a wealth of information on where to eat, what to see and where to stay.
Next up is University of Delaware, in downtown Newark just a few minutes from the welcome center.  Biden is a graduate of U of D and the University's Joseph R. Biden, Jr. School of Public Policy and Administration was renamed in his honor in 2018. His wife, Dr. Jill Biden, earned her Doctorate in Education from the University of Delaware in January of 2007. Biden has often been spotted at the University's stadium. In 2010, he was seen chatting with another former Blue Hen: former New Jersey Gov. Chris Christie. If it's not football season, you can walk the lovely campus, and there are lots of great restaurants to check out on Newark's Main Street.
Not far away is Delaware Technical Community College, Stanton location, where Jill Biden was an English and writing professor from 1993 to 2008 (while her husband served in the U.S. Senate).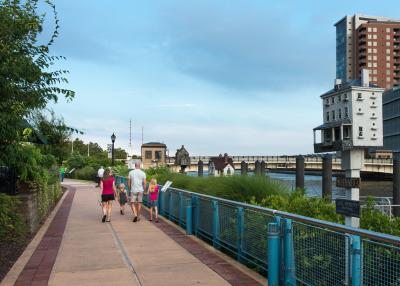 Now, hop back on I-95 and head north to The Wilmington Riverfront. This thriving dining and entertainment district was center stage for much of the Democratic National Convention at the Chase Center on the Riverfront. It also hosted a socially distanced parking lot celebration when Biden announced his victory and was where most of the national and international media camped out in the weeks leading up to the inauguration. There is so much to do here, you might consider spending the night. Each of the three new hotels here offers views of the lovely Christina River. The Riverwalk provides an easy connection to the many restaurants, shops and recreational/music/performing arts venues in and around the area.
Follow the Riverwalk in an easterly direction and you will reach the Joseph R. Biden Railroad Station.  Biden has been a regular at the Wilmington Amtrak station for years, commuting between his home in the First State and Washington, D.C. during his tenure in the U.S. Senate. It's how he earned the nickname "Amtrak Joe." In 2011, the station was renamed for the then-Vice President. Amtrak is an excellent way to reach us, by the way. Wilmington is an easy train ride from all major cities along the East Coast.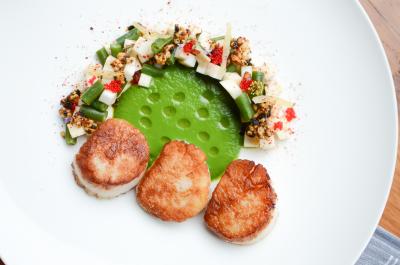 Just a short walk from the Amtrak Station is The Queen, located on Market Street in downtown Wilmington. This historic live music venue is where the Biden-Harris team set up shop to plan for the transition after the election results were announced. After checking out the Queen, stroll down Market Street for a bite to eat.
There are so many good restaurants on Market Street. One of the best is Bardea Food & Drink. Joe treated his wife Jill to a birthday dinner here in 2019. It was also a favorite take-out spot for the Biden transition team while they were working out of the Queen.
Up the street from Bardea is the HOTEL DU PONT.  If you want to feel like royalty, consider a stay here. The property, opened in 1913, is one of the country's grandest and most storied hotels. It has played host to presidents, celebrities, and royalty for more than 100 years. Biden announced Kamala Harris as his running mate here. The hotel is also home to Le Cavalier, helmed by award-winning chef and Delaware native Tyler Akin. 
Next, take a short drive north to the Eastlake neighborhood of Wilmington. Here you will see The Joseph R. Biden Jr. Aquatic Center. Biden lifeguarded at this community pool as a teenager. The pool was renamed for him in 2017. This same neighborhood was also the home of reggae legend Bob Marley, off and on, between the mid-60s and mid-70s: a little-known Delaware fact.
After you've done a drive-by of the pool, head over to Café Verdi in Wilmington's Trolley Square neighborhood. This unassuming Italian spot has been a favorite of the Biden family for years. Beau Biden and his family were regulars, and Joe's daughter Ashley worked here as a waitress. Be sure to try Biden's standard order while you are here: chicken parmigiana.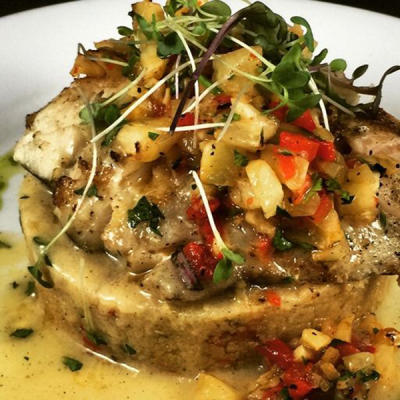 Nearby, just off of Route 52 on Dupont Street, is Piccolina Toscana, another go-to Italian eatery of the Bidens. According to chef-owner Dan Butler, Biden's favorite dishes are the cappellini al pomodoro or the penne al pomodoro. The restaurant also catered daughter Ashley's wedding reception at the Biden's home in Greenville.
Need a change-up from all that Italian? If you like southern food, you are in for a real treat. The Bidens and many other Wilmingtonians turn to Walt's Flavor Crisp Chicken Express when they need a fried chicken fix. The secret recipe is closely guarded. This primarily to-go spot on Lincoln Street also has slamming good mac and cheese and collard greens.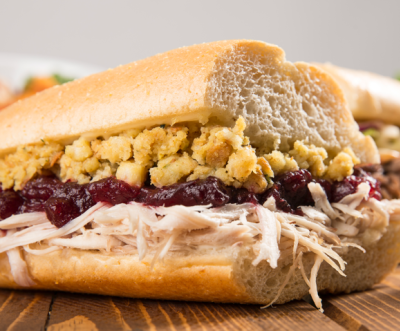 The dining establishment with perhaps the most well-known ties to Joe is Capriotti's. Its original location is not far from Walt's on Union Street. Biden famously visited the Washington, D.C. outpost (now closed) of this locally grown sandwich chain on opening day in 2013, stating to the press gathered around him, "This is gonna settle once and for all, the best sandwich in America is out of Wilmington, Delaware." Capriotti's most famous concoction is The Bobbie: homemade turkey, cranberry sauce, stuffing, and mayo on a roll. You've got to give it a try! It's all the things you love about Thanksgiving in a sub.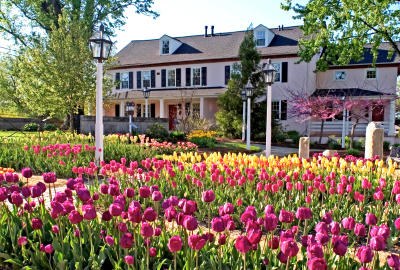 Leave the city limits and head out to the Brandywine Valley to hit the next stop on our Biden itinerary: The Inn at Montchanin. Listed on the National Historic Register, the inn once served as home to the laborers who worked at the nearby DuPont powder mills. If you are looking for a romantic place to stay, a relaxing spa treatment or a delicious gourmet meal (at Krazy Kat's), you will find it all here. This is where Kamala Harris's family stayed during and the days following the election. Kamala also hosted a big dinner there for family after she and Biden were declared winners of the election.
A two-minute drive from the Inn is St. Joseph on the Brandywine in Greenville. This lovely yellow stucco church is just a few minutes from Biden's home, and he is a regular worshiper here. St. Joseph is the oldest church in continuous use in the Diocese of Wilmington. Its roots stretch back to the thousands of Irish Catholic immigrants that came here in the 1800's to work for the E.I. du Pont de Nemours Company.
Dining Fit for a President (and Vice President)
After spending some time on the church grounds, take the short drive into the tony enclave of "downtown" Greenville. Both the Greenville Crossing Shopping Center and Powder Mill Square across the street are home to shops and restaurants the Biden's frequent. This quaint, upscale shopping district is one of our favorite places to shop as well. Here are some Biden favorites in this neck of the woods, just around the corner from their home:
PureBread Deli, Greenville Crossing
The entire Biden family is a fan of this sandwich shop. All sandwiches on the menu are named after different breeds of dog. Customer dog art and photos of customers' four-legged family members grace the walls.
 
Janssen's Fine Foods, Greenville Crossing
This gourmet grocer has been the Bidens' go to spot for groceries, prepared foods and flowers for years. Its café, next door to the market, has a sandwich named after Joe. The "Joe Biden" is made with maple turkey, Havarti cheese, fresh arugula, and champagne mustard on white bread. Janssen's says the sandwich has been popular since its debut in 2008 when Biden was elected Vice President.
 
Pizza by Elizabeths, Greenville Crossing
This pizza joint, well known for its pizzas named for famous Elizabeths, is another favorite on Joe Biden's list of places to eat. When he was Vice President, he could be found here eating fairly regularly with his Secret Service detail. His standard order here is the grilled cheese pizza and tomato soup.
 
Houpette, Greenville Crossing
Need some Presidential pampering? Then this is your Mother Ship. In addition to an excellent line of makeup, body care products and fragrances, Houpette offers a full menu of facial services . . .and we have it on good authority that Jill Biden is partial to the bath salts here.
 
Brew HaHa!, Powder Mill Square
Both Joe and Jill Biden have been customers of this Delaware cafe chain over the years. We are particularly fond of the Greenville location. While indoor dining is on pause temporarily due to COVID-19, the space is reminiscent of a rustic French café. It's the perfect place to tuck into a filling Sunday brunch topped off by a Delaware 52: Bombay Sapphire gin, grapefruit and prosecco.
 
Whimsy, Powder Mill Square
This charming shop is among Jill Biden's top picks when she is shopping for baby and wedding shower gifts. We love it too! Its well-curated merchandise includes elegant stationery, clothing designed for style and comfort, and unique gift items.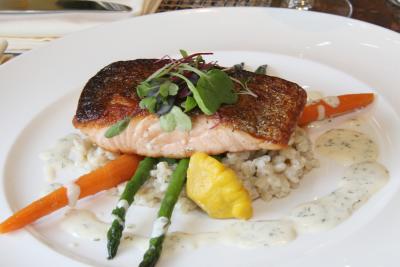 After you've explored Greenville, jet up Route 52 a few miles to the historic hamlet of Centreville. In addition to more distinctive shopping, you will find Buckley's Tavern. The Bidens have been known to stop in from time to time . . . but more importantly, it is the hub of social life in the area. Cozy up to the bar for a pint and a cup of mushroom soup then catch yourself up on the latest political scuttlebutt and local chatter. You are as likely to find yourself sitting next to a fourth-generation farmer as you are a du Pont . . . you just never know at Buckley's.
For our next round of Biden haunts, head down Route 52 and onto I-95 North to 202 North. On your way, take note of A.I. DuPont High School. It will be on your left soon after you pass back through the hamlet of Greenville. Joe Biden has given a number of addresses from the school over the years, most notably his August 12, 2020 address which marked his first public appearance with running mate Kamala Harris.
Once you are on 202 North, take a quick detour on Foulk Road to Brandywine High School. Before Delaware Technical Community College, Jill Biden taught English here … in Room 232. In summer 2020, she chose to return to her former classroom to deliver her Democratic National Convention speech.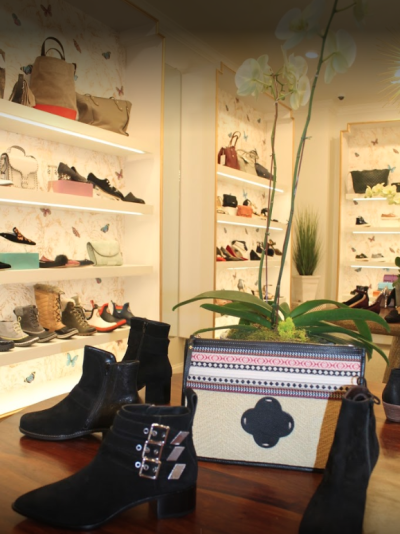 Back on 202 North, stop by Peter Kate, one of Jill Biden's go-to places for accessories and clothing. When she gave her DNC speech, she was wearing a necklace from Peter Kate. Though it may be located in a strip mall (the Fairfax Shopping Center), this boutique is where Delaware's most smartly dressed women go to shop.
Hungry again yet? Your next stop is sure to satisfy. Go south on 202 a short distance until you reach Claymont Steak Shop. While still in the Senate, Biden often made time to stop by this eatery for a bite to eat and a chance to greet old friends. Here, we recommend the Claymont Cheese Steak. It's premium ribeye steak and cheese (with your choice of toppings) on a perfectly baked roll.
Room for more? Head next door to The Charcoal Pit. Biden is a longtime fan of the Charcoal Pit's burgers and shakes. When President Barack Obama came to Wilmington in 2014, the two made a stop at the Charcoal Pit's Concord Pike location (one of two). The sundaes here all bear the names of local high schools. Top off your cheese steak with a Sallies (Salesianum High School): four scoops of vanilla and chocolate ice cream covered with butterscotch, creamy marshmallow, whipped cream, and a cherry.
After you've satisfied your sweet tooth, head northeast to Archmere Academy, on Philadelphia Pike/Route 13 in Claymont. This is the town where Joe Biden grew up after moving to Delaware from Scranton, Pennsylvania. Biden attended this Catholic college preparatory school, serving on the student council and playing football and baseball for the Auks. His children – Beau, Hunter and Ashley – also graduated from Archmere. Side note: the Patio, one of the buildings of the Academy, was originally used as the country estate of John J. Raskob, the developer of the Empire State Building.
Not-to-Miss Greater Wilmington Attractions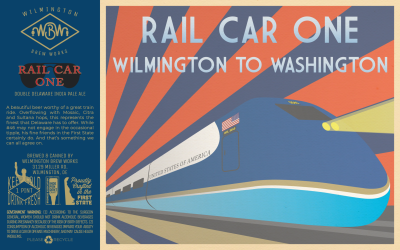 Now for your final stop on the Biden grand tour . . . head back into downtown Wilmington to cap off your adventure with a "Rail Car One" from Wilmington Brew Works. As we previously noted, "Amtrak Joe" was a frequent passenger on the train between Wilmington and Washington when he was serving in the U.S. Senate. Now, the namesake brewery of the city has commemorated his daily commute with a new brew. The Double Delaware IPA is triple dry hopped with heaps of Mosaic, Citra and Sultana Hops. Tasty!
In addition to all things Biden, there are so many other attractions, eateries and cultural landmarks to take in. Winterthur Museum, Garden and Library, Hagley Museum and Library, Mt. Cuba Center, the Delaware Art Museum, and Brandywine Creek State Park are just several of the region's many treasures, not to mention our many award-winning restaurants, ranging from fine dining to Diners, Drive-Ins and Dives-type foodie finds. For expert travel advice and more itinerary ideas, check us out at www.visitwilmingtonde.com. We look forward to welcoming you!
Know Before You Go