The Delaware Contemporary presents the Nourish series – open through May 28th.   
To "nourish" is to feed or sustain plants and animals with substances necessary to life and growth. As individuals and communities, we are nourished by friends, neighbors, peers, healthy food, exercise, the natural and built environments, family and caregivers. This spring, The Delaware Contemporary embarks on a season of exhibitions and programs designed to engage with their audience to better understand broader interpretations of "nourish" by prompting the question, what nourishes you? 
Each of the seven galleries critically examines an aspect of "nourishment", considering the connections between basic human needs and the impact that nourishment can have, from an individual perspective to that of an entire community.  
New On View...
Artifact  
Artifact is a group exhibition in the Nourish series that is on view from now through April 23rd, but what is it? An "artifact" is something human-made and is characteristic of, or resulting from, a particular period in time, trend or individual. Without documentation or a physical reference – how does one revisit that moment in time once it is gone? How is it shared and remembered within communities and generations?  Relative to an ancient mineral or historically defined artifacts, contemporary art may seem trivial. Yet, contemporary art lives in the present and establishes a footprint in time. A work of art holds a unique role in understanding life and exposing the multifarious nature within. 
The Saints Step In Kongo Time  
The Saints Step in Kongo Time is the next exhibition in the Nourish Series. The Saints Step in Kongo Time is by Adrian L. Burrell and will be on view  until May 28th. It is an ongoing archival research project in the form of a short film that documents Burrell's family's experiences with plantocracy and sugar production after the Louisiana Purchase. For Burrell, the math and commodification of Black life and labor is the basis of modernity. Throughout his oeuvre, Burrell examines the extractive and unjust relationship between capitalism and Blackness as well as how gratuitous violence—from state-sanctioned systems of containment to intramural conflict—circumscribes Black life. Burrell's family's migration from Jim Crow Louisiana to modern-day Oakland, and the powerful matriarch at the center of this vast extended family, are at the center of Burrell's most recent work. His art is simultaneously motivated toward healing the past as well as realizing the not-yet-imagined in the present and future. Similar to his other projects, The Saints Step in Kongo Time functions as a collective portrait that dispels the myth of the American Dream.  
Double Sky  
Double Sky features original mixed media paintings on wood panel, works on paper and a new sound score by multidisciplinary artist Zoë Scruggs. From the traditional art-making forms of figurative portraiture and landscape painting, to the less traditional such as sound composition, music production, experimental new media and performance, Scruggs' work defies easy categorization. Born in New York and raised in central Delaware, the artist's expansive practice brings to life urgent issues that spur from Black ecological and Black feminist frameworks. Drawing on her own lived experience as a Black woman coming of age in the mid-Atlantic, she incorporates a diverse range of sources that reflect her upbringing and sociopolitical commitments. Her mother's garden and crafting activities, the overrepresentation of African Americans in the U.S. prison system, plant science, Afro-futurism, Black and indigenous farming techniques, greenwashing, climate justice podcasts, historical figures, and inventors such as George Washington Carver all inform her work. Double Sky is on view now  through May 28th . 
Setting The Table  
For millennia, the table has been a site for gathering. Whether marking a significant event or simply joining together, the act of thoughtfully preparing and presenting food or an arranged table transcends culture, age, race, and economics. Today, the average time an American adult spends preparing and serving food is 67 minutes per day — the equivalent of over 400 hours annually. Through the work of artists Dana Sherwood and Beth Galton, Setting the Table contemplates the question of: what, for whom, and why we are extending this effort? Setting the Table is on view through April 23rd, it will be featured in the March Art Loop on March 3rd from 5 to 9 PM and will be on art on March 22nd at 6 PM. 
How Can A Space Be Nourishing?  
How Can A Space Be Nourishing? is a collaborative installation between West Chester University students and Delaware Urban Greens. West Chester University students were prompted to investigate the idea of nourishment with questions such as; what fuels a healthy body, mind, and spirit? How and where do we find this for ourselves? Can we offer this to others?  
The students worked together to construct three geodesic, dome-like structures. Each dome was designed and decorated as answers to these overarching questions. In conjunction with the geodome designs, the students worked with Delaware Urban Greens to provide plant materials. How Can A Space Be Nourishing? is on view from  until May 28th. It will be featured in April's Art Loop on April 14th from 5 to 9 PM and will be on art April 19th at 6 PM. 
Plastic Reef  
Plastic production has increasingly become ubiquitous with our everyday existence. Its presence has overflowed into our immediate lived environments, as well as the abstract wilderness that surrounds us. It is everywhere. As the modern world has developed, our reliance on plastic has incurred our own decay, creating critical need for immediate action and alternative solutions.  
Miami-based artist, Federico Uribe, has been inspired by the overwhelming amount of plastic, utilizing it as an artistic medium. Due to his proximity to the coast, Uribe has personally witnessed the increasing tons of plastic that persist in the oceans and harm aquatic ecosystems. Uribe uses these everyday items such as forks, bottles, cartons, and even flip flops to build the grand-scale project; individual gestures of an ambitious installation that is both bright and beautiful. Uribe works to carefully collect, cut, and arrange hundreds of plastic pieces to playfully visualize an underwater world, while confronting the fragility of it. Plastic Reef will be on view through May 28th, will also be featured in the April Art Loop like How Can A Space Be Nourishing? and will be on art on April 5th at 6 PM. 
More Than A Woman?  
As the Gibb Brothers, of the Bee Gees, wrote in their 1977 disco hit, More Than A Woman,  
"I've seen you growing every day, 
I never really looked before 
But now you take my breath away" 
This upbeat song describes a man finally noticing a woman, and wanting to express a newly found love, culminating in the well-known chorus, "More than a woman, more than a woman to me". One could interpret that although the song flatters a certain sensibility, it also suggests an assumed nature of what it means to be a woman. The romanticism of the song feels built upon surprise - the shock and awe of the man as he acknowledges how the woman surpassed his expectations. This experience of surprise often speaks to the disregard of women as anything outside of their prescribed roles, which are largely defined by their body. In More Than A Woman?, three artists address the "female form", referencing the biologically-sexed female body, while simultaneously abstracting it to dismantle Westernized ideals of female roles. These cultural constructs have historically defined women; categorizing them within tropes related to sexual reproduction, domestic partnerships, and employment.  
Orly Cogan, Lauren Galban, and Johanna Goodman each utilize the female form to examine and embrace the female body. In doing so, their work adds nuance to the question; what does it mean to be more than a woman? More Than A Woman? is on view now through May 28th, it will be featured in the May Art Loop on May 5th from 5 to 9 PM and will be on art on May 3rd at 6 PM. 
Studios @ Exhibition 
Home And Away  
Inspired by recent travels home and abroad, Caroline Chen explores the impact of place to create paintings about mood, senses, feelings, and aspiration. With travel, the newness can be sharp, intimidating, and exciting, while when closer to home, experiences allow for finding deeper insights, appreciating the familiar, enjoying favorites and everyday life. Both reveal more about each other and oneself. This exhibition  will be viewable until February 26th. 
Upcoming Program 
ART pARTy: Nourish  
Be the life of the pARTy at the Contemporary's major annual fundraiser, ART pARTy: NOURISH! This event will be hosted on February 25th from 6 PM to 10 PM and highlights elements from their Winter/Spring 2023 exhibition season presenting how family, friends, neighbors and peers bring nourishment to our lives. Celebrate what nourishes you at our always fresh and delicious ART pARTy! Tickets are $75. Event highlights include a DJ and live music fusion, small plated nourishment, an open bar, candle make-and-take by Iris and Callisto's Apiary, a plant bar by Silver Stem Plants, raffle baskets and mystery pulls and even an After pARTy from 9 PM to 10 PM that involved dancing and a cash bar! There will also be a Kids pARTy for $20 each in one of The Delaware Contemporary's artist studios with refreshments and art-making activities being provided!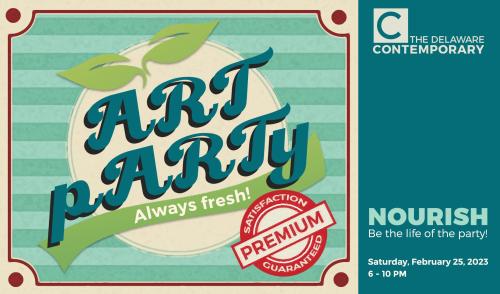 Stop by The Delaware Contemporary through May 28th to experience the Nourish exhibitions and in February experience Caroline Chen's Home and Away exhibit. Or stop by for one of the many exciting and educational events that The Delaware Contemporary is having, there's something for everyone to enjoy!