This year, visitors to Winterthur Museum, Garden & Library will likely run into some special guests from the Delaware Museum of Natural History. Winterthur will host many of DMNH's popular events and programs while the Natural History Museum is closed for renovation until early 2022, when it will reopen again as Wilmington's new Delaware Museum of Nature and Science.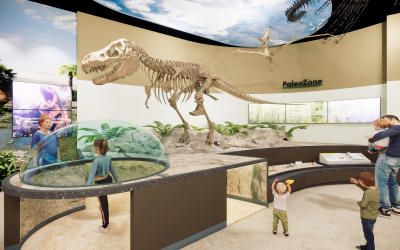 DMNH's public engagement staff will also offer educational activities as part of Winterthur's own series of programs and in addition to providing items from its collection for exhibits.
"Through this expanded partnership with Winterthur for programs, events, and exhibits this year, the Delaware Museum of Natural History continues to bring the wonders of nature and science to the community, offer enhanced benefits to our members, and expand educational opportunities," said DMNH's Executive Director Halsey Spruance.
"The partnership between Winterthur and the Delaware Museum of Natural History is more than simply being good neighbors on Route 52," said Carol B. Cadou, the Charles F. Montgomery Director and CEO at Winterthur. "We will combine forces for an increased number of students, teachers, children, and families in a way that is long overdue. With complimentary missions, and a desire to impact the lives of curious, young learners, we look forward working together to extend our educational reach."
ABOUT WINTERTHUR MUSEUM, GARDEN & LIBRARY
Winterthur—known worldwide for its preeminent collection of American decorative arts, naturalistic garden, and research library for the study of American art and material culture—offers a variety of tours, exhibitions, programs, and activities throughout the year. Admission includes the Winterthur garden and galleries.
Winterthur is on Route 52 six miles northwest of Wilmington, Delaware, and five miles south of U.S. Route 1. Memberships are available for free and discounted admission. Winterthur is committed to accessible programming for all. For information, including special services, visit winterthur.org.
Winterthur follows state and national protocols for the health and safety of all visitors and staff. Capacity is limited, and reservations are required. Masks must be worn at all times indoors, as well as outdoors when safe physical distancing is not possible. All areas are cleaned frequently using EPA-approved disinfectants.
ABOUT THE DELAWARE MUSEUM OF NATURAL HISTORY
The mission of Delaware Museum of Natural History is to investigate nature and science, preserve and interpret its collections, conduct scientific research, and inspire people of all ages to a lifetime of exploration and discovery. Through this mission, it strives to help develop a caring society that respects and values our planet. DMNH opened in 1972 to the public and is currently undergoing a major metamorphosis to its galleries and public spaces. Learn more at delmnh.org.
Know Before You Go