Penns Woods Winery won two gold medals at the 2023 San Francisco Chronicle Wine Competition for their Rosé 2021 and Pinot Noir Reserve 2020! For the past twenty-two years, this family owned and operated winery, has been cultivating and creating wine from 100% Pennsylvania grapes grown in their 40+ year old vineyard throughout the beautiful Brandywine Valley in Chadds Ford. Their scenic vineyard sits on The First State National Historic Park, a 1,110 acre area of protected rolling hills, agricultural land, and vital watersheds that straddles the Pennsylvania-Delaware border.
In 2013, proprietor Gino Razzi began planting Sandy Hill Vineyard, a 22-acre secondary site in Parkesburg. This unique vineyard site sits on a sunny, gentle slope at a higher elevation with temperatures that stay slightly lower than their Chadds Ford site, making it a perfect place to grow the cool climate varietal, Pinot Noir. The 2020 Reserve was harvested late in September, fermented with native yeasts & aged for twelve months in French oak. This wine has an enchanting nose of red cherries, plums, and earthy florals with fresh red fruits on the palate. The elegant acidity is complemented by well-structured tannins and a long finish of baking spices; although it is drinking quite well at present, you can tell this wine will age with abundant grace.
In years past, Penns Wood's signature dry Rosé has been a blend of their Chadds Ford and Sandy Hill sites but, the 2021 vintage is their first single vineyard blend of varietals exclusively from Sandy Hill. The blend is composed of Merlot, Cabernet Franc, Pinot Noir, Cabernet Sauvignon and a touch of Malbec, harvested mid-September then given a slow, direct pressing to leave enough skin contact to impart a gorgeous Provence-esque hue. The wine has a delightful burst of white florals and stone fruit with a refreshing, saline driven acidity.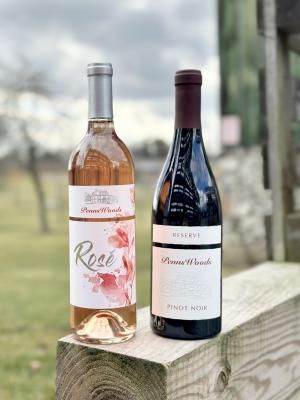 Founded in 1980, the San Francisco Chronicle Wine Competition is the largest competition of North American Wines. This year, over 5,500 wines from over 1,000 wineries across the U.S. were submitted to a prestigious panel of judges including wine critics, top sommeliers across the industry, wine buyers, educators, and winemakers. Walking away with Gold Medals in Rosé, let alone Pinot Noir, at a competition of this scale is eye opening for the too often unrecognized potential of Pennsylvanian grown wine.
You can purchase bottles of these award-winning wines at the Penns Woods Winery Tasting Room in Chadds Ford or online. The winery also directly ships throughout Pennsylvania as well as New Jersey, New York, and Florida. Look for Penns Woods Winery Rosé by the glass at all White Dog Cafe locations, Greystone Oyster Bar and other local restaurants and breweries in and around the Philadelphia area.

The Penns Woods Tasting Room is open daily for wine tastings with special pairing events and workshops throughout the year. Their signature event, Derby at the Vineyard is held bi-annually featuring a live hunter derby horse show where you can sip wine, take in the views while enjoying live music, food trucks, local vendors and more! Stop by for delicious wine and fun with friends and family!