Itching for a fall-themed road trip? Well, we've put together the complete package for you. This off-the-beaten route will take you through some of the most undiscovered parts of Greater Wilmington and the Brandywine Valley and introduce you to the beautiful scenery, historic hamlets, and grand estates that earned us the title of "Chateau Country." Have fun!
Wilmington Fall Road Trip Day 1
Spend the night at the Inn at Montchanin Village & Spa in the heart of Chateau Country. In 11 carefully restored buildings dating from 1799 to 1920, there are 28 guest rooms/suites appointed with period and reproduction furniture and marble baths. Most rooms have beautifully manicured private courtyards, and several have cozy fireplaces. Listed on the National Historic Register, it was originally built to house laborers from the nearby DuPont gunpowder mills.
In the morning, enjoy a leisurely breakfast at the inn's onsite restaurant, Krazy Kats. Check out the cat-themed artwork and décor.
Get an early start, taking a scenic drive among the winding byways of the Brandywine Valley for stunning views of fall foliage, rolling hills and grand estates reminiscent of what you might see in the French countryside.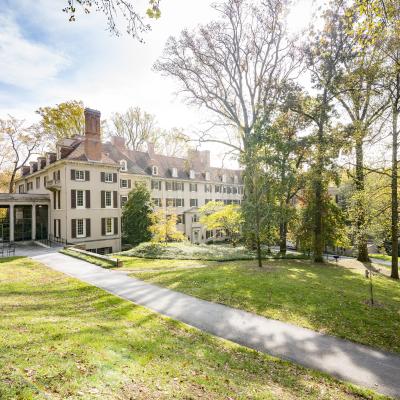 From the inn, head north on the Brandywine Scenic Byway (Route 100 North) passing Winterthur Museum, Garden and Library on your left and Brandywine Creek State Park on your right.
Winterthur is set amidst 1,000 acres of rolling meadows and woodlands. It is the former estate of Henry Francis du Pont and home to one of the most important collections of American antiques in the country (more than 90,000 objects). Roam the grounds (or take the tram) to see a sea of mature trees bursting with fall colors.
Brandywine Creek State Park is an excellent place to take a break from being in the car, stretch your legs and take a light hike down to the creek that is the park's namesake. Keep an eye out for migrating songbirds, colorful ducks, and raptors diving from the canopy above in search of prey.
Next. take a quick detour from Route 100, turning right on Smith Bridge Road to see one of Delaware's few covered bridges.
Smith Bridge was built in 1839 as a covered, one-lane wooden span over the Brandywine just south of the Pennsylvania line. It was destroyed when it was set on fire the night before Halloween in 1961. The "new" Smith Bridge was "rebuilt" in the spirit of the original covered bridge. Head back in the direction you came on Smith Bridge Road, taking a right on Route 100 North/Montchanin Road then a left on Twaddell Mil Road for continued views of the Brandywine Valley countryside.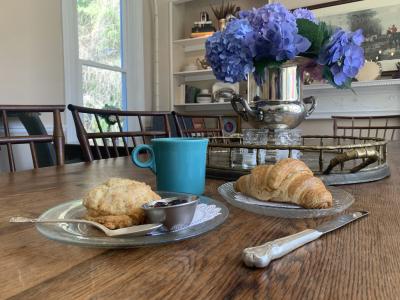 You will enter the historic hamlet of Centerville where Twaddell Mill Road crosses Kennett Pike. Centreville is an 18th century village listed in the National Register of Historic Places. Antiques and art abound, displayed in the buildings that once served the needs of farmers, drovers, and millers. Stop in to Centreville Place: Cafe + Market, 5800 Kennett Pike, to pick up the makings for a picnic later in the day. The café is approximately three miles from Smith Bridge. The café's food is recognized for its visual beauty and creative taste. It has been featured many times in the local and national media.
After leaving Centreville, head south on Owls Nest Road (a continuation of Twaddell Mill Road where it intersects Kennett Pike), passing lovely Hoopes Reservoir on your left as the road curves west and becomes Route 82.
Where the road comes to a "T," make a left onto Mt. Cuba Road. The road will "T" again at the intersection of Barley Mill Road. Here, take a right. The Mt. Cuba Center will be on your right at 3120 Barley Mill Road, Hockessin. It is located approximately four miles from the café.
Visit the center for more spectacular fall color, and enjoy your picnic on the lawn behind the estate house. Mt. Cuba Center is the former home and family estate of Lammot du Pont Copeland and his wife, Pamela Cunningham Copeland. Its botanical gardens produce some of the most spectacular displays of wildflowers in the Mid Atlantic. Its more than 500 acres of Natural Lands surround the gardens and managed landscapes and consist of steeply rolling hills, stream valleys, rock outcrops, and deciduous forests.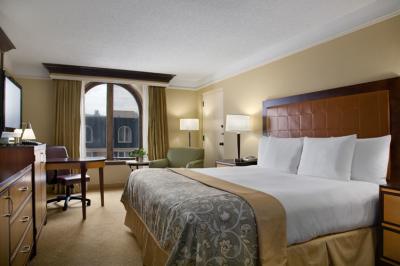 Fall programming includes guided fall-themed hikes and scenic hayrides.
Check into the Hilton Wilmington Christiana for the night. This lovely four-star hotel provides easy access to downtown Wilmington, the Christiana Mall and all the attractions of the Brandywine Valley.
Relax for a bit then head off for dinner at Buckley's Tavern in Centerville. The house where Buckley's Tavern stands dates back to 1817. Buckley's has always been a favorite meeting place for all kinds of people ... from world-renowned artists, to professional athletes, to everyday local clientele.
Wilmington Fall Road Trip Day 2
Have breakfast at the Hilton then head over to the Christiana Mall, just a few minutes from the Hilton, for some tax-free shopping at its more than 185 stores.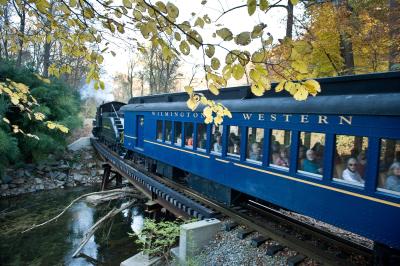 From the mall, take DE 7 North and DE 2 East to DE 41 N to reach Wilmington & Western Railroad, a short 15-minute ride from the shopping mecca. Board the 12:30 p.m. Autumn Leaf Special train (on select days so check the schedule) for a 1.5-hour round trip, with a stop at a wooded picnic grove along the banks of the Red Clay River for lunch (BYOL). Buy tickets online in advance.
From there, take Delaware 141 S and 1-95 North to exit 7 (approximately 15 miles) into Wilmington, Delaware's largest city. Visit the venerable HOTEL DU PONT, 1007 N. Market Street, and Le Cavalier at the Green Room for its signature HOTEL DU PONT cocktail and the hotel's famous macaroons.
From the HOTEL DU PONT, take US 13 Business South to Route 9 South into the town of Old New Castle (approximately 6.5 miles). Park in front of the New Castle Courthouse Museum, 211 Delaware Street. Significant events took place at the New Castle Court House involving slavery and the Underground Railroad, including the trials of abolitionists Thomas Garrett and John Hunn.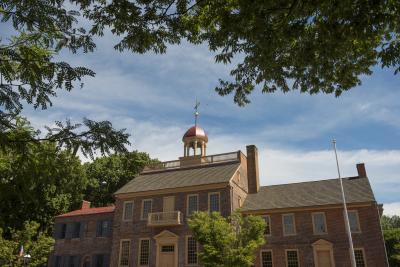 Treat your eyes to a panorama of colorful leaves by going on a scenic walk through the town. Steeped with history, it boasts Colonial-style homes, a preserved courthouse, a Federal period mansion, and picturesque gardens -- all carefully placed along tree-lined cobblestone streets. Be sure to take a stroll along the riverfront path in Battery Park and watch the big ships go by. There are also lots of great little shops to explore, including Oak Knoll Books specializing in vintage and rare books.
Have dinner at Jessop's Tavern, 114 Delaware Street. The 300 hundred-year-old building that now houses the tavern was originally built in 1674. It offers more than 300 varieties of Belgian beer.
Spend the night at the Terry House Bed & Breakfast, a circa 1860 Federal townhouse overlooking Battery Park.
Wilmington Fall Road Trip Day 3
Enjoy a leisurely breakfast at the Terry House.
Pick up Route 9 South in New Castle and pass through Delaware City, the home of Fort Delaware. Access to the fort, a Delaware State Parks property, is by ferry only. Originally built to protect the ports of Wilmington and Philadelphia, it became a Union prison camp during the Civil War, housing up to as many as 12,595 Confederate prisoners of war at one time. Pea Patch Island, where the fort is located, is also home to the largest mixed rookery of herons and egrets on the East Coast.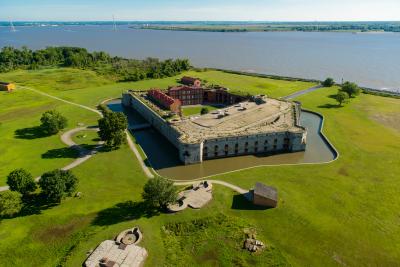 Cross over the Chesapeake and Delaware Canal on the Reedy Point Bridge. From the bridge, it is possible to see points in three other states with Pennsylvania about 12 miles straight ahead, New Jersey immediately across the Delaware River, and Maryland about eight miles to the left.
Pass through the Augustine Wildlife area and the small historic hamlet of Port Penn, offering lovely views of the Delaware River and its shores. When you reach Port Penn, stop into the iconic Kelly's Tavern, 101 West Market Street, a low-key pub known for its crab cakes.
Just south of Port Penn, note the former Augustine Beach Hotel on the west side of the road. Now a restaurant, this two-story bring historic structure was built about 1814.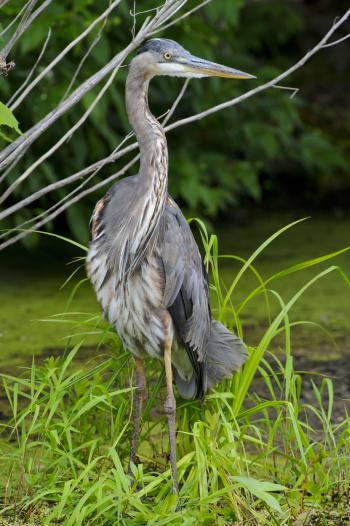 The hotel and nearby beach of the same name were named for one of the most colorful of Delaware's early inhabitants, bohemian explorer, merchant and cartographer Augustine Herrmann.
Continue south on Route 9, passing through the Cedar Swamp Wildlife Area and enjoy a leisurely drive through rolling agricultural fields and woodlands, until you reach Bombay Hook National Wildlife Refuge (approximately 40 miles from Old New Castle).
Your final stop before returning home (or continuing your vacation), Bombay Hook National Wildlife Refuge consists of more than 16,251 acres of marsh, forest and uplands along the Delaware Bay. In the fall, the trees and the marsh grasses light up in fall colors. They serve as an excellent backdrop for the many, many different types of bird species that make a stop here on their way south for the winter.
We hope you enjoy your fall foliage tour! Looking for more fall ideas or want to plan your own itinerary? Be sure to check out www.visitwilmingtonde.com or live chat with one of our travel specialists from our site. We look forward to seeing you soon!