When you think of visiting Greater Wilmington and the Brandywine Valley, the first thing that may come to mind is "What is there to do in such a small state? Right?"  
Wrong!  
It's become a running joke amongst us locals because people are quick to assume there's nothing going on in the region. But if you've ever visited New Castle County – Delaware's northernmost county -  you know that's just not true!  
Just check out what's coming to Greater Wilmington and the Brandywine Valley in June 2022. 
Bike, & Hike & Brews at Hagley Museum – June 8, 15, 22, and 29 
If you think Hagley Museum and Library is a beautiful sight to see throughout the summer months, you would be correct! Grab a bike or hiking shoes and some friends and take advantage of strolling along the Brandywine at one of Hagley's weekly Bike, & Hike & Brews nights. Food trucks, craft beer, Woodside Farm Creamery ice cream, and gorgeous views... you can't beat it!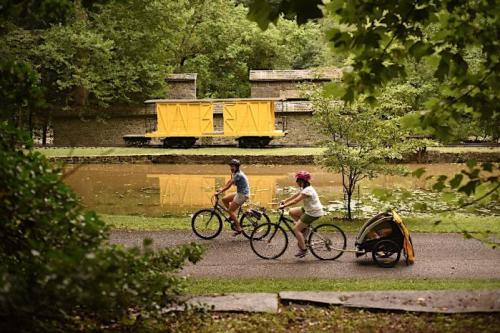 PS: The Last Wednesday night event of each month is a "Dog Days of Summer" event - Bring your leashed pups, and let them join in on the fun.  
Fiddler on the Roof at the Playhouse on Rodney Square – June 9-12 
Rich with musical hits you know and love, including "Tradition," "Sunrise, Sunset;" and "If I Were a Rich Man;'" FIDDLER ON THE ROOF is the heartwarming story of fathers and daughters, husbands and wives; and life, love and laughter. It will soon be popping up at the Playhouse on Rodney Square.  
Matilda: The Musical – June 10-19 (Varying Dates)  
Wilmington's own premier community theatre, Wilmington Drama League, brings the story of a little girl dreaming of a better life for herself to life on stage. Matilda dares to take a stand and takes her destiny into her own hands. This inspiring story begins June 10.  
Festival Season is Upon Us!!  
Did you know that Greater Wilmington is home to more than 100 festivals throughout the year? Check out these coming in June...  
Holy Trinity Greek Festival – June 6-11 
Enjoy a week of Greek food, music, dancing, and culture at Holy Trinity Greek Orthodox Church. Indulge in ethnic delights while you watch the Greek Terpsichorean Youth Folk dance group perform. An exciting event for all ages!  
St. Anthony's Italian Festival – June 12-19 
The region's largest Italian-American festival returns in 2022! Mangia, Mangia throughout the week with traditional Italian foods and desserts and of course, get on some rides and win a few prizes.  
Clifford Brown Music Festival – June 15-18 
Each year, Wilmington remembers a brilliant trumpet player, unforgettable composer, and dynamic entertainer whose name and legacy are celebrated at the annual Clifford Brown Jazz Festival. Wilmington native Clifford Brown is a legend whose work offers a moment to laugh, dance, sing, eat, love, and experience the ultimate joy music brings.
Old-Fashioned Ice Cream Festival – June 25 
Bring your chairs and blankets to relax outdoors at Wilmington's beautiful Rockwood Park. Browse the shops of the Cottage Maker Market, listen to great live local music, get some tasty food, and eat your weight in local ice cream and other sweet treats! This year, stick around until the end...  a grand fireworks display has been planned! 
The 3rd Annual West Street Art Festival – June 12  
The Delaware Contemporary, located in Wilmington's Riverfront neighborhood, brings all forms of art and handmade items to the forefront. This event provides a platform for artists and community-driven organizations to extend outreach, creativity, and awareness.  
Beyond Juneteenth Egungun Festival – June 18 
Juneteenth, a portmanteau of June and nineteenth, is also known as Freedom Day, Jubilee Day, Liberation Day, and Emancipation Day. It is a holiday celebrating the emancipation of those who had been enslaved or bonded in the United States, our ancestors, or Egungun. Join the Delaware Art Museum for the Beyond Juneteenth festival, titled "Beyond" to recognize Juneteenth as the oldest celebration commemorating the freedom of enslaved people in the United States. 
Separation Day & Vintage Market in Historic New Castle  
Separation Day is the annual celebration of Delaware's independence from Pennsylvania and the British Crown. 2022 marks its 246th anniversary making it one of the longest running traditions in the state. The event is held annually in Historic New Castle. Friday night festivities include music, food and drink in the center of town. Saturday kicks off with a Colonial-inspired parade. The middle of the day is filled with children's rides, a vintage market, live music, a beer garden, and foods prepared by community groups. The day culminates with fireworks over the Delaware River.  
Seems to us that this little ol' state has enough to fill an entire weekend (or more!) And that's just in the month of June. Plan your next #VisitWilm getaway today, and don't forget to share your pictures with us by tagging @visitwilmingtonde on Instagram or by sharing your #VisitWilm photos here.