When you think of visiting Greater Wilmington and the Brandywine Valley, the first thing that may come to mind is "What is there to do in such a small city? Right?"   
WRONG!   
It's become a running joke amongst us locals because people are quick to assume there's nothing going on in the region. But if you've ever visited New Castle County – Delaware's northernmost county - you know that's just not true!   
Check out what's coming to Greater Wilmington and the Brandywine Valley in July 2022. 
Day Sails and River Cruises on the Kalmar Nyckel – Now through July 23 
Adventure awaits! Hop on board Delaware's tall ship and sail the Christina River on select dates throughout the month. Check the full sailing schedule here.  
Downtown Farmers' Market in Rodney Square – Wednesdays this July 
In town mid-week? Every Wednesday from 10 a.m. - 2 p.m., stroll through the Farmers' Market in Rodney Square and browse through an array of the freshest local produce, plants, herbs, flowers, and prepared foods.  The Market also offers a large assortment of beautiful handmade items, including arts and crafts, unique jewelry, and baked goods. Stroll the market, enjoy some delicious food from local food trucks, sit back, and relax with free entertainment. It's an afternoon you just don't want to miss.  
Summer Concert Series in Battery Park – July 13, 20 and 27 
Continuing with our mid-week theme... Summer evening plans anyone? How about enjoying a concert in Historic New Castle's Battery Park? Throughout the month, enjoy different entertainers each Wednesday evening beginning at 6:30 p.m. Grab a meal at one of the many restaurants around town, kick back and relax for a summer evening you won't soon forget.  
7/13/2022   Cindee & Chip Acoustic 
7/20/2022   Jimmy Pritchard 
7/27/2022   Trinity Acoustic Group 
Delaware Shakespeare Summer Festival – July 15-31, 2022 
Back at Rockwood Park this summer is a full production of The Tempest, Shakespeare's magical tale of forgiveness and family.  Join Delaware Shakespeare under the stars as they bring this time-honored story to life.  
Artisan Market at Winterthur Museum - July 16 -17
Spend some time exploring Winterthur Museum, Garden & Library's Artisan Market and get inspired! Shop for unique objects, including antiques and collectibles; furniture and home décor, vintage clothing, jewelry and more. Make a day (or two) of it and roam the Enchanted gardens or, stop in to see the Jacqueline Kennedy exhibition.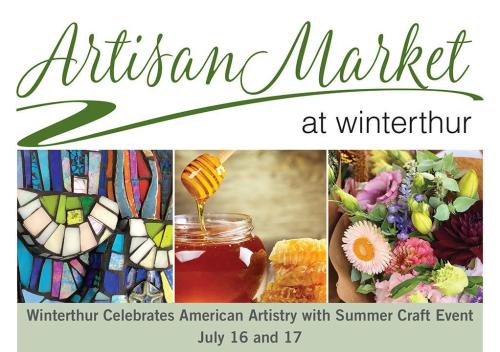 Third Thursday at Nemours Estate – July 21
Beginning at 5:00 p.m., enjoy food, drinks and live music in the gardens of Nemours Estate.  
Pennsylvania Guild Fine Craft Fair – July 30-31 
The Brandywine Valley's largest premier fine craft fair returns to the Chase Center on the Riverfront. Featuring more than 100 independent local and regional artists, the Guild is known to be the place to get beautiful one-of-a-kind pieces. Shop, dine and stay along the Riverfront July 30-31.  
Longwood Gardens' Light Installation by Bruce Munro   
Now through October 30, 2022, immerse yourself in the dazzling artistry and infinite imagination of artist Bruce Munro as he returns to Longwood Gardens 10 years after his debut exhibition to present Light: Installations by Bruce Munro. Light is an entirely new, breathtaking exhibition with eight installations spanning Longwood's indoor spaces and outdoor vistas.  
Enjoy eight pieces of work spread throughout the grounds. 
Near the Large and Small Lake, the luminous Field of Light features 18,000 illuminated bulbs stretching across the landscape and immersing those along the pathway 
Near the Meadow Garden, the Orchard landscape is transformed with SOS, complete with 162 gabion baskets with pulses and streams of light and sound, all to the tune of an old radio with snippets of sound and music emerging from static fuzz and punctuated with Morse code 
With Gone Fishing, three 15-foot diameter structures, each formed using 100 fishing rods on illuminated etched discs, cast a beautiful reflection upon the still surface of Longwood's Small Lake 
A 20-foot convex dome formed by 37 stainless steel lilies shimmers with radial starbursts of light at the bench near Paulownia Allée with Time & Again 
A flamboyance of 1,000 flamingoes wade in the Pear-Shaped Basin near the Chimes Tower with Ramandu's Table, complete with a projected array of changing dawn hues 
In the East Conservatory, Green Flash is a monumental three-and-a-half-meter geodesic sphere of 1,820 bottles—each filled with a single fiber optic cable—that slowly morph through the colors of a rising and setting sun with momentary flashes of green 
An immersive sensory environment inspired by Longwood's water gardens awaits in the Exhibition Hall with C-scales; overhead projectors cast a film sequence across a vast shimmering lake of 8,960 CDs, while surrounding sounds help provide an all-encompassing, painterly effect 
The Music Room hosts the Time & Place series, where each Longwood-inspired artwork reinterprets moments in time, distilled and represented as abstractions 
Seems to us that this little ol' city has enough to fill an entire weekend (or more!) And that's just in the month of July. Plan your next #VisitWilm getaway today, and don't forget to share your pictures with us by tagging @visitwilmingtonde on Instagram or by sharing your #VisitWilm photos here.