If you are one of the many people who enjoyed the ups and downs of Don Draper and friends on AMC's smash hit television series Mad Men, then you are not going to want to miss the upcoming exhibit at the Delaware Art Museum featuring one of the original Mad Men.
But this exhibit is about a lot more than a popular television series. Back in the 1960s, print advertising was an incredibly powerful way for businesses to communicate their messages to their audience, and the advertising executives behind it were responsible for guiding the desires of the entire nation.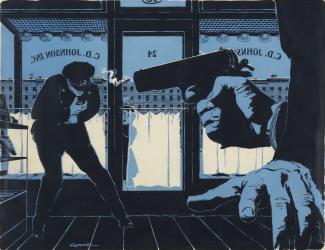 Who Are the Mad Men?
Don Draper might have been a fictional character, but the history of the Madison Avenue advertising executives is very real. The AMC series won several awards for its careful attention to historic details, so anyone who watched the show has a pretty good idea what the Mad Men were actually like.
If you haven't watched the show, the Mad Men were the brilliant creatives on Madison Avenue in New York City during the 1960s. They came up with some of the most iconic advertising messages of all time. They also had the type of reputation for drinking, smoking, and chasing women that comes with being ridiculously successful in New York City.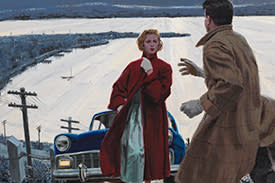 McCauley "Mac" Connor
Born in 1913, Mac Connor is credited with being one of the primary inspirations for the television show. He developed a passion for Norman Rockwell magazine covers early in life and moved to New York City as a young man who would go on to revolutionize the world of print advertising.
Connor's work was regularly featured in the popular magazines of the day like The Saturday Evening Post, Ladies' Home Journal, Redbook, McCall's, Cosmopolitan, Good Housekeeping, Woman's Home Companion, and Collier's. Not only did his illustrated drawings shape the tastes of the nation from a consumer standpoint, but it was also extremely common for women across the country to imitate both the hair styles and clothing depicted in his work.
The Mac Connor Exhibit
Starting on June 24, 2017 and running through September 17, 2017, the Delaware Art Museum will be proudly hosting The Original Mad Man: Illustrations By Mac Connor. This exhibit features many his works that were originally featured in Redbook and McCall's.
In addition to viewing the exhibit during regular museum hours, real fans of Mad Men-style advertising will be thrilled to hear that there are a few additional events planned around the exhibit.

The first of those will be The Original Mad Man Members Preview Party on June 23, 2017. This is a members-only event that will feature 50's style music and retro cocktails. Vintage clothing is strongly encouraged.
The Mac Connor exhibit will also be featured as a part of the museum's Retro Happy Hour every Thursday from June 29 through September 14. These events will take place from 5 pm to 7 pm and feature retro-inspired cocktails.
If you are looking for even more unique events planned around the exhibit, you can get more information about special nights like Artini, Evening for Educators, and Retro Sketch Night with Dr. Sketchy's Philly from the museum website. Each of those events is scheduled to happen throughout the summer, and each should bring an interesting combination of retro art and modern intrigue.
Whether you plan to come for one of these special events or just to visit the exhibit during regular museum hours, this is one experience that you are not going to want to miss. In addition to being a dream exhibit for Mad Men fans and art lovers who are passionate about Americana, this is also an exhibit that depicts an essential part of our history…and you won't want to miss it.
Images from top to bottom:
Illustration for "Killer in the Club Car" in This Week Magazine, November 14, 1954
Mac Conner (born 1913)
Ink and acetate on illustration board
© Mac Conner. Courtesy of the artist
Illustration for "Hold On Tight" in Redbook, March 1958
Mac Conner (born 1913)
Gouache on illustration board
© Mac Conner. Courtesy of the artist
Illustration for "Dr. Garvey's 'Other Woman'" in This Week Magazine, September 4, 1955
Mac Conner (born 1913)
Gouache and ink on illustration board
© Mac Conner. Courtesy of the artist