The magic of the holiday season returns to the Brandywine Museum of Art with the opening of the Brandywine Railroad on November 18, 2023. For more than 50 years, this iconic O-gauge model train display has been a cherished holiday tradition for generations of visitors. With more than 2,000 feet (about twice the height of the Empire State Building) of track and more than 1,000 pieces, including locomotives, passenger and freight trains, and trolleys that pass through a small village, a farm, factories, a drive-in movie theater and even a carnival, it's no wonder it's a can't miss during the holidays. Interactive components are incorporated into the display, operated by buttons and foot pedals that allow for a more engaging adventure.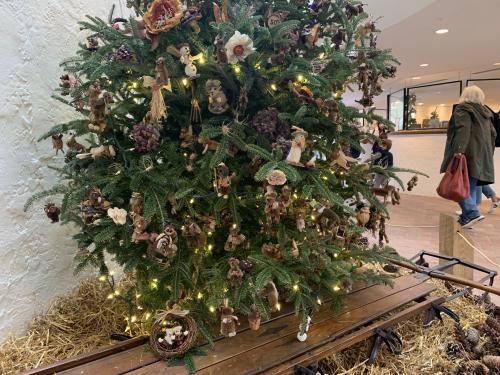 Experience the charm of a Victorian dollhouse, boasting eleven intricately designed rooms filled with hundreds of miniature treasures, while immersing yourself in The Railroad exhibit, available for viewing until January 7, 2024. 
Adding to the holiday festivities, Brandywine's whimsical Critter ornaments will once again adorn the trees in the Museum's atrium. Each year since 1971, these distinctive ornaments have been carefully handcrafted by a dedicated group of volunteers using only natural materials such as teasel, pinecones, acorns, eggshells, flowers and seed pods. Thousands of "classic Critter" favorites and fanciful new creations will be available for purchase during the annual Holiday Critter Sale. This year the sale will be held offsite at the nearby Chadds Ford Historical Society from November 30 to December 3, 2023. A smaller selection of Critter ornaments will be available for purchase online and can be shipped across the country by visiting www.brandywine.org/critters.  
In addition to the holiday fun, museumgoers of all ages can immerse themselves in the colorful and lively works featured in "Rooted: Family and Nature in Contemporary Children's Book Illustration." On view through February 28, 2024, this special exhibition explores the enduring bonds of nature and family through a selection of more than 75 original artworks created with a variety of media for eight illustrated children's books. The artists represented in this major presentation are Micha Archer, Sophie Blackall, Cozbi A. Cabrera, Joe Cepeda, Devon Holzwarth, Juana Martinez-Neal, Frank Morrison, and Qing Zhuang.  
Also on view at the museum is Abstract Flash: Unseen Andrew Wyeth, featuring 37 never-before-seen watercolors that highlight Andrew Wyeth's surprising interest in the abstract art of his contemporaries and the roots of his own practice in abstract methods.  
Beginning November 24, 2023, through January 7, 2024, the Museum will be open seven days a week for extended holiday hours, from 9:30 a.m. to 5 p.m. (closing early at 1 p.m. on Christmas Eve and closed on Christmas day).  
Embrace the holiday spirit at the Brandywine Museum of Art, where art and festivity come together in perfect harmony. With its captivating exhibitions and enchanting atmosphere, a visit here is sure to become a cherished holiday tradition.