Grab your little ones and your Young-At-Heart adult friends and immerse yourself in the beauty of art through books. Engage with classic tales and witness art come alive through your children's eyes. Explore over 100 original illustrations dating from 1879 through to 2015. There's even a play area that allows you to interact with the magic of these stories.
Fairy Tales to Nursery Rhymes:
The Droller Collection of Picture Book Art
March 2–May 12, 2019
Gallery 10: The Anthony N. and Catherine A. Fusco Gallery
Fairy Tales to Nursery Rhymes...
features paintings and drawings by beloved British artists Randolph Caldecott, Arthur Rackham, and Kate Greenaway. Luminaries from the modern era include American artists Barbara Cooney, Jerry Pinkney, and Maurice Sendak. Visitors will be delighted by original illustrations from children's favorites such as Alice in Wonderland, The Pied Piper, Pinocchio, and Aladdin and the Wonderful Lamp. Imaginary characters, talking animals, and fantastical adventures are captured by artists representing eight countries.
Excerpts from Delaware Art Museum

"High Jinks," not dated, unpublished illustration. Harry Bingham Neilson (1861-1941). Ink and watercolor on paper, 10 11/16 x 8 1/8 inches. Collection of Michael and Esther Droller.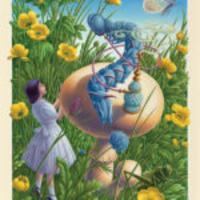 "'Who are you?' said the caterpillar," 1983, Illustration for Alice's Adventures in Wonderland (Victor Gollancz Ltd, 1984). Justin Todd (born 1932). Gouache on illustration board, 11 3/8 x 8 1/2 inches. Collection of Michael and Esther Droller. © 1984 Justin Todd.

"This Little Pig had None,"1903, from Denslow's One-Ring Circus and Other Stories [G. W. Dillingham Co. 1903]. William Wallace Denslow (1856-1915). Pen and ink on paper. Collection of Michael and Esther Droller.
To make this exhibition part of a weekend escape to Wilmington & the Brandywine Valley start by downloading our free Visitors Guide.
Wilmington & the Brandywine Valley is in the heart of the Mid-Atlantic region and less than a two-hour drive from both New York City and Washington. Steeped in American history and the legacy of the famed du Pont family, Greater Wilmington is a destination marked by sharp contrasts – town and garden, past and present, historic and hip. From renowned gardens, world-class museums, colonial towns, outdoor adventure, festivals and an ever-growing craft beer and restaurant scene, each experience is more vibrant, more unique and more authentic than the last.